Less than a week after DAP secured Pakatan Harapan's consent to contest in Ayer Hitam, the parliamentary constituency has again come under the spotlight with DAP secretary-general Lim Guan Eng firing the first salvo.
Though traditionally contested by PAS, the seat is significant for DAP, as its incumbent is MCA deputy president and Minister in the Prime Minister's Department.Wee Ka Siong.
When speaking to reporters in Georgetown yesterday, Lim revealed that he had visited Yong Peng High School in Johor, and was surprised that the school asked him for donations, and singled out Wee.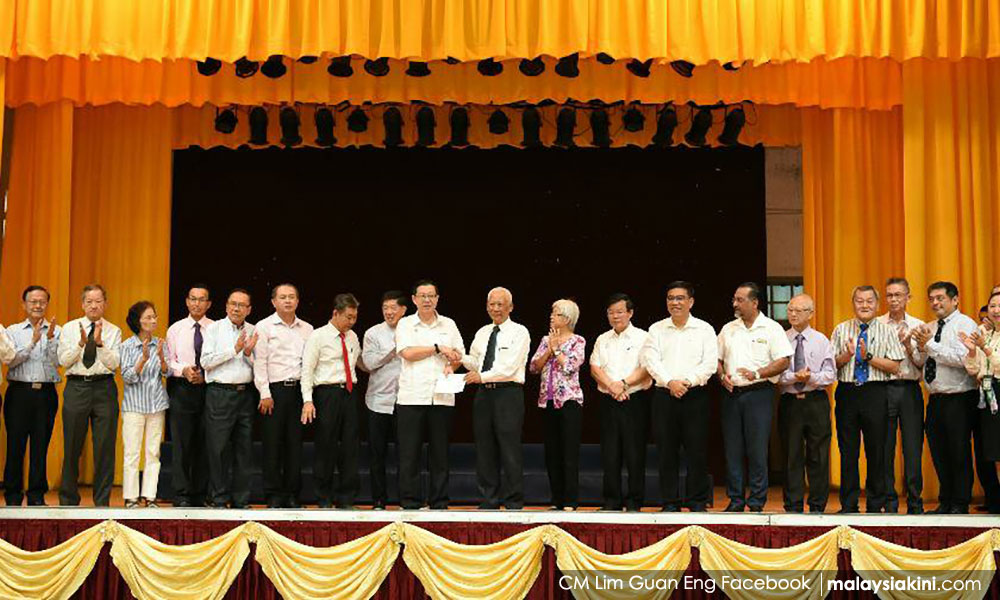 "He (Wee) is an MP and also a minister and MCA deputy president. His allocation as an MP alone is RM500,000.
"I don't know how much allocation he gets as a minister, but I believe it is in the tens of millions. Giving RM1 million to an independent school would not be too much," he was quoted as saying. The comment was also published on his Facebook page.
Yong Peng High School sits within the parliamentary constituency of Ayer Hitam.
Lim's targeting of Wee immediately prompted a reaction from MCA, which today labelled the Penang chief minister as "irresponsible."
"Last year alone, Wee had allocated RM75,000 to Yong Peng High School. This does not include the many subsidies provided by Wee for the school's various activities.
"In addition, Wee is also a regular contributor to the Yong Peng High School Alumni Association and the Yong Peng Taiwanese Students Association so that these two esteemed associations can organise and promote various programmes to supplement its finances," said Johor MCA organising secretary Ling Tian Soon.
Ling added that while Lim was not aware of what was going on in the parliamentary constituency, the constituents were well aware of the many efforts supported by Wee.
MCA claims diversion tactic
Ling accused Lim of playing up the Yong Peng High School funding issue in an attempt to divert attention from MACC's probe into the Penang tunnel project.
"Therefore, I hope that this time Guan Eng stays focused on resolving the current crisis in the state, including the state's flood issues, instead of evading responsibility by diverting attention to other issues of which he lacks sufficient information," he said.
Meanwhile in a statement today, the Yong Peng High School board said it welcomes donations from all parties, and was shocked to learn that Lim had turned its soliciting of donations into an opportunity to attack others.
"It is not easy to survive as a Chinese independent high school. We invite donors who sincerely love Chinese schools not to ridicule other donors by comparing the quantum of the donations, because the school values all donors equally regardless of the contribution.
"We wish to clarify that our stance is simple: The more the merrier; we won't turn away anyone who wants to contribute," it said.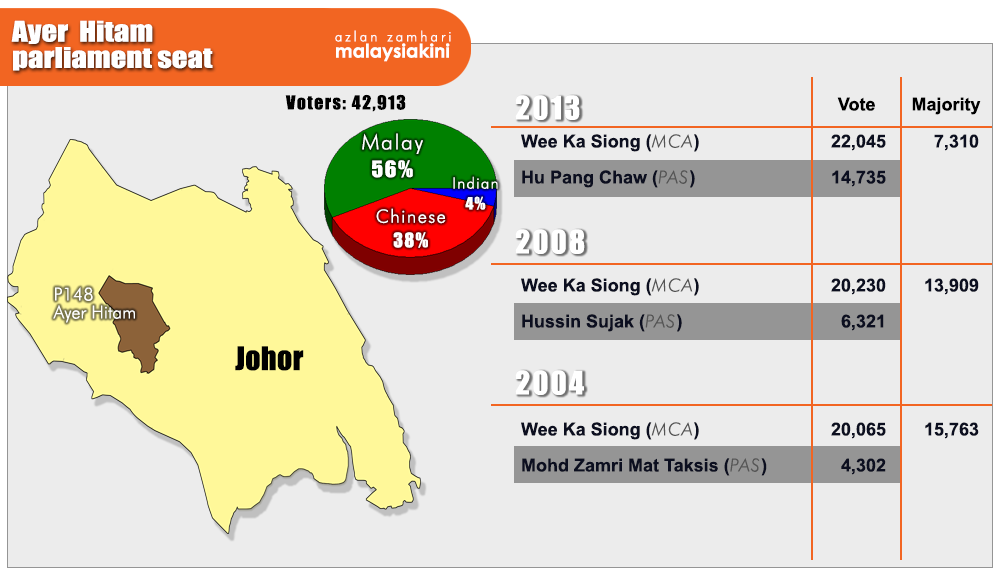 In the last general election, Wee retained Ayer Hitam with a 7,310-vote majority against PAS' Hu Pang Chow. Hu has since joined Amanah.
Amanah, a PAS splinter, had laid claim to most of PAS' seats, but must now share with a new coalition partner, Bersatu, led by former prime minister Dr Mahathir Mohamad.
In the Harapan seat negotiations for peninsular Malaysia formally announced last Sunday, Amanah was made to surrender the seat to the DAP.
As a compromise, the DAP may field an Amanah candidate, but under its own rocket logo.
Based on data from the 13th general election data, the parliamentary seat comprises 56 percent Malays, 38 percent Chinese and four percent Indians.
It has two state seats, namely Yong Peng, which is controlled by DAP, and Semarang which is held by Umno.