A group of disgruntled Bersatu members disrupted the Negeri Sembilan Pakatan Harapan convention today, after being allocated the least number of state seats among the four component parties.
According to reports, Negeri Sembilan Pakatan Harapan announced its state-level manifesto and seat allocations during the event, with Bersatu being assigned to contest in only six out of the 36 state constituencies for the 14th general election.
"The seat distribution caused displeasure to over 30 Bersatu members, who voiced their objections during PKR president Dr Wan Azizah Wan Ismail's speech by shouting 'Not fair!' and calling for a boycott, hence cutting short her speech," according to an Oriental Daily report today.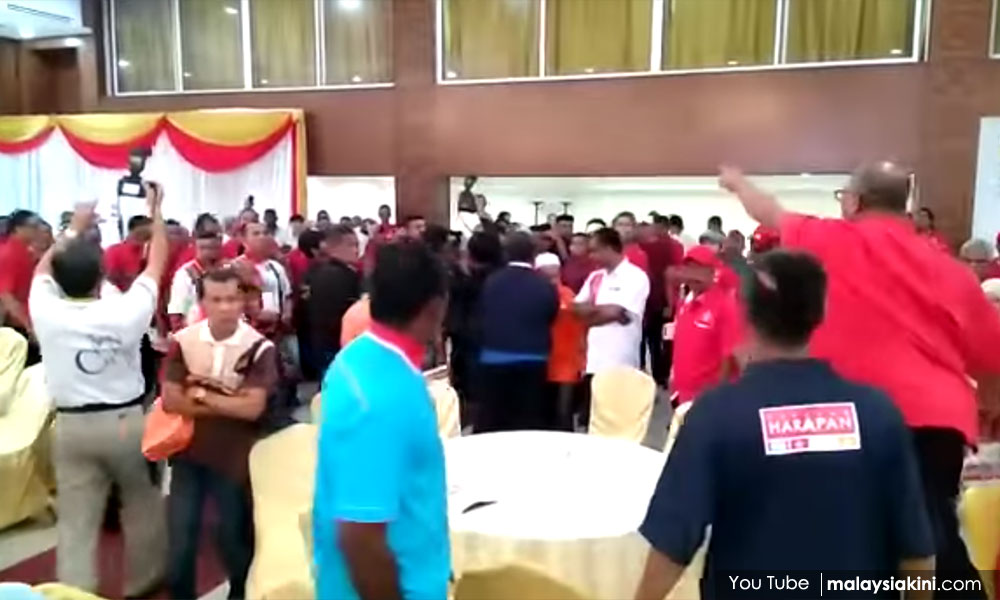 Sinchew Daily, meanwhile, reported that the disgruntled Besatu members also tried to storm the stage to voice their objections, but were stopped by the party's vice-president Mukhriz Mahathir.
"Later when explaining the seat allocation to members, Mukhriz later acknowledged that Negeri Sembilan Bersatu had been allocated few seats, but this was decided in view of the bigger picture.
"He promised to bring their grievances to the Harapan central leadership," the report said.
According to Oriental Daily, the state constituencies are allocated as follows:
PKR (12 seats): Jeram Padang, Sikamat, Ampangan, Juasseh, Pilah, Labu, Rantau, Chuah, Linggi, Port Dickson, Gemas, and Sungai Lui.
DAP (11 seats): Chennah, Bahau, Nilai, Lobak, Temiang, Rahang, Mambau, Senawang, Bukit Kepayang, Lukut, and Repah.
Amanah (7 seats): Serting, Johol, Klawang, Lenggeng, Paroi, Senaling, and Kota.
Bersatu (6 seats): Palong, Sri Menanti, Chembong, Gemencheh, Pertang, and Bagan Pinang.