A Muslim convert whose custody battle with his Hindu ex-wife, S Deepa, had also made headlines in the past, says he would not let his son become an apostate.
Izwan Abdullah, who unilaterally converted his two children, also stressed that his case was not the same as M Indira Gandhi's.
"To make my son a murtad (apostate) would be totally unacceptable," Izwan was quoted as saying by The Star.
He was also cited as saying that his son Nabil and daughter Nurul Nabila, whom he converted in 2013, should be allowed to decide their own faiths when they turn 18.
Izwan had converted his children in 2013. He was initially granted custody over both children by the Seremban Syariah Court.
His ex-wife, Deepa (middle in photo), took the case to civil courts, and finally in February last year, the Federal Court granted Izwan custody of their son, while Deepa got their daughter.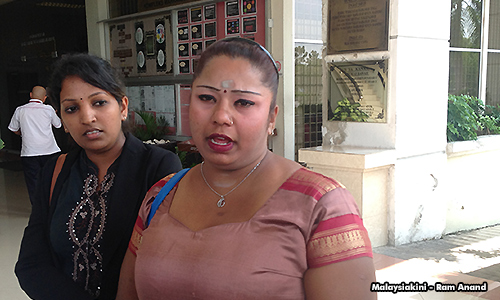 But despite the tumultuous end to their marriage, Izwan said he and his wife maintain a friendly relationship.
"We have our own families and I hope people will not associate us with the Indira case.
"Deepa is also good friends with my wife, whom I married in 2014, and they also WhatsApp and talk regularly with one another," he said.
Both of them regularly visit their children, although Izwan said he last met his daughter in August since she and Deepa moved to Jelebu.
"Deepa and I will always remain Nabil's and Nurul Nabila's parents. We love our children very much.
"I do not want my children to go through another court process," he added.
The Federal Court on Monday ruled that minors can only convert to Islam with the consent of both parents, effectively quashing unilateral conversions.
The apex court made the decision while siding with Indira Gandhi in her fight to get custody of all three of her children, one of whom she has not seen in nine years after being taken away by her ex-husband.