Former prime minister Dr Mahathir Mohamad has explained that he only stepped in as finance minister during his helm of the country because he "needed time to find a good candidate".
However, the Pakatan Harapan chairperson reiterated today that future PMs should not make this move.
"When I was PM, I held the post of finance minister twice.
"This was because we were waiting to find a candidate to become finance minister.
"When one finance minister was dropped or could not serve anymore, we took a little time to look for a new, good candidate.
"I would usually take on the role as the finance minister," Mahathir said when speaking at his weekly "Policy Talk" session broadcast through Facebook Live on his official Facebook page this morning.
In his 22 years as prime minister, Mahathir first stepped in as finance minister from September 1998 to January 1999, after he fired then deputy prime minister Anwar Ibrahim from the post.
Anwar was later jailed in 1999 for corruption and sodomy, charges he maintained were politically-motivated. He is now Harapan component party PKR's de facto leader despite serving his Sodomy II sentence.
Mahathir was finance minister a second time from June 2001 until his retirement in November 2003, replacing Daim Zainuddin, who had resigned.
Since becoming the Harapan leader, Mahathir has repeatedly said the premier should not hold more than one post in government.
During his speech today, he mooted this as one of Harapan's ideas to solve "problems" created by Prime Minister Najib Abdul Razak, should the coalition come into power after the next general election.
"It is not easy, what Najib will leave behind is tough to bear and solve.
"But we (Harapan) have a few ideas as to how to solve these problems. A new PM might find it difficult to solve them within two years, but I am advanced in age with lots of experience.
"I am of the opinion that the prime minister should not hold the post of finance minister," said Mahathir, who is Harapan PM-designate.
Harapan will have smaller cabinet
Mahathir also criticised the present size of the cabinet and said it was a "waste" to have two ministers helming one ministry.
A Harapan government will only see about 20 cabinet ministers, he added.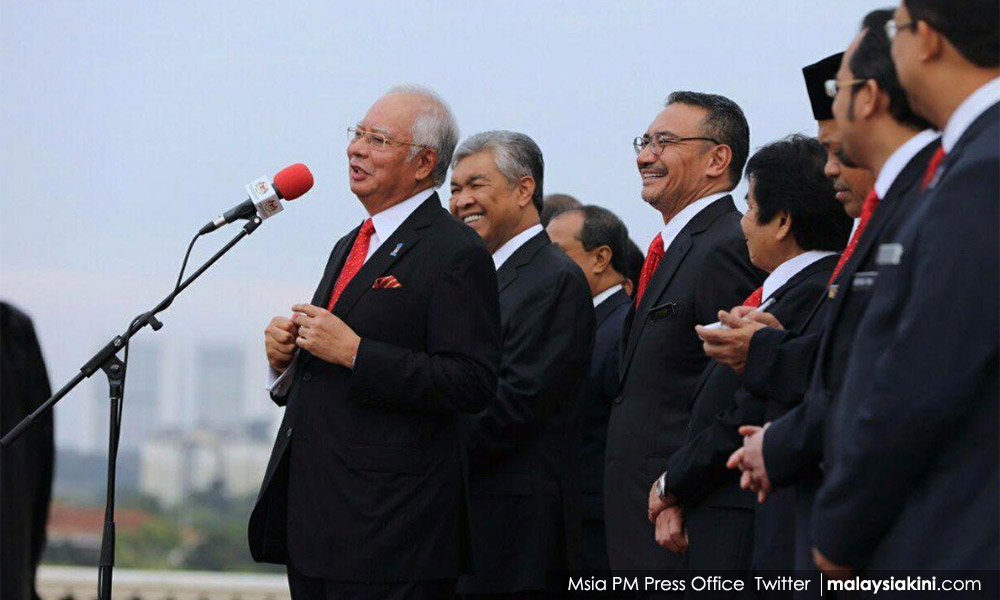 "Harapan hopes to reduce (the size of the cabinet) to about 20 ministers, it won't be 35 ministers (like now).
"I am of the opinion that as of now, our country can be run by a smaller cabinet. It is not important to have a big cabinet," he said.
The 35 cabinet ministers in the Najib administration oversee 26 ministries, with multiple ministers for the Finance Ministry, the Trade and Industry Ministry and the Prime Minister's Department (PMD).
The PMD has the highest number of ministers, 12.
Referring once again to his time as the premier, Mahathir said he had only increased the number of ministers to helm new ministries.
"During Tunku's (Abdul Rahman) time, we did not even have 10 people (in the cabinet).
"After that, we added the number of ministers during my time, but it was less than 30.
"It wasn't that many and they each had their roles because we were establishing new jurusan (departments) and that needed the supervision of a minister," he explained.