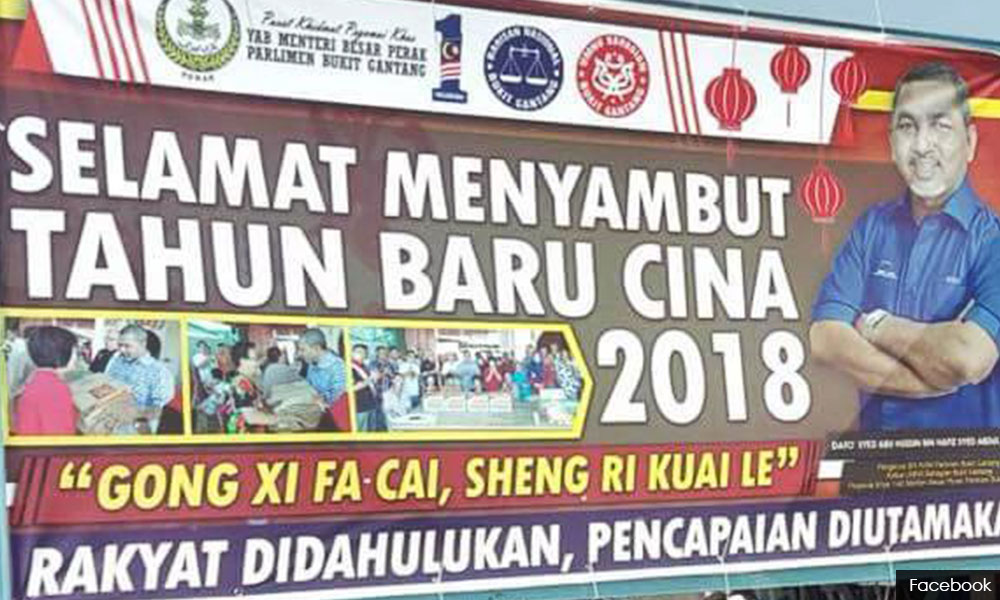 Umno man apologises for 'Happy Birthday' in CNY greeting
Bukit Gantang Umno chief Syed Abu Hussin Hafiz Syed Abd Fasal has apologised over a Chinese New Year banner which greeted "Happy Birthday" in Chinese phonetics.
This was after the banner went viral on social media.
Taiping MP Nga Kor Ming confirmed spotting the banner along Jalan Simpang in Taiping heading towards Bukit Gantang earlier today.
Syed Abu Hussin has promised an immediate correction to the banner.
"I apologise, this was a mistake by my media team.
"Normally, we do wish 'Happy Birthday' to our Chinese friends throughout the year and this time (the media team) may have used the wrong text.
"I apologise to all my Chinese friends. I will make an immediate correction," he told Malaysiakini when contacted.
The banner said "Selamat Tahun Baru Cina 2018" (Happy Chinese New Year 2018) but also carried a smaller text in Chinese phonetics which read "Gong Xi Fa Cai, Sheng Ri Kuai Le" (Wishing you prosperity, Happy Birthday).
The banner also carried Abu Hussin's portrait as well as pictures of his community work.
It bore the 1Malaysia logo, BN logo, Umno logo and Perak state emblem.
Abu Hussin is also a special officer to the Perak Menteri Besar Zambry Abdul Kadir.