By Ameer Ali Mydin's own account, the hypermarket chain Mydin lost close to RM100 million. That the Special Affairs Department (Jasa), a propaganda arm of the government or more aptly Umno, had to rebut the claim, goes to show the extent to which Umno-dominated BN has been mired in denial and crisis.
But it also reflects the hollowness of Prime Minister Najib Abdul Razak's claims that Malaysia is not bankrupt nor is it a "failed state". By Najib's own account, Malaysians can be seen in Mecca performing their umrah or walking down Oxford Street in London.
If trips to Saudi Arabia and London cannot be tell-tale signs of the inner rot of the Malaysian economy, then the seeming "growth" of the gross domestic product (GDP) cannot be a genuine reflection of the true state of the economy too.
Najib cannot have the cake and eat it too. If he uses Makkah and London as a signpost of Malaysian growth - where he debunked the idea of a bankrupt and failed state - then any hint of GDP growth must equally mean strong ringgit, a burgeoning middle class and the gradual but certain transformation of Malaysia as an economic powerhouse.
Yet the ringgit is still hovering at US$1 to RM4, occasionally RM3.95; the middle class has become trapped, where only ten percent of the professionals are paying any income tax; while the economy is experiencing nothing less than a "growth-less growth".
A "growth-less growth" is when every decimal point of growth is neutralised by equal, if not higher form, of inflation. It is also a form of growth where the top gains while the bottom is completely drained.
Who can forget in May 2015, economist Muhammad Abdul Khalid, then a director at the Khazanah Research Institute, now the founder of DM Analytics, famously declared that 15 richest families in Malaysia control the asset of the country, which is 76 percent of the country's GDP.
Income and savings, made from the previous generation are deployed to support the habits of the current ones, i.e. the millennials. It could also precipitate a "jobless growth" where unemployment among the tertiary graduates is close to 15-17 percent. Latest statistics showed more than 500,000 youths or graduates are either unemployed or under-employed.
Granted the indulging nature of most families across all racial lines, the consumption that one sees is either driven by residual savings of the previous generation, or debt-driven consumption.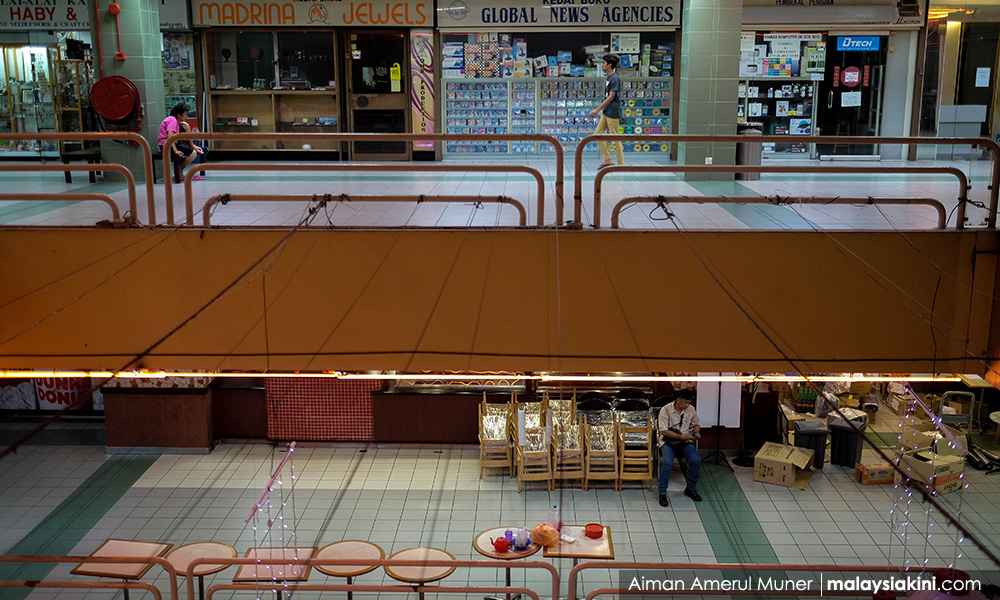 At more than 80 percent of household debts, one of the highest in Asia, equal perhaps only to South Korea, Malaysians are finding themselves able to spend on less and less. After all, all savings are finite; while the thirst for perpetual consumption isn't.
This should explain why the GDP, which Najib seems to be proud of and have a strong fetish, is growing, when in fact companies like Mydin are registering negative growth and humongous losses.
When average goods in Kedai Rakyat 1Malaysia (KR1M), no doubt a creation of Najib, can inflate at 13-15 percent a year, which is three times the official rate of inflation of Bank Negara, then what Mydin has said can only tally with the economic reality on the ground: people are having less and less income to spend on the most basic goods.
Remember, the combination of income stagnation or at best minuscule growth, removal of oil subsidies, imposition of GST, depreciation of ringgit that will make imported goods especially food items, more expensive, a sure way of eroding the disposable income a family can possibly have.
Roads, tolls built by private contractors
Economists like Joseph Stigliz and Paul Krugman have long warned about the meaningless of measuring the growth of the economy on GDP alone. Just as one straight nose alone cannot indicate the full extent of one's physical beauty, the fetish on GDP growth too cannot give one, any good read out of the Malaysia economy.
Income growth, reduction on haves and have-nots, and increase in disposable savings are just as important; all of which the country is reeling. At the Invest Malaysia Conference last month, Najib claimed that the Gini Coefficient has improved by 0.1 percent.
When measured against the alleged more than RM40 billion (US$10 billion) he lost in 1MDB alone, and the nearly RM1 trillion in debt expected by 2020, an improvement of 0.1 percent in Gini Coefficient is as good as nothing at all.
Besides, two percent of the GDP has to be dedicated to servicing the government's debt. In Estonia, the two percent of the GDP that it saves, through the use of more digital technology across the board in the government, is used to defray its membership and financial commitment to the North Atlantic Treaty Organization (Nato). At least, Estonia gains more, rather than less, protection from Nato.
In Malaysia, a loss of two percent of its GDP to debt servicing constitutes not merely a loss in national income, but a blow to the development needs of the federation of thirteen states.
Little wonder, all the roads and tolls have had to be built by private contractors, both foreign and local, rather than the government itself.
When a government cannot balance its budget, and has in turn racked up more debt, it is little wonder that the weak ringgit is one of the reasons that contributed to "imported inflation". The weaker the national currency, the more it has had to pay for foreign goods and capital equipment. And Malaysia is not even self-sufficient in many of its staple food.
In fact, CNN commentator Fareed Zakaria once said that "motion should not be confused with forward movement". After all, when one sits on a rocking horse, there is that perpetual sense of motion too. But is the horse moving forward? No.
In the case of Malaysia, the rocking horse is fast becoming a run-away hoax. Instead of looking into the root cause of "growth-less growth" - potentially a "stagflation" where the economy is both stagnant while concurrently experiencing an inflation - the long reach of the state has sought to whitewash the truth through Jasa.
It is time to rethink and reflect
Even as the committee on fake news is being drawn up to ostensibly put a tab on fake news, when in fact the intention seems to be nothing less than to put out even more pulp fiction, than all is well and good in Malaysia.
But GDP, under Najib, has become a grossly distorted picture not least. The growth that he claims to deliver does not work at all. It doesn't deliver the claimed social and economic benefits one bit.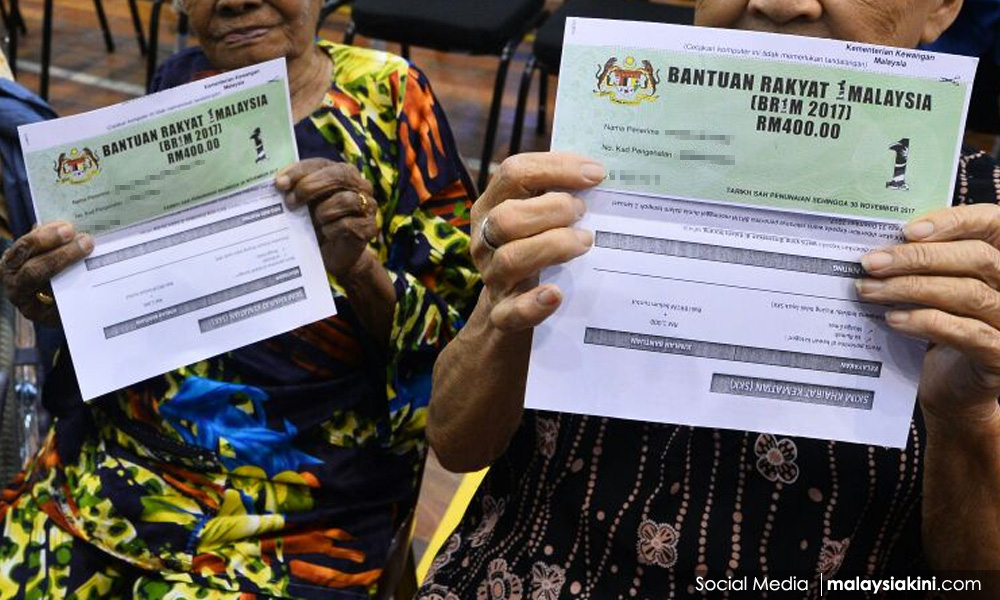 If it did, Najib won't be distributing 1Malaysia People's Aid (BR1M) each year to those labelled B40 (those below 40 percent) numbering a reported 7.7 million recipients. He even erroneously boasted in growing the number of BRIM recipients, as it is more of his failure than success.
Muhammed reiterated that GDP is not an indicator of the people's well-being and equating GDP with that is rather foolish. The issues on the ground - jobs and equal opportunities - that's more important. He further added that although the economic growth was projected to increase in 2018, he was doubtful that lower-income earners would experience any improvements.
Moreover, Muhammed disclosed that the data from the Economic Planning Unit (EPU) showed that actual income in the lower-income group actually fell, not increased. The 2016 household income report by EPU had shown that share of total income for B40 households fell from 16.8 percent in 2014 to 16.4 percent in 2016.
So for those still fetish about GDP, it is time to rethink and reflect. After all, people cannot eat GDP.
Indeed, since 1980, real GDP in the United States has grown about 130 percent. Yet, wages stagnated, jobs fled from the US, while life satisfaction flat lined, and social capital eroded; with poverty and inequality still mounting too. One hasn't even mentioned the impact on the environment as well.
In a growth-less and jobless economy, everything feels wrong. As former US president Ronald Reagan once said: "Recession is when your neighbor loses his job, while a depression is when you lose yours."
Well, Malaysia certainly does feel all of the above. The key to recovery is to make Najib lose his (job).
God save Malaysia.
---
RAIS HUSSIN is a supreme council member of Bersatu. He also heads its Policy and Strategy Bureau.
The views expressed here are those of the author/contributor and do not necessarily represent the views of Malaysiakini.