MCA deputy president Wee Ka Siong said he was misquoted by party owned paper The Star, and had never mentioned DAP secretary-general Lim Guan Eng by name in a press conference yesterday.
Wee provided the media with an audio recording of the press conference, in which he was asked if there would be a parachute candidate contesting for his parliamentary seat.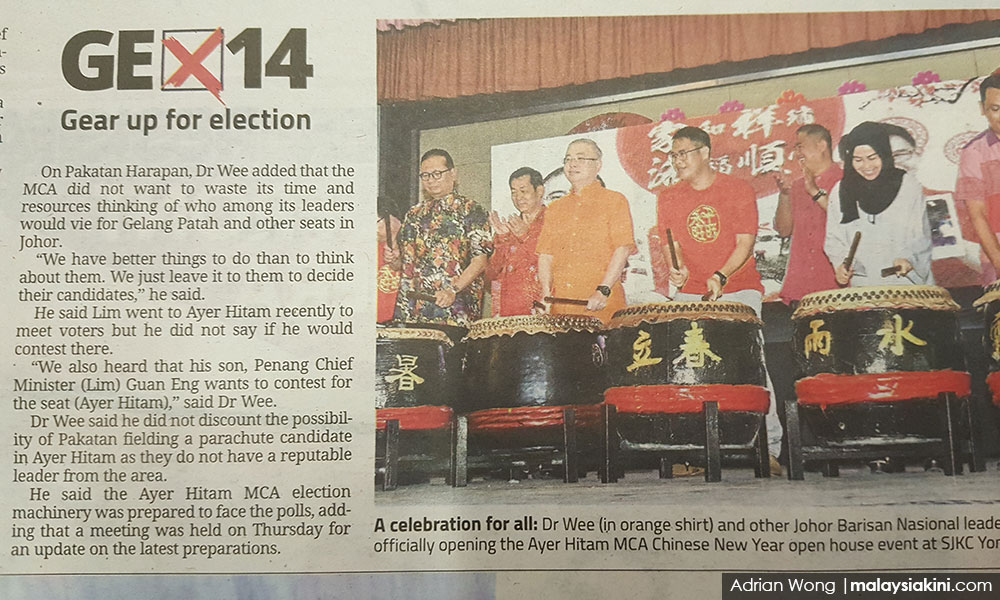 In Malay, he responded: "I don't know, DAP has said they would send a strongman. I don't know how strong or who is stronger besides the father (Lim Kit Siang) and son, I don't see anyone stronger than them.
"We look at all possibilities. At first Kit Siang came down (to Ayer Hitam) but he didn't announce anything, just said (DAP) will capture Ayer Hitam.
"But that's okay, maybe this is their political manoeuvring, it is not important to us."
Wee was responding to a report by The Star today, in which he was quoted as saying "We also heard that his son, Penang chief minister (Lim) Guan Eng wants to contest for the seat (Ayer Hitam)."
Guan Eng today denied that he wants to contest in the Johor parliamentary seat.
Wee in a statement clarifying the matter, said that Ayer Hitam BN is ready to defend the seat regardless of who contests against him.
The Star has since amended the online version of the article.