COMMENT | On this day a decade ago I was elected as the MP for Bukit Bendera, Penang. It was the 12th general election that saw BN lose its two-thirds majority in Parliament for the first time.
This, as well as losing Penang, Selangor, Kedah and Perak, on top of Kelantan, to the opposition. Malaysia was never the same again from that day onwards.
When Parliament was dissolved on Feb 13, 2008, BN was fairly confident of retaining all states except Kelantan. The then-Selangor menteri besar Mohamed Khir Toyo was even planning to campaign for a "zero opposition" status quo in his state.
Instead, a political tsunami swept Malaysia. Many BN leaders including Khir Toyo lost power altogether. Perhaps it was the price of their arrogance. The opposition which won only 19 out of 222 federal seats in the 11th general election, managed to win 82 seats in GE 2008. It was the greatest ever swing.
On March 1, it was widely reported in the media that BN couldn't decide who would become the next Penang chief minister.
A bdullah's team preferred the younger Teng Chang Yeow while outgoing CM cum Gerakan president Koh Tsu Koon's (photo) choice was Teng Hock Nam.
My opponent in Bukit Bendera and Gerakan secretary-general Chia Kwang Chye was forced to stay at the parliamentary level despite being in the running for the position earlier. The other "dark horse" for the post of CM was Lee Kah Choon, who later became a good friend.
I found it strange that all the press conferences of Tsu Koon in the second week of the 12th general election campaign were solitary affairs in his office in Komtar as he was not flanked by any senior BN politicians. MCA leaders didn't even bother to attend the launch of the Penang BN manifesto.
I detected a leadership crisis. Years later, Kah Choon told me that senior leaders didn't talk to Tsu Koon for the rest of the campaign because they blamed him for the fiasco of failing to reach a decision despite having three CM contenders.
Tsu Koon cut a very lonely figure in the eyes of the media and public towards the end of the campaign. Morale and confidence on the BN side were very low.
Scepticism at first
On the opposition side, the electoral pact sealed between Anwar Ibrahim and Lim Guan Eng on Jan 9, 2008 gave the impression of a formidable alliance with Guan Eng as the undisputed leader for Penang should we ever come into office.
We didn't even have to play down the possibility. With the exception of Lim Kit Siang, most DAP leaders didn't believe that a change of government was possible.
DAP had not been the first choice for voters since 1995. We went into the 2008 general election with only a single state seat in the 40-seat Penang state assembly.
Despite seeing huge turnouts and outpouring support from the public during the campaign, most DAP leaders were sceptical and kept telling themselves privately that Penang voters would not allow DAP to form the state government.
Hence DAP may probably do better at the parliamentary level. Penang voters are quite good at splitting their votes.
The older members kept on telling us that on the eve of the 1995 general election, tens of thousands turned up at a ceramah in Jalan MacCallum but DAP still lost terribly.
My friend Wan Hamidi Hamid, a Penangite who was then a journalist with the mainstream media in Kuala Lumpur, came to visit on March 3. We were in Tanjong Bungah and were stunned to see a lot of Malay fishing boats decorated with the DAP flag. A police Special Branch officer who covered my campaign told me, "Nampak terbalik dah, Penang".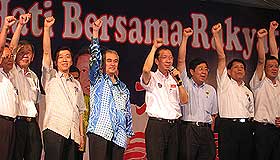 On March 5, then prime minister Abdullah Ahmad Badawi attended a big event at the Rifle Range Flats, a significant part of the Bukit Bendera parliamentary constituency.
The next day I went to "comb" each of the thousands of flat units to feel the ground and see whether there was any change in sentiments. I was glad to note that the prime minister's visit had no impact on the people's mood.
We made a major campaign decision not to hold a grand rally on March 7 but rather on March 6 to allow time for the impact to sink in before polling day. People were told to wear red.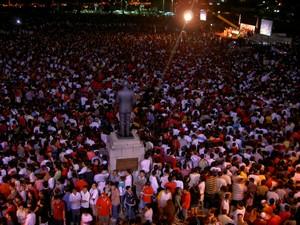 A sea of red, estimated 60,000 people, turned up at the Han Chiang High School field. Sharp-eyed DAP stalwart Vincent Wu said he was surprised to see Malays who attended the event donating to DAP, something that was deemed very unlikely at the time.
Humbling experience
Many of us felt the winds of change were in the air. It was electrifying. By March 7, I was confident of us winning power in Penang.
Vincent and I spoke to Guan Eng that we must prepare ourselves for victory, however unlikely. With our secretary-general's consent, we rented a hall at Red Rock Hotel with the intention of holding a press conference in the event of formation of the government.
We also intended to "quarantine" the newly-elected representatives at the hotel so that they would not be "kidnapped" by the other side; such incidents had happened before in previous elections.
One of our leaders told voters to wear red to the voting booth. It wasn't officially sanctioned but enough people heard about it. On polling day, seeing so many voters in red clothes queuing to vote was really comforting.
It was also the first time the Election Commission used transparent polling boxes. Our polling agents sent me messages me that they saw through the boxes many more who voted for the rocket.
At noon, Yang Razali Kassim, a Singaporean scholar and former journalist, hopped into my car for a short ride in heavy rain. I told him I would win, probably with a 1,000 majority or slightly more. Eventually, I won with a majority of 16,000 votes.
By 6.15pm, I was waiting at my beautiful heritage Bangkok Lane operations centre. I was probably the most optimistic person among the DAP candidates. As early as a year before, I was already arguing that DAP could win up to 12 seats in the state assembly, even when we only had one seat at the time.
But even I was stunned when we received reports from our counting agents that our candidates had won Pulau Tikus (defeating Barisan's CM-presumptive Teng Hock Nam), Padang Kota (defeating CM-presumptive II Teng Chang Yeow), Tanjong Bunga (Koh Tsu Koon's former state seat) and had won all state seats within the parliamentary seats of Bagan and Bukit Mertajam.
It was dawned on me that we were forming the Penang state government, probably with a clean sweep.
It was a humbling experience. There was no sense of euphoria for me though. I anticipated a long night to come, possibly a dangerous one.
In the next instalment of this series, I will write about the longest night in Malaysian politics.
---
LIEW CHIN TONG is the MP for Kluang, DAP Johor chairperson and the party's national political education director.
The views expressed here are those of the author/contributor and do not necessarily represent the views of Malaysiakini.