The Ministry of Energy, Green Technology and Water (Kettha) insists messages claiming sabotage of Selangor's water supply are "fake news."
According to New Straits Times yesterday, Kettha secretary-general Zaini Ujang called it a "dirty tactic" to distract from what he claimed was a result of the Selangor government's "incompetent management" of its own water industry.
Zaini did not state, however, if the Ministry had carried out any investigations to verify whether any sabotage had taken place.
Instead, he blamed it on the state's water reserve margin in 2017 being at zero percent as "among the main factors behind the state's water problems."
"In the event of a burst pipe, damaged water treatment plant or sudden increase in water demand, such as during festive seasons, there is a high possibility that certain areas in Selangor would experience water disruptions," he said.
The NST report claimed similar "fake news" was allegedly first used in 2013 and 2014, but did not elaborate.
It could be a reference to Menteri Besar Mohamed Azmin Ali's claims in 2016 that the water pollution that had caused the Sungai Semenyih water treatment plant to shut down was an act of sabotage.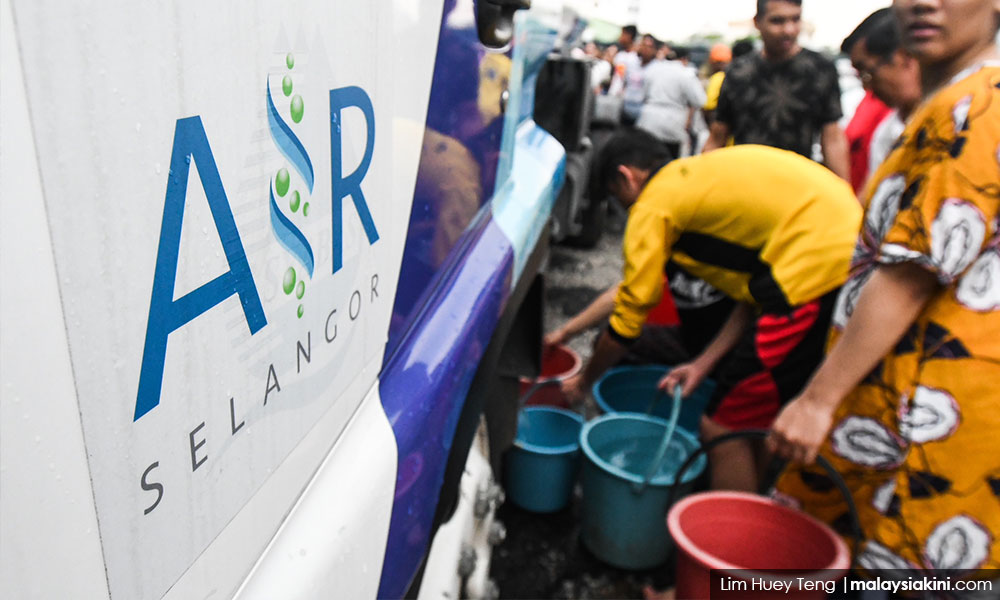 Last week, Syarikat Bekalan Air Selangor (Syabas) announced several areas in the Klang Valley would experience a disruption of water supply.
This was due to repair works at the Sungai Selangor Water Supply Scheme Phase 3 (SSP3) treatment plant in Bestari Jaya, Kuala Selangor after a sudden surge vessel system burst last Tuesday.
While BN leaders have jumped at the opportunity to blame the Selangor government for the water disruption, Azmin has pointed out the plant responsible was under the care of Syarikat Pengeluaran Air Sungai Selangor Sdn Bhd (Splash), and not the state government.
"If you dare, blame the prime minister," Azmin said last Friday.
"I don't want to blame anyone, but on the part of the state government, we have taken all proactive measures to ensure that this (water supply disruptions) does not happen."
'Highest number of disruptions'
Meanwhile, Zaini said Selangor has the highest number of water disruptions to date, at 259,537 cases in 2016, compared to 3,778 cases in Penang and 2,267 cases in Malacca.
He said water rationing is the main indicator in measuring the expertise level of Selangor's water service.
The state's solution to its water woes, he added, were to reduce non-revenue water from the present rate of 32 percent to the national target of 25 percent, to reduce consumption, and to build new water treatment plants.
Azmin had said yesterday the Selangor government has allocated RM800 million to build an extra treatment plant to ensure an uninterrupted supply of treated water.
"I have just officiated the opening of the Semenyih 2 water treatment plant last month. The RM177 million project is paid for by the state government through its reserves," he was reported as saying.