One of my constituents said that people don't remember what the Selangor state government has done for them in the last five years, but they will certainly remember the last seven days.
And the last one week happens to be just before the next general election, described as one that would be the most fiercely fought in the country.
The seven days were excruciatingly painful for some 500,000 people in Selangor who were stranded without water due to a surge vessel system burst in a water treatment plant.
They were furious with the state government and frustrated with having to deal with overflowing toilets and inability to even buy drinking water, as they were selling out fast.
Their anger is justified. But neither the state government, Syabas nor Air Selangor were responsible for the mess.
Syarikat Pengeluaran Air Sungai Selangor Sdn Bhd (Splash) was awarded a 30-year concession by the previous BN-led Selangor state government in January 2000 to build, operate and maintain the water plant.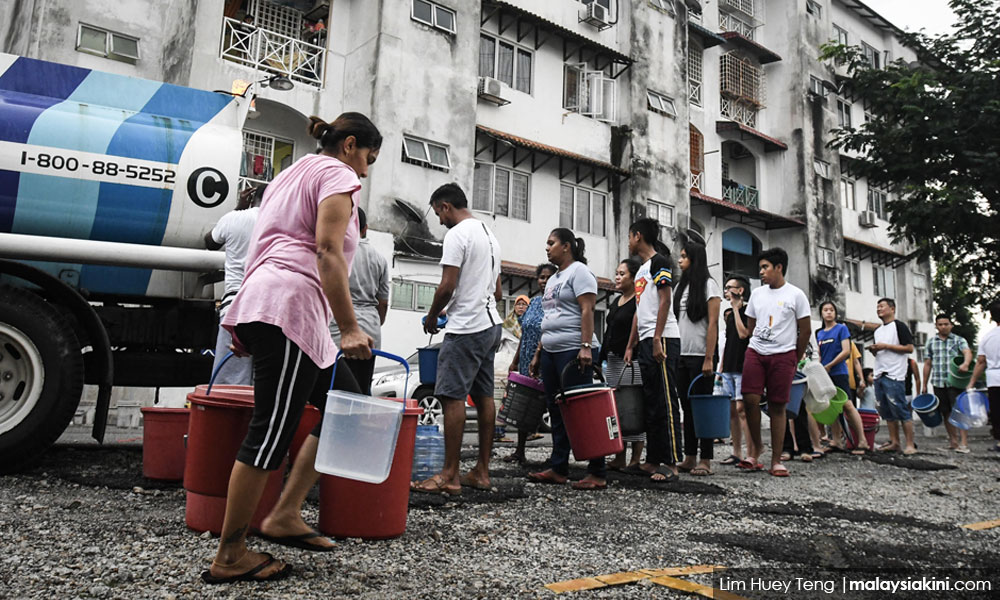 This means that Splash is the concessionaire and supplier of treated water to Syabas, and therefore responsible for the water disruption.
Splash has not just failed to provide regular updates on the status of repair works but also didn't have a proper contingency plan to handle an emergency.
Apparently, three of the water pumps were not repaired or maintained since 2016.
And the fourth pump was recognised as faulty by Air Selangor because of consumer complaints and a loss of 30 MLD (million litres a day) from the dams.
After repairing the fourth pump, the surge vessel system exploded during the process of reactivation, injuring five workers.
It is clear that the plant was poorly maintained and as a result placed thousands of households without water, distress and not to mention the extra expenses incurred by that people to buy food and water.
As such, the National Water Services Commission ( Span) needs to investigate as to why the three water pumps were not repaired for more than a year, the causes of the explosion, if procedures were followed, whether systems were maintained properly and if Spash should compensate consumers.
The water concessionaire is also facing financial problems given that their debts with Tenaga Nasional Berhad (TNB) run into millions of ringgit.
As such, the crucial question to ask is whether Splash concession agreement should be terminated given the poor maintenance and staggering debts.
People in Selangor cannot be left highly vulnerable again because of Splash's poor performance.
---
CHARLES SANTIAGO is Selangor DAP vice-chairperson and member of Parliament Klang