COMMENT | "When you know someone is a thief, you stay away from him," Dr Mahathir Mohamad told Beverley O'Connor, host of "The World" programme by the Australian Broadcasting Corporation (ABC) on Thursday.
Mahathir, of course, was referring to Prime Minister Najib Abdul Razak, who is spending a long-weekend junket in Sydney at the Asean heads of government hot-air talk-shop – again at the expense of Malaysian taxpayers.
Thief isn't the only label Mahathir used to describe Najib. He also called him a "monster". There are far better labels for Najib and for Umno/BN members. "Monster" is an appropriate enough metaphor. But beyond labels, Malaysia has a serious international image problem.
There was a time when Malaysia was known to the world for Mahathir's neo-nationalist Malay brand of loud-mouthness.
That's whenever he railed against, say, Singapore, his racist rants against Jews and Malaysia's British colonial masters – the very lot who taught him how to "divide-and-rule" his own multiracial citizens. Mahathir single-handedly made the term 'citizen' a profoundly dirty word.
Malaysia became even more famous after Mahathir cooked up "facts" to jail his then protégé Anwar Ibrahim and chucked him in prison. When top cop Abdul Rahim Noor black-eyed Anwar in jail, Mahathir merely shrugged in the "saya tidak peduli" manner.
Now Anwar and Mahathir have become bosom buddies in a double-act to exorcise from Malaysia's ripped-asunder soul Najib.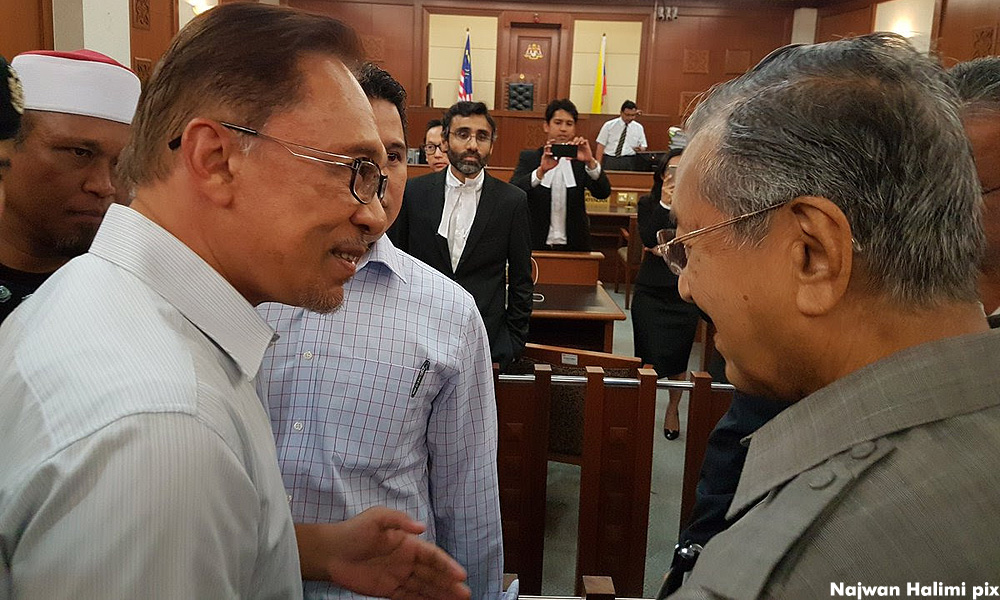 The Mahathir hypocrisy hasn't gone unnoticed, as O'Connor reminded Mahathir. Mahathir responded sheepishly, with the tiniest regret.
He said it is more important to look forward to the future to overthrow the great big thief in their midst and an Umno that has moved so far to the right of its 1946 "objectives" that both the party and its president are rotten to its core.
Mahathir said Umno has been destroying itself from within, that Najib "has destroyed" the original Umno and that the party exists solely to support its president and an authoritarian regime.
Note that Mahathir never mentioned any of Umno's coalition partners-in-crime. Nonetheless, the mission now, as everybody knows, is for the Mahathir-led Pakatan Harapan cavalry to lead the charge and rout Umno before Najib and his band of crooks rob the country blind.
Nothing new in all this. The lineage and the so-called discourse (whatever discourse means) and the battle-cries go right back to 1969 – the year democracy in Malaysia died after a long-simmering brain snap.
My friend S Thayaparan, a Malaysiakini columnist – whom I've never met – has been at great pains recently to make the case that "Malaysian voters" must stand up and save the country. If there's a certain urgency in Mahathir's determination, there's equal stridency in Thayaparan.
But there's also a problem. In fact more than one problem. First, the electoral system, run by the Election Commission, is not chartered to ensure full and fair elections; it remains chartered to ensure fully foul elections.
It's also chartered not to uphold democracy, even democracy with Malaysian characteristics, but to maintain a Malay-led kleptocratic authoritarian regime that thinks it is above the constitution, therefore above the law. The regime is the law since rule of law has ceased to exist for nearly half a century.
Second, Mahathir had for 22 years presided over just such a regime when he led it...