The interminable wait continues for stateless STPM top scorer Roisah Abdullah.
After failing to meet Home Minister Ahmad Zahid Hamidi this morning despite having an appointment, she was promised by his ministry that her application for citizenship would be sent to him for approval by today.
However, the ministry later said Zahid, who is also deputy prime minister, would only consider her application "in the near future," and told Roisah to go home.
PKR vice-president N Surendran, who first highlighted her plight last week, urged Zahid to not prolong the matter any longer.
"Despite the earlier assurance by the ministry's deputy general secretary (Hashimah Nik Jaafar) that the matter would be considered by the minister today, Roisah has been left disappointed again.
"We were told that the application will be considered by the minister dalam tempoh terdekat (as soon as possible), but this could be any period of time.
"It doesn't inspire confidence because the last time, the Home Ministry took five years to consider Roisah's application," he told Malaysiakini in a text message after leaving the ministry's Putrajaya headquarters.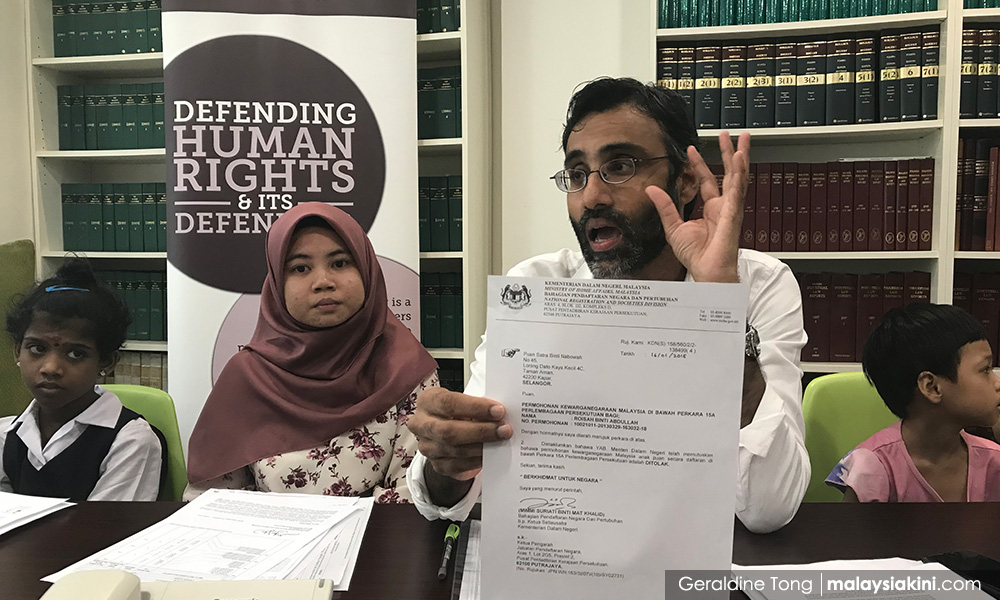 Roisah (second from left in photo) learned in January that her application for citizenship, which she had submitted in 2013, had been rejected.
The twenty-year-old was born in Klang to an unknown father and a mother who is a foreigner. She was adopted shortly after by a Malay family and raised in Malaysia.
In 2014, her adoptive mother passed away. PKR de facto leader Anwar Ibrahim previously pleaded her case from prison.
Deadline fast approaching
Earlier today, Surendran assisted Roisah in filing a fresh application for citizenship with PKR Wanita chief Zuraida Kamaruddin agreeing to act as Roisah's legal guardian to facilitate the process.
---
Read more: Zuraida files to become guardian of stateless top student
---
The ministry and the National Registration Department's move to turn down Roisah's applications for citizenship and an identity card has rendered her stateless, and thus unable to apply to local universities.
She scored 3As and 1B in her STPM examinations and wants to pursue either accounting or economics.
Surendran appealed to Zahid to end Roisah's woes.
"Roisah needs the citizenship confirmation in order to apply to a university immediately.
"Zahid can resolve this with a stroke of his pen," he said.
April 10 is the deadline to apply for the next intake into local universities through the Unit Pengambilan Universiti system.