GE14 LIVE DAY 1 | The countdown to the 14th general election kicks off today, with the start of the official campaigning period.
Follow our live blog as the Malaysiakini team brings you the news as it takes place.
KEY HIGHLIGHTS
Ceramah audience member raps Arul Kanda on 1MDB
10,000-strong crowd greets Marina Mahathir in Penang
Gerakan's Mah woos Indian voters in Teluk Intan
Caretaker Malacca CM: I can come to eat but I cannot treat you all
Dr M tries to charm Indian community in Langkawi
MCA sacks two members for contesting as independents
Tian Chua lodges police report
Dr M express regret about Negeri Sembilan walkover
---
11.59pm: We've ceased live updates for Day 1 of the campaigning period in the lead up to the "mother of all polls". Follow us tomorrow for our live blog on Day 2.
Ceramah audience member raps Arul Kanda on 1MDB
10.45pm: Shah Alam, Selangor - The BN ceramah featuring 1MDB CEO Arul Kanda Kandasamy heats up as an audience member stands up (above) to question him.
Among others, the man quizzes Arul on details surrounding the DOJ's asset forfeiture suit and on 1MDB's audited accounts. He also accuses Arul Kanda of lying on his explanation surrounding the US$681 million deposited into the account of caretaker prime minister Najib Abdul Razak.
When met, the man introduces himself as Zulfahan Pagon, a former Umno member. Arul Kanda proceeds to respond to Zulfahan but then says he (Zulfahan) was spinning the issue using allegations made by the opposition.
"How does he asks the questions? He is just stating the opposition spin (on 1MDB)," says Arul Kanda, to cries of "Betul!" from the audience.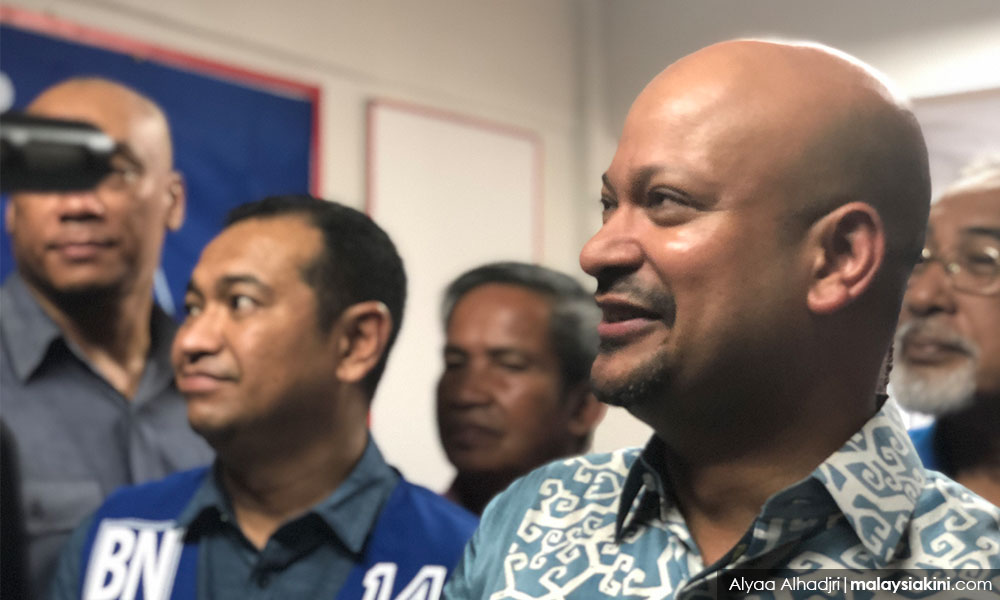 After asking his question, Zulfahan moves to stand facing the stage but behind the last row of chairs on the muddy field at Flat PKNS Seksyen 16 here.
One of the organisers later approaches him and demands that he listens to Arul Kanda's response. Arul Kanda later tells reporters he will be speaking on 1MDB at five other ceramah over the next 10 days.
"I will be in Kota Baru, Kelantan on April 30, Sungai Siput and Parit Buntar in Perak on May 1, Balik Pulau and Georgetown in Penang on May 3," he says.
Marina Mahathir a hit in Penang
10.45pm: Georgetown, Penang – A 10,000-strong crowd greets Marina Mahathir as she arrives for a mega-ceramah in the Esplanade. She is accompanied by caretaker chief minister Lim Guan Eng.
They crowd cheers heartily and wave their handphones with the torchlights on illuminating the whole field.
Many were curious about Marina and drew closer to the field to get a glimpse of her. "That's Mahathir's daughter, they are so alike," a senior citizen who crowded the stage told his friends.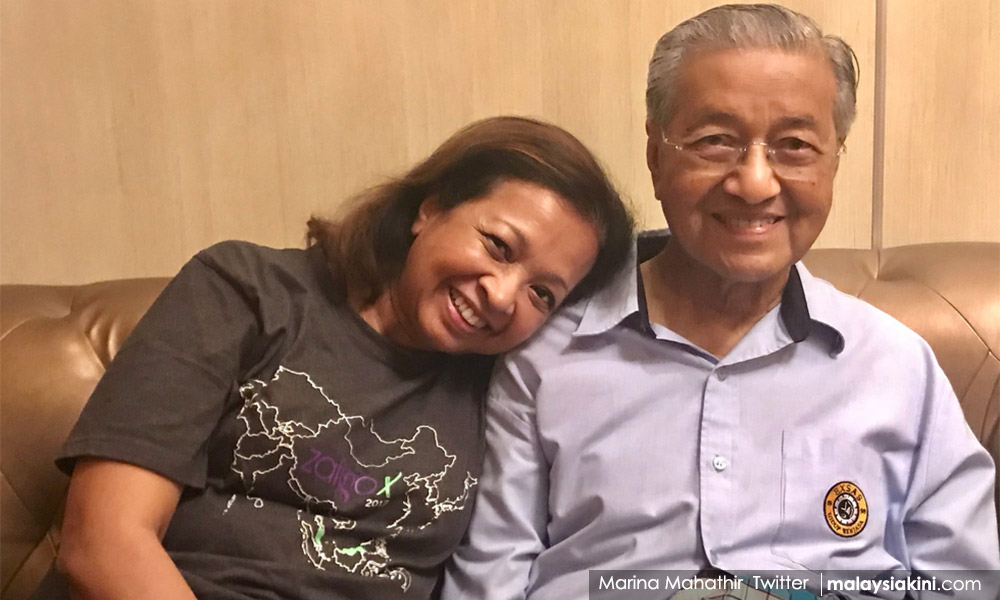 Marina then addresses the crowd, explaining to them the plight of her father, the Langkawi candidate, who almost missed his flight and nomination day today.
"But I know all of you have been praying for my dad, so he managed to make it to Langkawi," she said.
When Lim went up to speak, the crowd was elated and waved PKR's blue flags frantically while chanting loudly for several minutes "Guan Eng, Guan Eng, Guan Eng!" signalling that support for the DAP secretary-general on the island is still very strong.
Gerakan's Mah woos Indian voters in Teluk Intan
10.30pm: Teluk Intan, Perak - After the morning nominations, BN Teluk Intan candidate Mah Siew Keong attends an event tonight with around 300 Indians in attendance.
The cultural event, held in conjunction with the Chitrapournami festival, was organised by the Hilir Perak District Economic Development Society.
The Hindu community will celebrate Chitrapournami, which is also known as "full moon festival", tomorrow. It has become a significant festival for Indians in Teluk Intan in the past year.
Mah (centre in photo), who is also Gerakan president, said in his speech that he is proud of the harmonious life of the various ethnicities in Teluk Intan where Chinese, Malays and Indians can live together and help each other.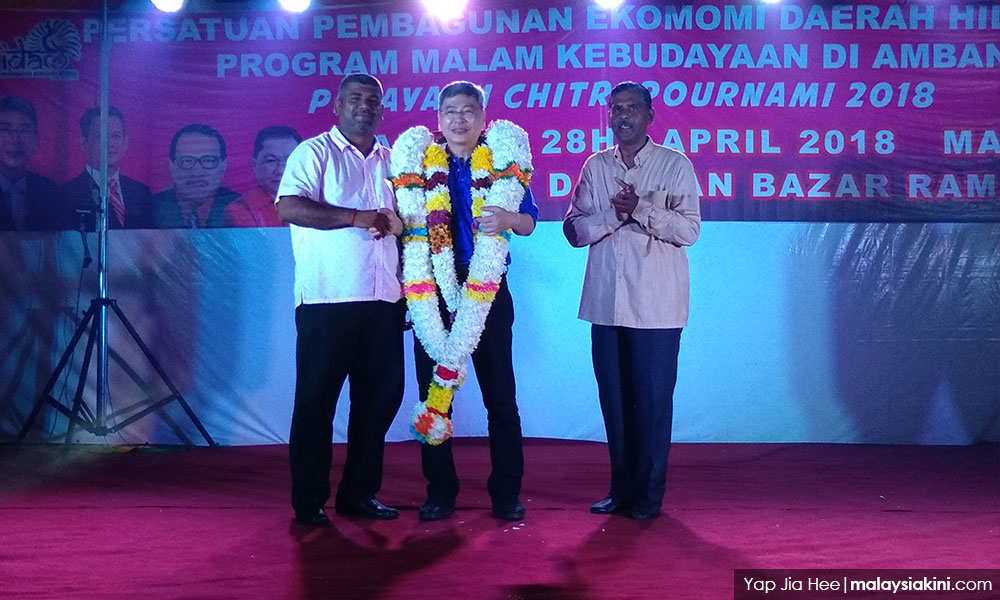 "We have many cultures here, we also have tokong (shrine), church and mosque which are located side by side and did not have any problems.
"We will also build an Indian cultural building here soon," he said to applause from the crowd.
He also listed out some development projects which will be completed soon, such as the West Coast Expressway, gloves factory and so on.
This is expected to create thousands of job opportunities for Teluk Intan people, especially youths.
When asked by reporters later about his chances of defending the Teluk Intan seat, Mah said it will be a tough fight because he had lost the seat by 7,313 votes to DAP in the 13th general election.
Mah subsequently won the Teluk Intan seat in a 2014 by-election.
"We cannot use PRU kecil (by-election) as comparison, we need to refer to the 2013 general election and we lost (by) 7,313 votes, it is a huge number.
"We admitted it will be not easy to cover the huge number but since we have many development projects and welfare for Teluk Intan people, therefore we see us as having a chance," he said.
He also admitted that the participation of PAS and the resulting three-cornered fights will also be tough for BN.
"I will give you the figures once we do a calculation, because this is first time PAS is contesting, normally PAS does not contest, so we have to do a recalculation.
"PAS coming in has made it tougher for us, but we still have a fighting chance, he said.
PAS will be fielding Ahmad Ramadzan Ahmad Daud for the Teluk Intan seat.
Meanwhile, the Nambikei society president Kalaivanar led the crowd to chant "Sokong Mah, Sokong Kong" (Support Mah, Support Kong).
Kong Sun Chin is MCA's candidate for the Pasir Bedamar state seat, which is located within Teluk Intan.
Meanwhile, DAP's Teluk Intan candidate Nga Kor Ming only had a kenduri event in the afternoon after nominations closed, rushing to Taiping to attend a talk.
Nga, who is the incumbent Taiping MP, will also contest Aulong, a state seat under Taiping.
Caretaker Malacca CM: I can come to eat but I cannot treat you all
10pm: Alor Gajah, Malacca - Caretaker Malacca chief minister Idris Haron quips during a speech at a dinner event here that he is sorry he could not contribute anything to the organisers.
"If I am caught giving contributions, I will be disqualified from contesting in Sungai Udang.
"So I can come to eat but I cannot treat you all. Actually now is the best time for me to go around because I cannot give any contributions," he jokes to a crowd of about 70 people.
The event was a networking session organised by the Malaysian Academics Association Congress.
Dr M tries to charm Indian community in Langkawi
9.30pm: Langkawi, Kedah - Pakatan Harapan chairperson Dr Mahathir Mohamad tries to charm the Indian community in Langkawi by pledging to provide more jobs for them.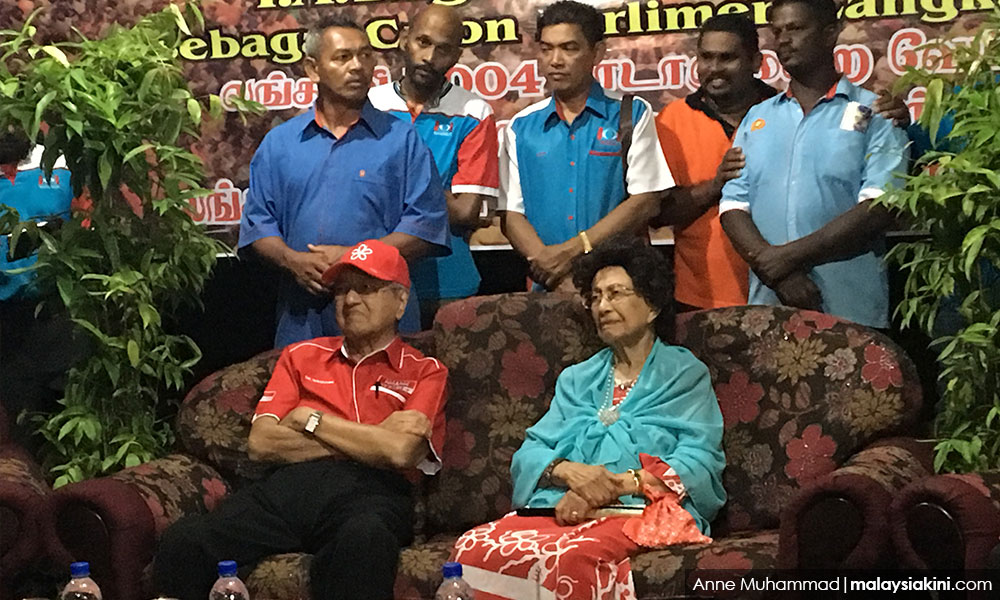 "There are many problems facing the Indian community. I pledge that if we become the government, I will hold gatherings with the respective communities, hear out their problems and find solutions, particularly on job opportunities," he says.
The event, attended by some 300 people from the Indian community in Ladang Sungai Raya Kisap, was organised by Hindraf.
It is Mahathir's first meeting with the public following his nomination as Harapan's Langkawi candidate this morning.
9.15pm: Bayan Baru, Penang - Pantai Jerejak candidate and PKR secretary-general Saifudin Nasution admitted there were one or two cases where the party's candidates made mistakes when submitting their nomination papers this morning particularly on bankruptcy statuses.
However, the party would challenge the EC's decision to reject Tian Chua's nomination papers and the action of police to prevent its Rantau candidate Dr S Streram (extreme right, below) from filling his papers.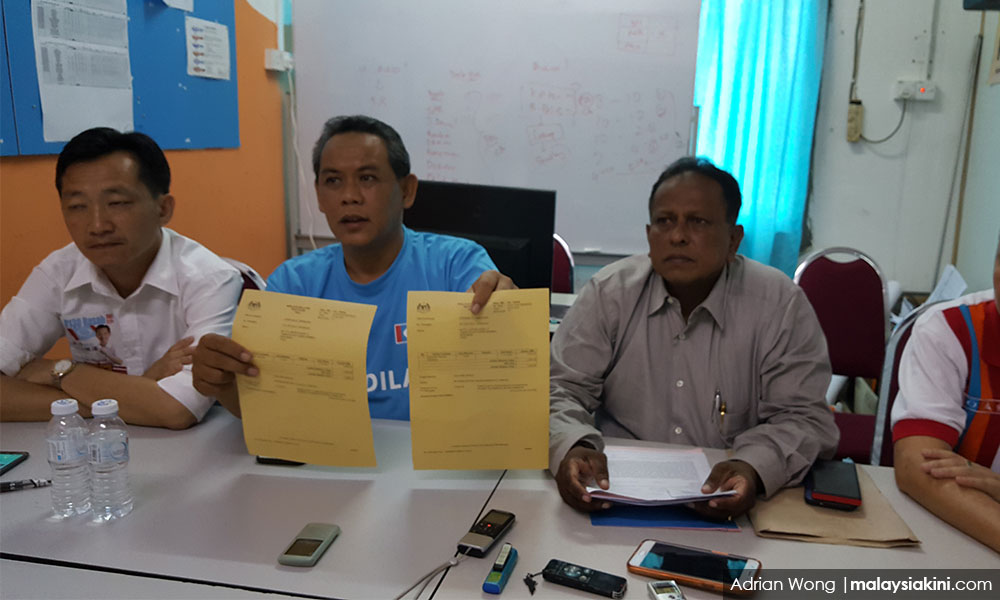 "Tian will file a challenge in court next Monday but we only have 10 days left to campaign and the case may not be heard immediately, " he says.
"No matter what, we will still try and prove that the decision of returning officer is invalid," he said when speaking to about 200 people at a roadside "ceramah kelompok".
9pm: Shah Alam, Selangor - Mixing up local and international issues appears to be the theme for a BN ceramah here featuring its candidates, 1MDB CEO Arul Kanda Kandasamy as well as Jasa officer Lokman Noor Adam. The audience comprise some 100 residents of the PKNS flat in Section 16 here.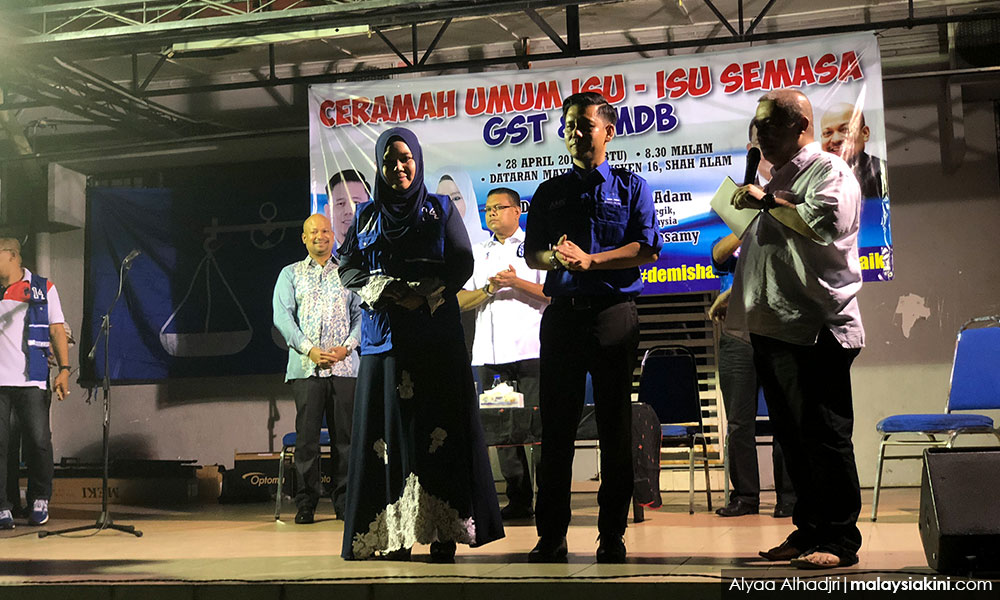 BN Kota Anggerik candidate Jumaeyah Masdi, who introduces herself as a young mother, says she sympathises with the elderly women in the audience who were affected by the recent Selangor water crisis. "I feel so sad thinking about how you had to climb up and down carrying water," she says in an emotional tone.
BN Batu Tiga candidate Ahmad Muadzam Shah Yaakob similarly urges the crowd to give BN a chance. "We are a generation of young and clean candidates. Please give us a chance and vote for us," he says.
The emcee, Umno Shah Alam member Wan Indra Putra Ahmad, earlier reminds the crowd of BN's promise that it would return Stadium Shah Alam back to the people if it manages to reclaim the state from Pakatan Harapan.
Arul Kanda takes the stage after the candidates and proceeds to reiterate his explanations on the background of how 1MDB was set-up and how it reached the point of accumulating RM50 billion debt at its peak. He also talks at length about its ongoing rationalisation process.
"Please tell your wives, husbands, children and grandchildren that the 'bald man' Arul Kanda was not the one who created the mess. He came in later and tried to resolve it," he says.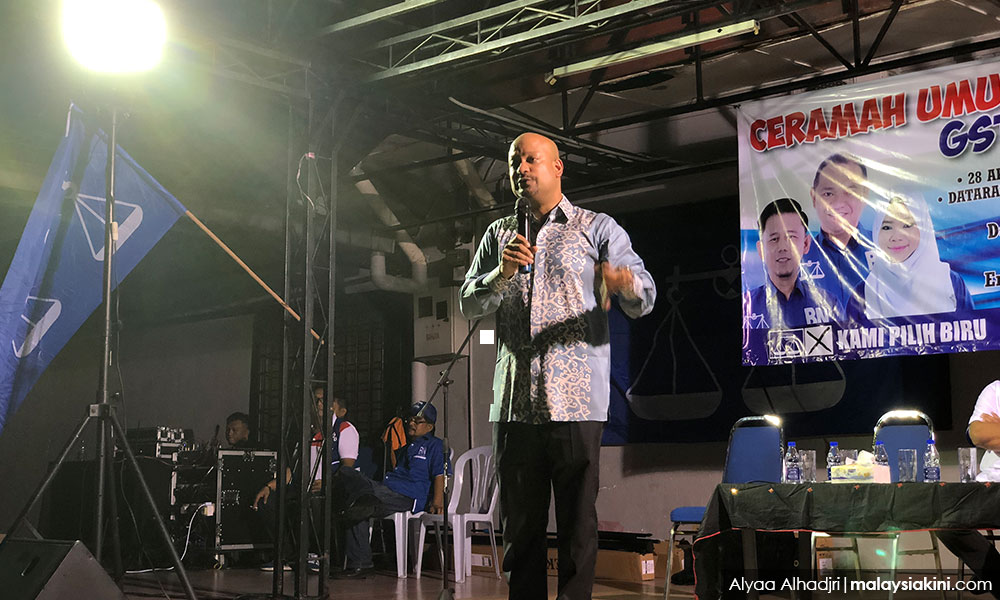 "Do you know who from the opposition is in the Public Accounts Committee?," he asks the audience, to which they respond "Tony Pua" and "Tan Seng Giaw".
5,000 people attend Harapan rally in Penang
9.00pm: Georgetown, Penang - PKR's Permatang Pauh candidate Nurul Izzah Anwar arrives to loud applause from the crowd that has gathered for the Pakatan Harapan ceramah at the Esplanade.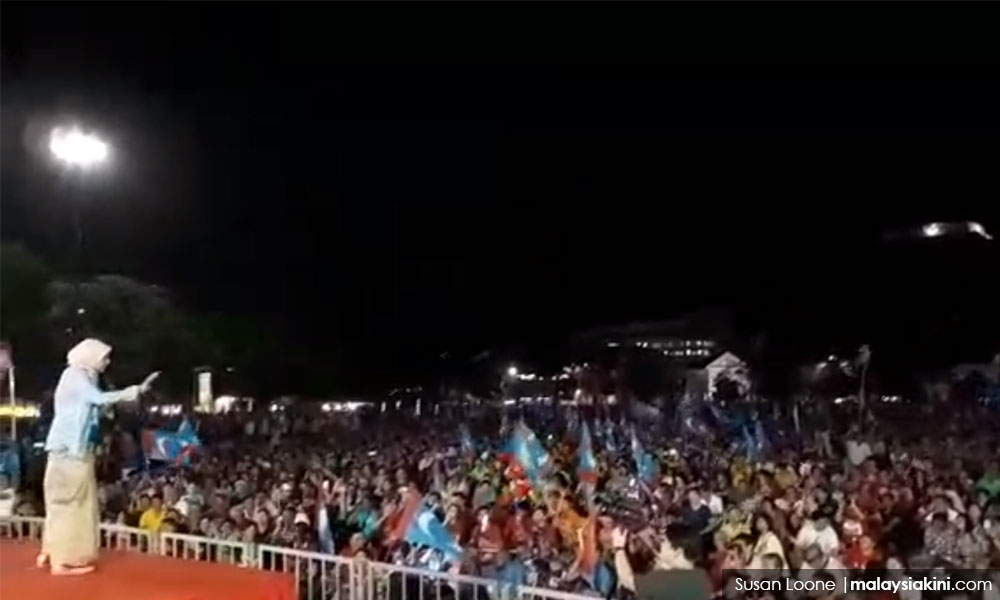 Perhaps the election campaign mood has not quite caught up with most Penangites yet, as the field where the ceramah is being held is only half-filled with approximately 5,000 attendees.
But the mood is festive, with PKR turquoise blue flags waving, people blowing their vuvuzelas noisily, as they cheer the speakers.
Before she appeared, Permatang Pasir's Amanah candidate Faiz Fadzil whipped up quite a response from the mostly Chinese crowd when he praised caretaker chief minister Lim Guan Eng's administration from 2008 up to now.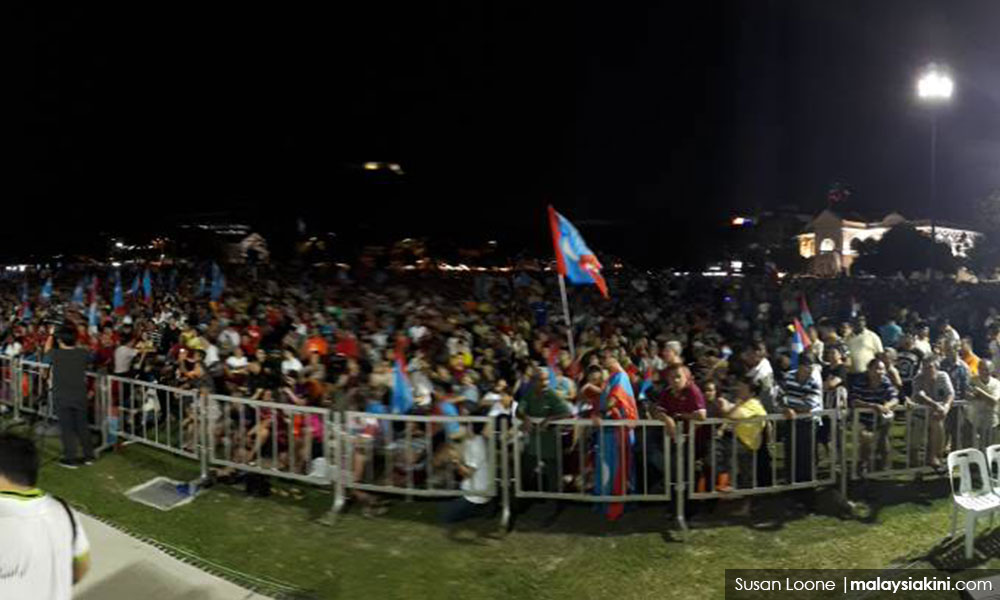 "We don't pick leaders based on race," he said, as the crowd cheered.
The crowd was excited when he said that PKR de facto leader Anwar Ibrahim will be released from prison in Sungai Buloh in June.
MCA sacks two members for contesting as independents
7.30pm: Kuala Lumpur - MCA deputy president Wee Ka Siong (photo), in a statement, says two party members were sacked for contesting in the 14th general election without a BN mandate.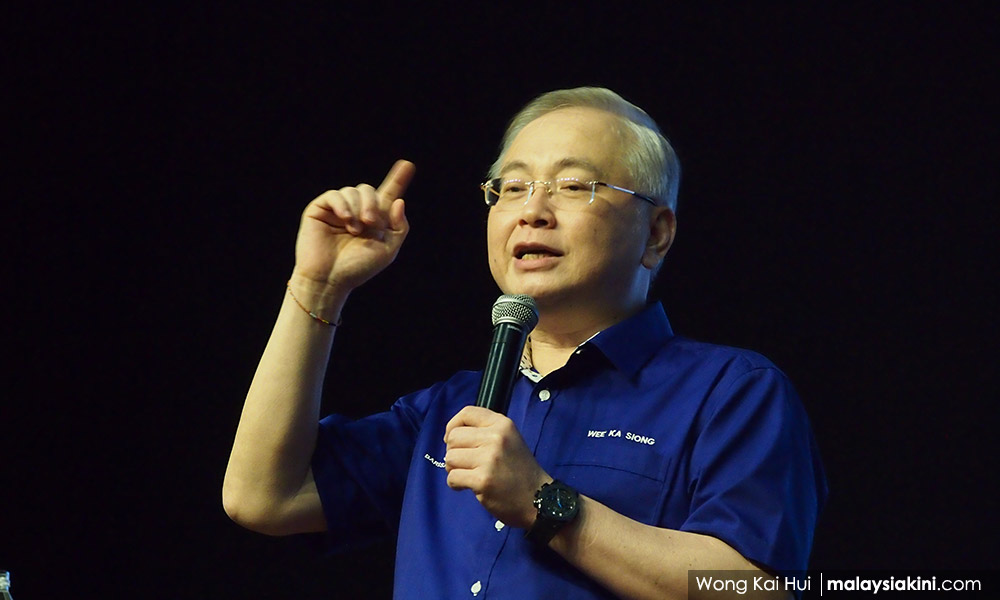 They are Lim Yak Hong and Ting Choon Chai, both of whom are contesting as independents in the state seat of Puteri Wangsa in Johor.
"This action was taken as per the decision made by the 28th central committee meeting held on Dec 19, 2017, that any party member who had acted against the party's interest during the 14th general election shall be expelled from the party with immediate effect," he says.
7pm: Semporna, Sabah - Parti Warisan Sabah president Mohd Shafie Apdal denies a viral claim on social media that the party had won four seats via walkovers in Senallang, Likas, Keningau and Bugaya.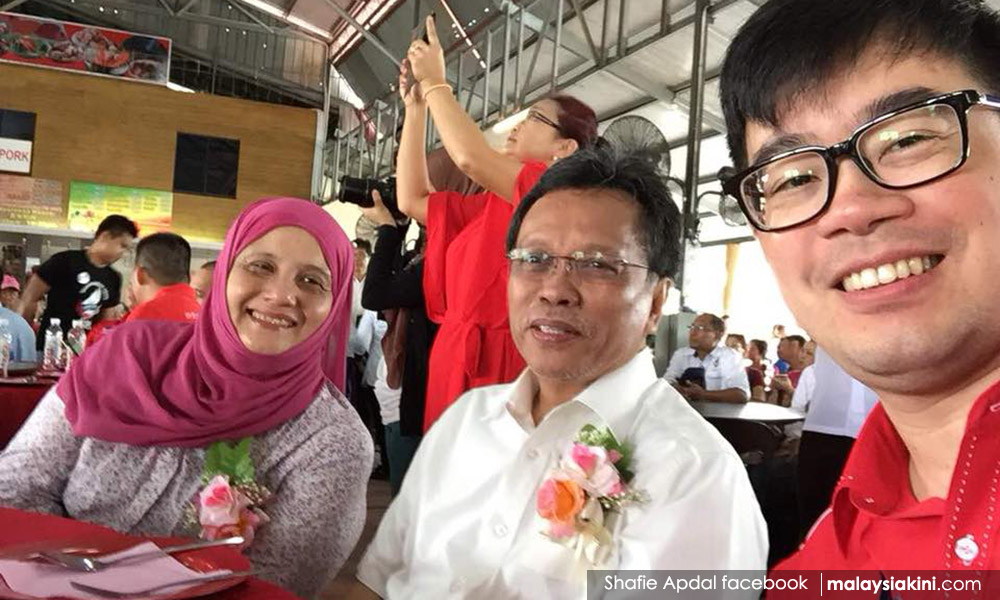 "All our candidates will face contests from our opponents whether from the BN or from other opposition parties," he says.
Warisan will see its candidates fighting in 17 parliamentary and 45 state seats.
Multi-cornered fights
6.43pm: Putrajaya - Election Commission (EC) chairperson Mohd Hashim Abdullah anticipates voter turnout to hit 85 percent this election.
He also states there will be at over 70 four-cornered fights taking place in this general election, with the Election Commission (EC) indicating there are 22 parliamentary seats and 54 state seats with four contesting candidates respectively.
There will also be three-cornered fights at 143 parliamentary seats and 331 state seats; five-cornered fights at three parliamentary seats and 18 state seats; while six-cornered fights at three state seats.
Meanwhile, 11 nomination papers were rejected this morning, three from parliamentary seats and eight from state seats.
He tells reporters during an earlier press conference that the results for the May 9 polls are expected to be announced by 9pm that night.
PPR scheme launched in Sungai Yu
6pm: Sungai Yu, Selangor - Caretaker Urban Wellbeing, Housing and Local Government Ministry Noh Omar launches of a People's Housing Project (PPR) scheme at Sungai Yu in Tanjung Karang.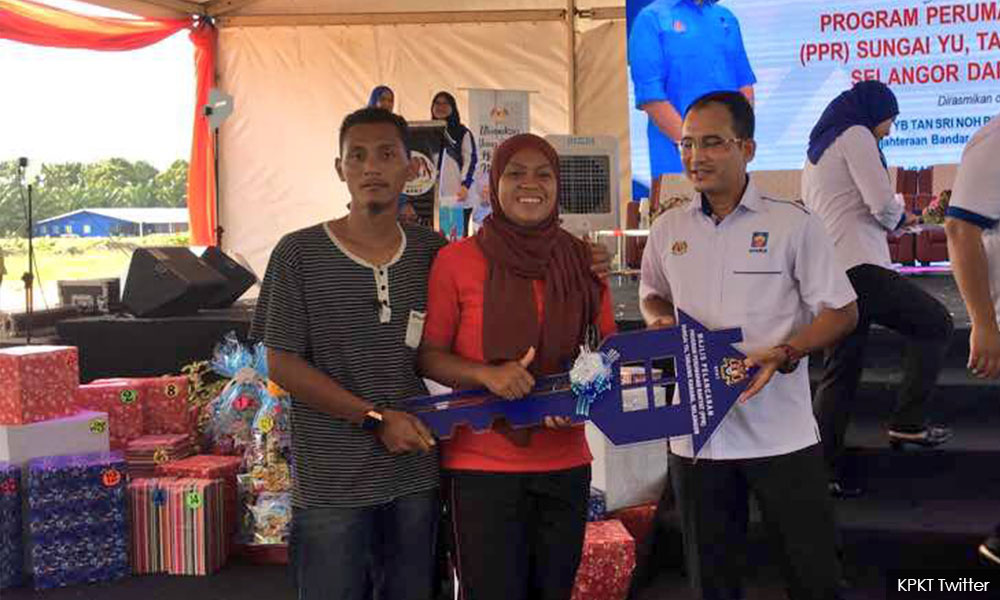 The ministry will build 500 units here at the cost RM200,000 each but will sell it to the public at RM35,000 each The proejct will be completed in two years.
According to the ministry's tweets, a young couple won one unit via a lucky draw today. A photo of the lucky couple showed numerous presents in the background.
Malacca caretaker CM aids hurt motorcyclist
6.15pm: Sungai Udang, Malacca - Malacca caretaker chief minister Idris Haron was on his way to a walkabout at the Sungai Udang pasar malam (night market) when he was delayed by a road accident.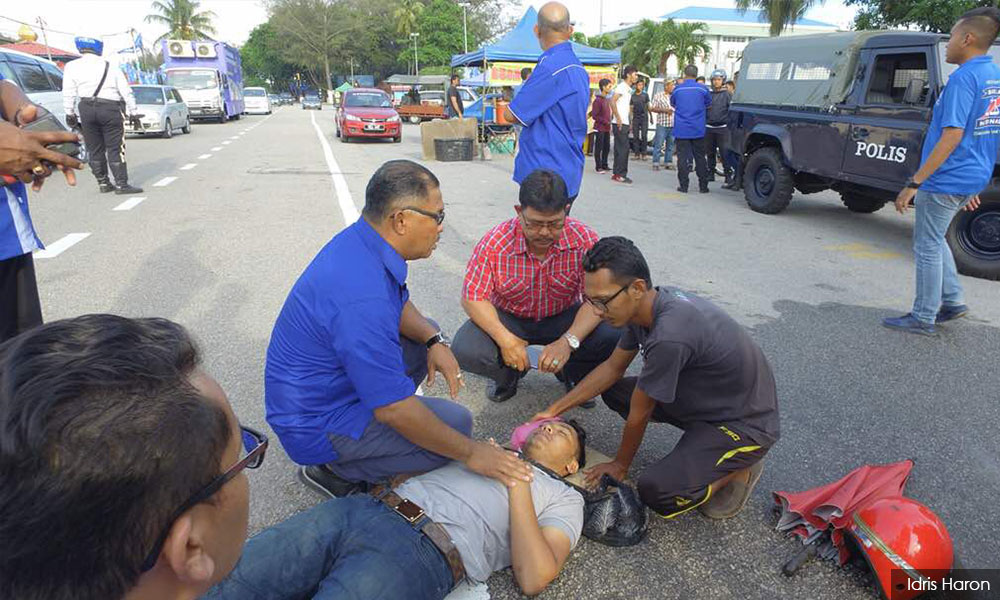 A motorcyclist was hit by a car turning at a double line and the man was seen lying on the road, injured.
Idris stopped to help the man, waiting with him until the ambulance arrived.
At the pasar malam, he was immediately drawn to a busker and approached the man who handed him a microphone after greeting him.
Idris, who is BN's candidate for the state seat of Sungai Udang, proceeds to serenade the pasar malam with a rendition of "Nyanyian Serambi" by Ramli Sarip.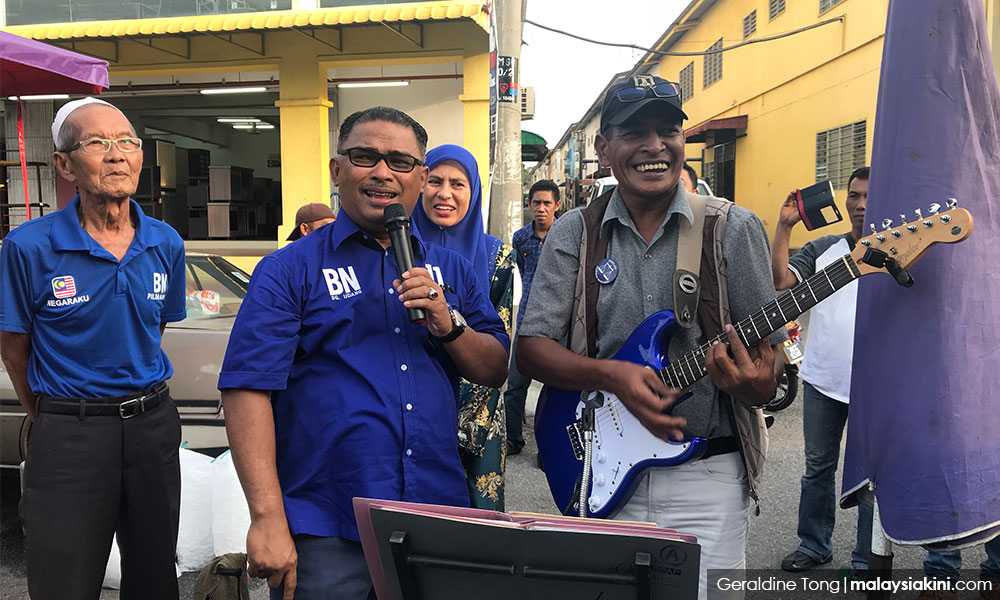 The Sungai Udang incumbent assemblyperson won the seat with a 9,136 majority in the last election.
Tian Chua lodges police report
5.57pm: Sentul, Kuala Lumpur - PKR vice-president Tian Chua lodges a police report against returning officer Anwar Mohd Zain for harbouring ill intention by disqualifying him from contesting in Batu for the fourth time.
He had arrived at Sentul District police headquarter with 30 supporters earlier in the afternoon to lodge the report.
In his report, he urges police to take appropriate action against the returning officer for contravening the court's decision on his qualification as a lawmaker.
However, Election Commission (EC) chief Hashim Abdullah defends Anwar's decision and urges those who are unhappy to take the matter to court.
1MDB truck video
5.30pm: Sri Gading, Johor - A truck parked by the side of the main trunk road in Parit Raja is playing videos of 1MDB chief executive officer Arul Kanda Kandasamy's explanation regarding 1MDB's debts.
The truck, which bears the 1Malaysia logo, is parked at a lot across from the Sri Gading Umno headquarters and the Abdullah Faqih mosque.
A trader tells Malaysiakini that the truck has only been at the site for over an hour.
Tian Chua rallies supporters
5.15pm: Batu, Wilayah Persekutuan - Disqualified Harapan Batu candidate Tian Chua takes to Twitter to urge supporters not to despair or be disappointed over the news.
He also tweets: "We must not (let) the BN kleptocrats steal our election. Keep our spirit(s) high, (and) continue to campaign against BN."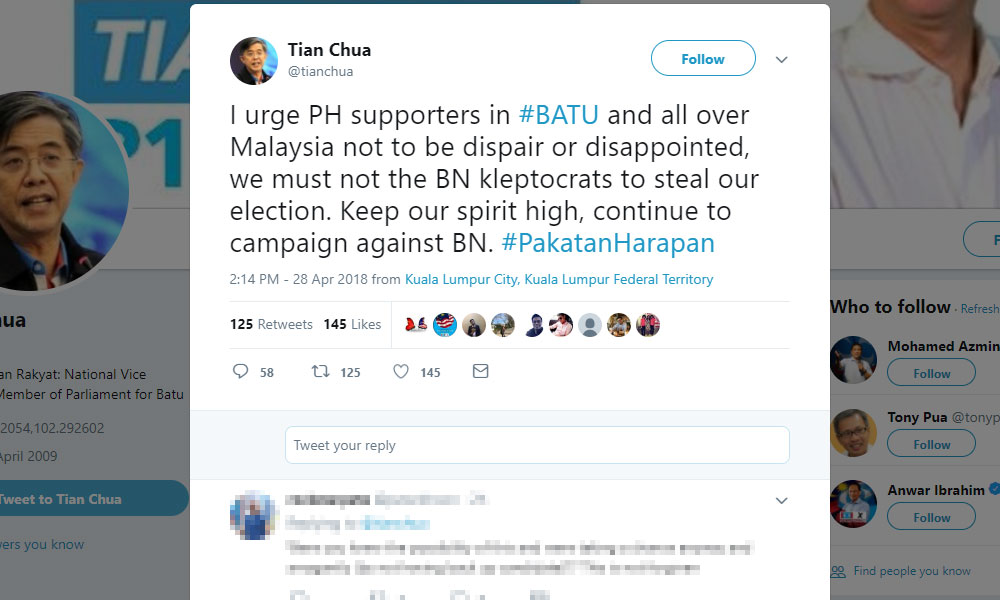 Obey rules of campaigning period, reminds EC chief
4pm: Putrajaya - EC chief Mohd Hashim Abdullah holds a press conference at the commission's headquarters and reminds all to abide by the rules as the campaigning period officially begins.
Campaign material like flags can only contain images of candidates and relevant party leaders, he says.
EC officials will remove any materials which contain images of "unrelated" leaders, especially if these images used for negative purposes and were in violations of the election regulations.
He stresses that posters and banners containing words capable of causing "ill feeling and animosity" are also not allowed, while candidates must obtain a police permit before organising any ceramah.
Dr M express regret about Negeri Sembilan walkover
3.50pm: Langkawi, Kedah - Harapan chairperson and Langkawi candidate Dr Mahathir Mohamad admits caretaker Negeri Sembilan menteri besar Mohamad Hasan won uncontested due to the mistake committed by PKR's candidate S Streram.
"Everything is okay except that PKR's Tian Chua was disqualified although there was no reason for that. I regret (that) Mohamad Hassan won uncontested because of a mistake made by our candidate," he says during a press conference.
Meanwhile, he says he won't be lodging a police report over his claim his private jet could have been sabotaged yesterday.
"That's a waste of time as they will find there is nothing wrong," he adds.
Soon after Mahathir's allegation, the government had ordered an immediate probe into the matter.
Campaigning begins, officially
3.30pm - With the nomination process official closed, all parties and candidates can now delve fully into campaigning.
They have 11 days to woo voters, until the clock strikes midnight on May 8.
Come the morning of May 9, Malaysians will go to the polls to vote in what is being called the "mother of all polls" - as BN, led by caretaker prime minister Najib Abdul Razak who is seeking a second mandate to lead the nation, while leading the opposition this round is his former ally turned political foe, Dr Mahathir Mohamad.
The 92-year-old Mahathir, who remains Malaysia's longest-serving prime minister, having helmed the top post for 22 years from 1981 to 2003, has now joined forces with the opposition Pakatan Harapan coalition, leading alongside chairperson Dr Wan Azizah Wan Ismail and the man he has once incarcerated Anwar Ibrahim.
This election will also witness Pakatan Harapan candidates, contesting under a single logo – PKR's "eye" symbol, a general election-first for DAP since 1969.
Candidates will be vying to be elected in one of 222 parliamentary and 505 state seats, excluding Sarawak, with some contesting in multiple seats.