GE14 LIVE - DAY 4 | It's day four of the 14th general election campaign period, and there are just eight days to go before polling day.
Follow our live blog as the Malaysiakini team brings you the news as it takes place.
KEY HIGHLIGHTS
Hadi: If you love Dr M, don't vote for him
'I erred in picking Najib once, help me make things right'
Drenched in rain, but Titiwangsa crowd electric at sight of Dr M
Najib and Rosmah are panicking - Azmin
'Harapan confident of winning 20 Felda seats'
PAS candidate gives free petrol for bikes
Harapan 'question marks' Dr M on billboard
Lim Lip Eng: Chinese community don't need MCA in cabinet
Why no Najib? Kit Siang questions MCA's Liow-Xi Jinping billboard
PAS urges military chiefs to let officers vote for 'the best option'
S'gor promises to increase minimum wage, create a million high-quality jobs
---
11.59pm: We've ceased live updates for Day 4 of the campaigning period in the lead up to May 9. Follow us tomorrow for our live blog on Day 5.
'Rafizi for finance minister'
11.45pm: Titiwangsa, Kuala Lumpur - Amanah president Mohamad Sabu admits that the opposition did criticise the mega projects undertaken during Dr Mahathir Mohamad's time as prime minister, like KLIA and Putrajaya, for being too expensive.
But these projects, he explained, were at least completed.
He also touches on the 1MDB scandal, and reiterates Harapan's manifesto pledge to separate the role of prime minister and finance minister.
Several audience members proffer their own recommendation for the latter position, shouting out "Rafizi Ramli!"
Mohamad also tells the crowd that if they are from other states, they should go home to vote.
Silence descends on Titiwangsa as teary Dr M video plays
11.30pm: Titiwangsa, Kuala Lumpur - Silence cloaks the crowd as a video clip of Harapan chair Mahathir pledging to amend his past mistakes is played.
The calm is only broken with applause as Mahathir gets teary in the video, which is being played to await the arrival of Amanah president Mohamad Sabu from Kota Raja, where he is speaking at another ceramah.
The emcee then interviews Mahathir onstage and praises the child actor in the video clip, saying she has the potential to become a famous actor one day.
Mahathir, 92, then shared his tips for longevity – no alcohol, no smoking and moderate eating, which delights the crowd.
Hadi: If you love Dr M, don't vote for him
11.10pm: Langkawi, Kedah - PAS president Abdul Hadi Awang urges voters in Langkawi to not vote for Dr Mahathir Mohamad so that the 92-year-old former premier can get some "rest."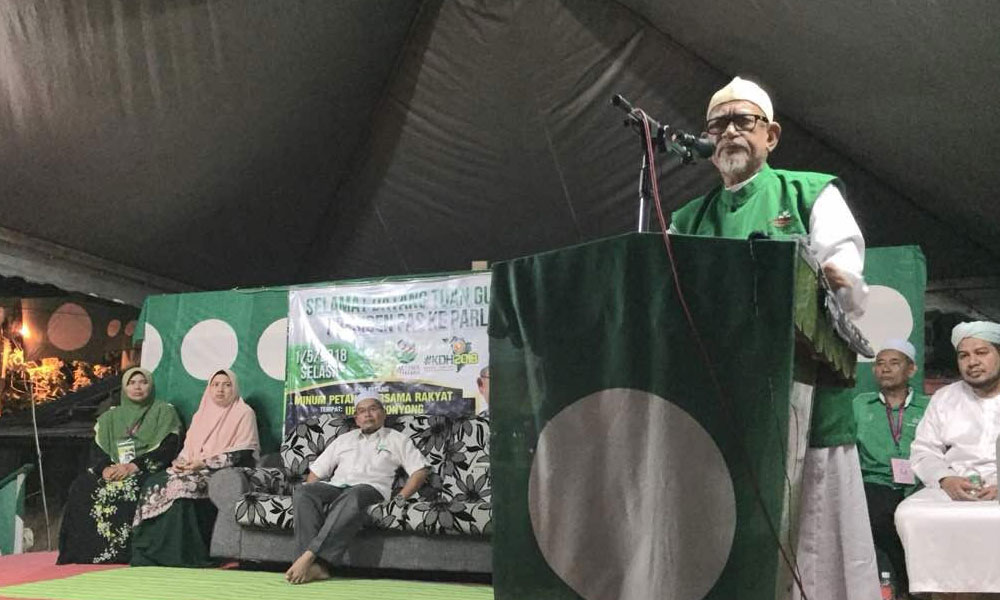 "If you love Mahathir, don't vote for him, let him rest, let him spend his last days in peace, not become prime minister again," he says in a ceramah held in the Kuah PAS headquarters.
He tells the 1,000-strong crowd at the ceramah that Harapan should pick someone younger for Langkawi, instead of recycling an old candidate.
Harapan explores unfamiliar terrain
11pm: Muar, Johor - Pakatan Harapan Muar candidate Syed Saddiq Syed Abdul Rahman and Maharani candidate Norhayati Bachok penetrate new ground in Parit Sakai Darat.
Locals say that this is the first ever opposition ceramah in the village.
"Not even PAS has come here," a villager who only wished to be known as Ishak told Malaysiakini.
Some 40 people attended the ceramah.
'I erred in picking Najib once, help me make things right'
10.50pm: Titiwangsa, Kuala Lumpur - Former premier Dr Mahathir Mohamad again apologises for once naming Najib Abdul Razak as prime minister.
"This is the biggest mistake I ever made," he tells the 1,000-strong crowd.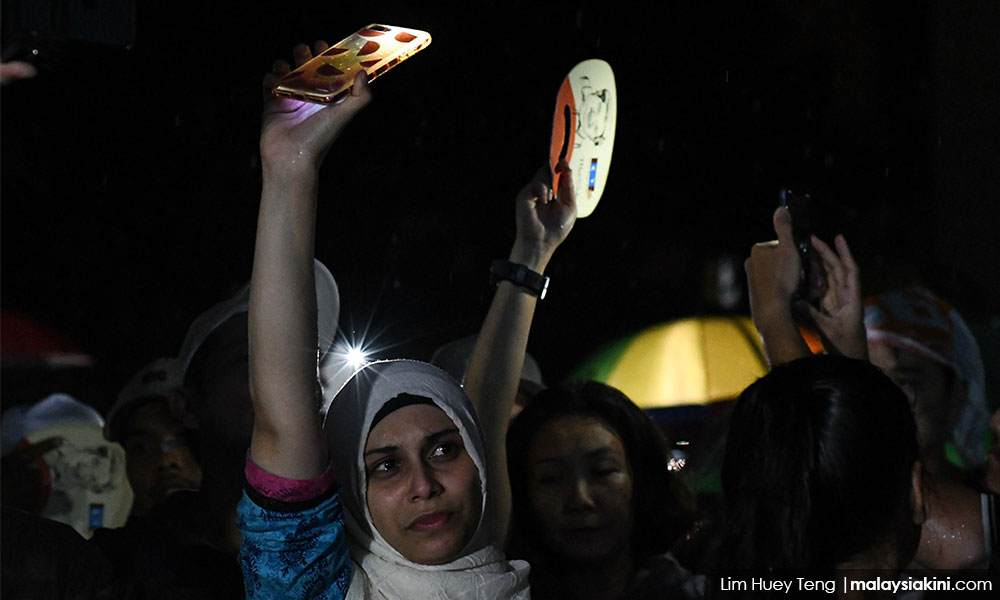 He then appeals to the crowd to help him make things right by voting Najib out.
Mahathir also jokes that Najib will go incontinent at the sight of him, following the ban on the use of the Harapan chair's image on campaign materials.
Confidently, he adds that Najib will no longer need to tolerate the sight of his face on posters after the May 9 polls.
When Mahathir finishes his speech, he does not leave the stage immediately, but waits for the arrival of Harapan president Dr Wan Azizah Wan Ismail.
A woman in the crowd shouts out passionately, "Tun, you are so handsome."
Mat Sabu hails the legacy in Amanah
10.45pm: Kota Raja, Selangor - Amanah president Mohamad Sabu says that he is glad that the children of three PAS leaders are now contesting under Pakatan Harapan.
He was referring to Mujahid Yusof Rawa, son of the first PAS spiritual leader, the late Yusof Rawa, who is contesting in the parliamentary seat of Parit Buntar; Faiz Fadzil, son of the late president Fadzil Noor who made the call of 'PAS for all', who is contesting in the state seat of Permatang Pasir; and Nik Omar Nik Abdul Aziz, son of the late spiritual leader Nik Abdul Aziz Nik Mat, who is standing in his father's old seat of Chempaka.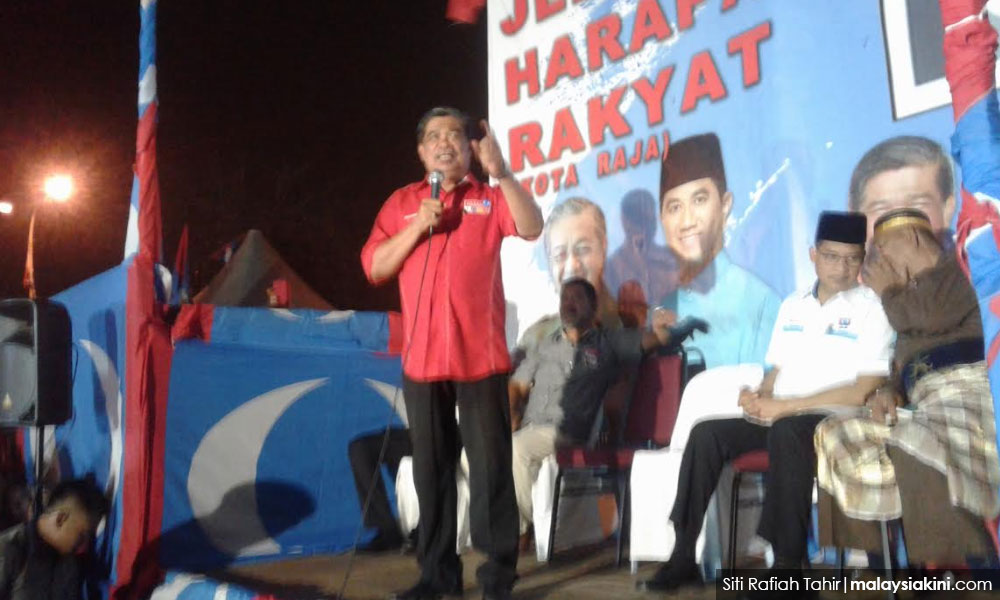 "They are gifts to Amanah and gifts to us," he tells the crowd.
Mohamad then laments that PAS are growing closer with Umno by day.
He points to caretaker Negeri Sembilan menteri besar Mohamad Hasan winning Rantau uncontested after Harapan candidate Dr S Streram was disqualified. This could only happen, he says, because PAS did not field a candidate for the state seat.
"Are they sure they are not a coalition?" he asks.
Mohamad, formerly a PAS deputy president himself, takes the opportunity to recall that when he first joined the party, it was so poor that they had to paint flags on plywood.
Things are different now, he says, with the party being able to afford thousands of beautifully printed flags.
Mohamad also notes that the once famed nemeses of BN now always choose to abstain whenever Harapan moves motions against the ruling coalition in Parliament.
"When we play the anti-1MDB card, they don't want to play along. We don't know whether they are the opposition or part of the government now.
"If there is a party and we cannot tell what they are 'male' or 'female', then leave it!" he exclaims.
He also urges PAS members to vote for Harapan candidates.
Drenched in rain, but Titiwangsa crowd electric at sight of Dr M
10pm - Desa Pandan, Titiwangsa - The crowd grows to over 1,000, despite a relentless drizzle.
Many have umbrellas up while others are drenched in rain.
Mahathir arrives , and the crowd welcomes the Harapan chairperson with the chant of "Hidup Tun" (long live Tun) for several minutes.
The atmosphere is electric as the crowd rushes towards Mahathir and surrounds him.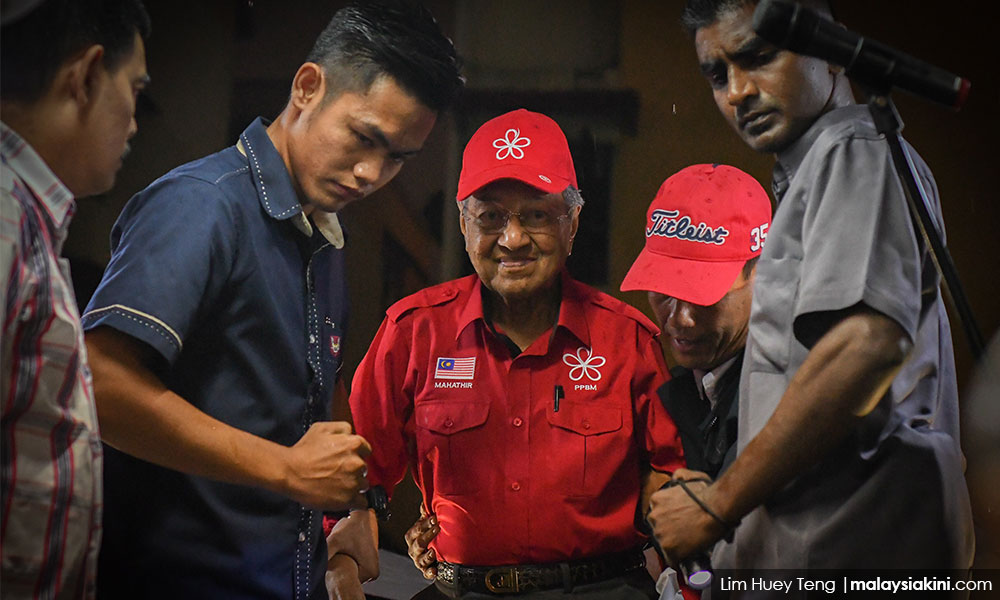 Mahathir, accompanied by his wife Dr Siti Hasmah Mohd Ali, later make their way to the stage.
When it is Mahathir's time to speak, the crowd repeated chants "Long live Tun! "Long live Tun!".
"Even though its raining and the ground is muddy, many have come.
"But if even Najib paid people to go to his rally, not many people will come," he says.
Najib and Rosmah are panicking - Azmin
9.45pm: Kota Raja, Selangor - Caretaker Selangor menteri besar Azmin Ali says after the polling closes at 5pm, he will be on standby at KLIA to catch two individuals who may run away due to being defeated in the polls.
Najib and Rosmah are panicking as polling day approaches, he adds.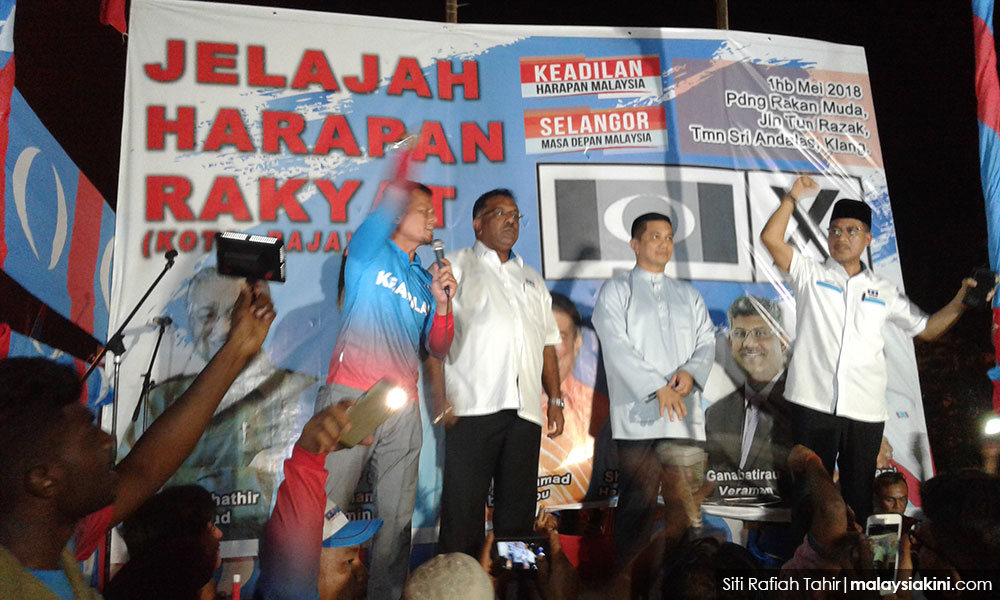 The PKR deputy president says the country is in a dire state due to the high level of debt incurred under Najib.
As Malaysians travel overseas, he adds, they are ashamed when asked by foreigners about the prime minister with RM2.6 billion in his personal account.
Azmin says the Selangor state governed by Harapan has accumulated RM4 billion in reserves.
"I do not enrich myself or engage in corruption or buy an expensive ring or allow my wife do expensive hairdos," he says to a cheering crowd.
Najib pokes fun at Wangsa Maju candidate's missing MyKad
9:30pm: Wangsa Maju, Kuala Lumpur - Caretaker prime minister Najib Abdul Razak takes the stage to voice his support for BN's Wangsa Maju candidiate Yew Teong Look.
Najib also pokes fun at the Pakatan Harapan candidiate Tan Yee Kew, who had forgotten to bring her MyKad with her on nomination day.
"After one term, their candidate (Tan Kee Kwong) had to run away or else he will lose.
"But then they choose someone who forgot their IC, someone who almost failed to qualify to contest," he said to laughter from the 1,000 or so crowd.
Despite the rain, the multiracial crowd remained dry, comfortably seated in a well-lit canopy with fans.
Almost 4,000 gather in Klang for Harapan top guns
9.30pm: Kota Raja, Selangor - Almost 4,000 people fill up Padang Rakan Muda in Taman Seri Andalas in anticipation of Pakatan Harapan top guns at a ceramah here.
Those present make up a multiracial mix.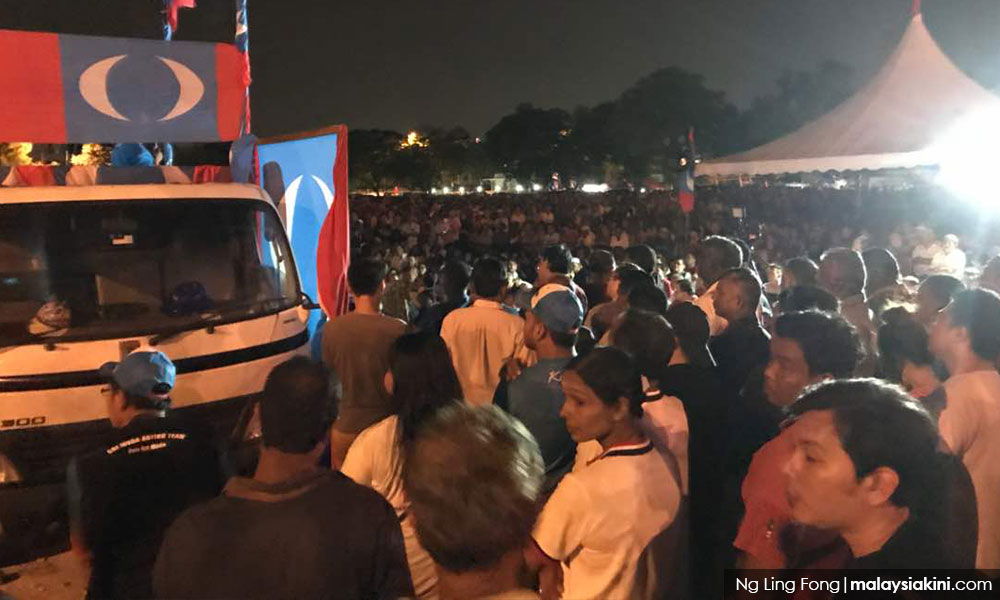 However, Malaysiakini was informed that Harapan chairperson Dr Mahathir Mohamad may not be able to make it.
Nonetheless, caretaker Selangor menteri besar Mohamed Azmin Ali makes an appearance.
The 92-year-old Mahathir was slated to speak in Kota Raja before rushing to Desa Pandan to address voters in Titiwangsa.
Caretaker prime minister Najib Abdul Razak will also be making an appearance in Kuala Lumpur tonight, in the parliamentary seat of Wangsa Maju.
'Please, please, get the ambulance'
9.27pm: Titiwangsa, Kuala Lumpur - At Pakatan Harapan's mega ceramah, there are shouts of "Call for an ambulance, someone passed out" and "Please, please, get the ambulance."
"A doctor is coming your way," says a speaker.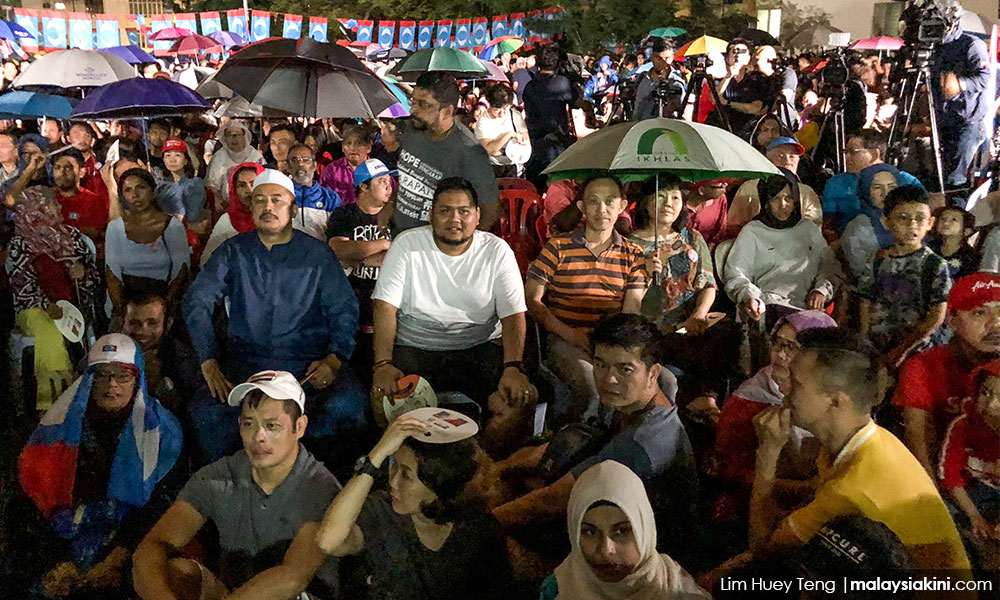 Also present are Harapan candidate for Titiwangsa Rina Harun, Bersatu president Muhyiddin Yassin, PKR vice-president Muhyiddin Yassin and DAP candidate for Bukit Bintang Fong Kui Lun.
The service centre of BN candidate for Titiwangsa Johari Abdul Ghani is just 10 minutes away.
In 2013 polls, Johari won the seat by razor thin majority of 866 votes.
Crowds await Najib and Mahathir in KL
8.45pm: Wangsa Maju, Kuala Lumpur - Ahead of caretaker prime minister Najib Abdul Razak's visit to Wangsa Maju tonight, about 1,000 people are already seated ready to welcome him.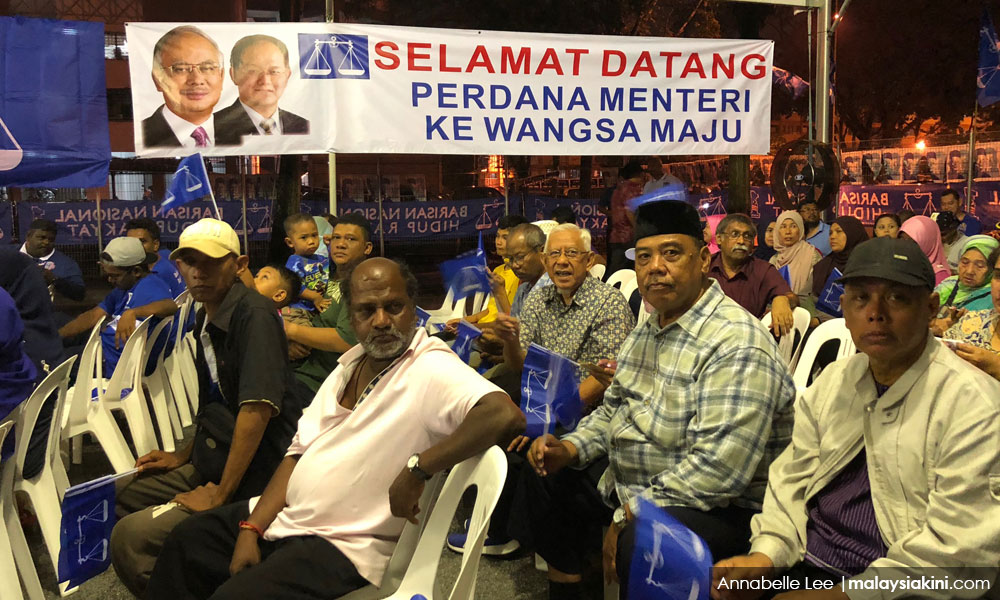 As the emcee leads chants of "BN hebat!", "PM hebat!" and "Wangsa Maju hebat!", the audience responds enthusiastically, waving BN flags.
Large banners saying "Welcome to Wangsa Maju prime minister" in multiple languages drape the sides of the hall.
Some 3,000 packs of nasi biryani have also been prepared to be distributed to attendees.
BN is fielding MCA's Yew Teong Look for Wangsa Maju, against PKR's Tan Yee Kew and PAS' Razali Tumirin.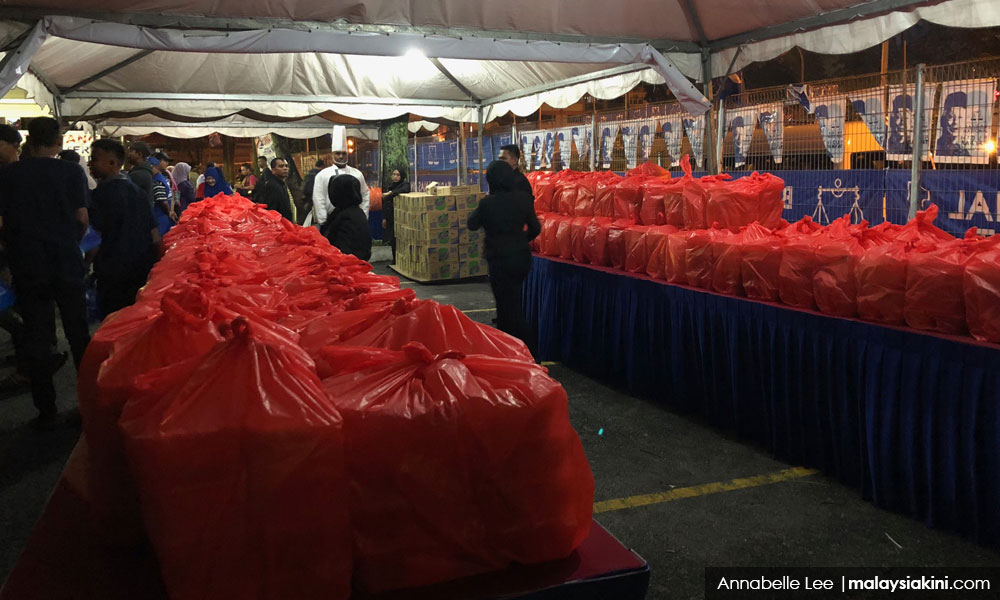 PKR has held the Malay-majority seat for the last two terms.
8.45pm: Desa Pandan, Titiwangsa - More than 500 people are gathered at the playground of Flat Desa Pandan awaiting the arrival of Dr Mahathir Mohamad.
Mahathir is slated to arrive at 9pm, but the crowd flooded the venue early for the best view, despite the rain.
The playground is surrounded by several five-storey apartment blocks and is not well lit.
The song 'Inilah Barisan Kita' and the national anthem are playing in the background, as the emcee shouts out "If you love Mahathir, say hey-ey" to hype the crowd.
Syed Saddiq slams 'cowards' after banner defaced
5.40pm: Muar, Johor - Bersatu Youth chief Syed Saddiq Syed Abdul Rahman brands those who defaced his banner in the parliamentary seat of Muar "cowards."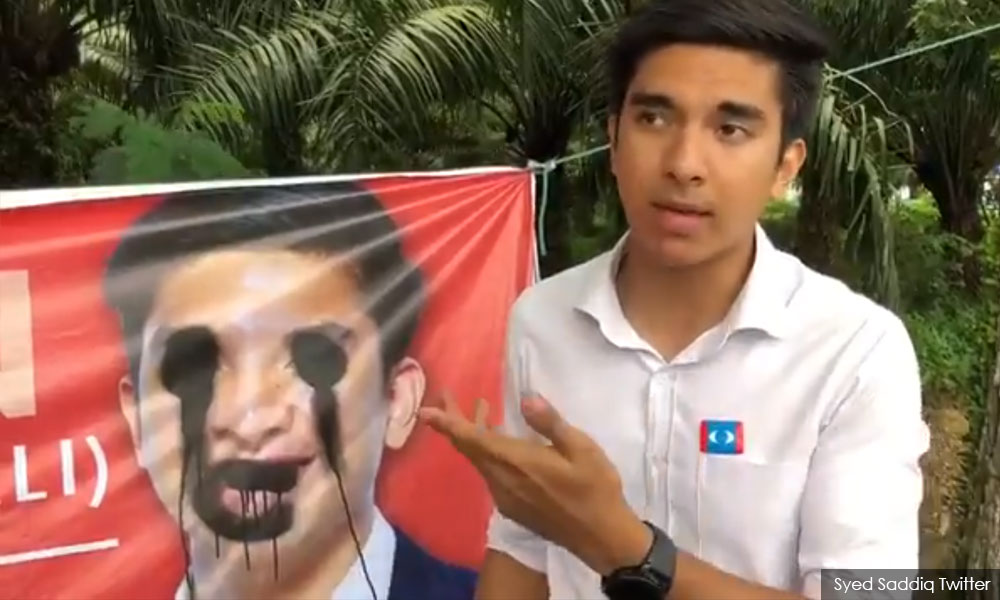 "Cowards! We are not afraid. We are not shaken.
"The more we are challenged, the more we will fight back," he says on Twitter, adding the hashtag #YouthPower, along with a video of him standing next to said banner.
In GE14, Syed Saddiq will face off against BN incumbent MP Razali Ibrahim, who has held the seat since 2004.
'Harapan confident of winning 20 Felda seats'
5.30pm: Pagoh, Johor - Bersatu president Muhyiddin Yassin says Pakatan Harapan is confident it can win at least 20 Felda parliament seats.
"In a lot of those Felda schemes, our members from Bersatu have penetrated them.
"If we win 20 Felda parliamentary seats it is more than enough (to change government)... It is doable," he tells reporters when met in Felda Lenga in Pagoh.
He says Felda settlers are not only hit by rising cost of living, but also with the various scandals shrouding the agency and the fall of FGV shares.
About 50 people, mostly Harapan supporters, attended the ceramah at a coffee shop near Felda Lenga's Masjid Jamek Al-Falah.
PAS candidate gives free petrol for bikes
4.55pm: Kota Raja, Selangor - PAS' candidate for the state seat of Sentosa, M Rajan distributes free petrol at a local Petronas station.
He is providing RM5 in petrol for motorcycles with an engine under 150cc.
Rajan says the free petrol is being funded by public donations to help those in need.
He is contesting in a five-way fight against PKR, MIC, PRM and an independent candidate.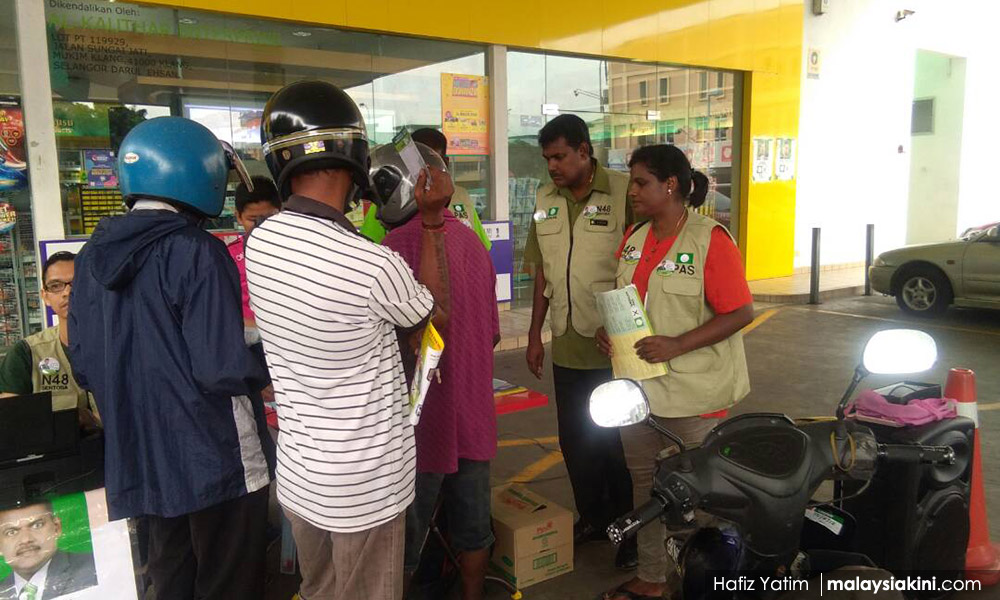 Dr M: EC will tear off t-shirts with my face
4.30pm Dengkil, Selangor - Pakatan Harapan chairperson Dr Mahathir Mohamad tells supporters who wear t-shirts bearing his image to beware Election Commission officers, following several incidents where his likeness was removed from billboards.
"(Caretaker prime minister) Najib Abdul Razak is in fear, the EC took down my image (on campaign materials).
"But some of you wear shirts that bear my image, if they see it they will 'tear it down'," he tells about 300 supporters at Dataran Sadiman, Bukit Changgang.
Mahathir is here to campaign for Bersatu's candidate for the Dengkil state seat Adhif Syan Abdullah, a 37-year-old contractor.
The former premier is proving a hit, as supporters ask the 92-year-old to autograph their helmets, shirts and caps.
Dengkil is one of two state seats held by BN in southern Selangor. Umno's Shahrum Mohd Sharif won the seat by 2,317 votes in 2013.
Gerakan's Mah cries sabotage
4.00pm: Teluk Intan - BN's Teluk Intan candidate Mah Siew Keong claims that a few banners and flags of BN are being sabotaged.
"I just passed by in town this morning and I saw big a poster defaced, I saw another one of Liow (Tiong Lai's) also defaced.
"Of course, we also get a lot of complaints from our district polling centres that a lot of our flags have been taken down, I think that it is not good, because if we start pulling down each other's flags, it will be creating fights and I think this is not healthy.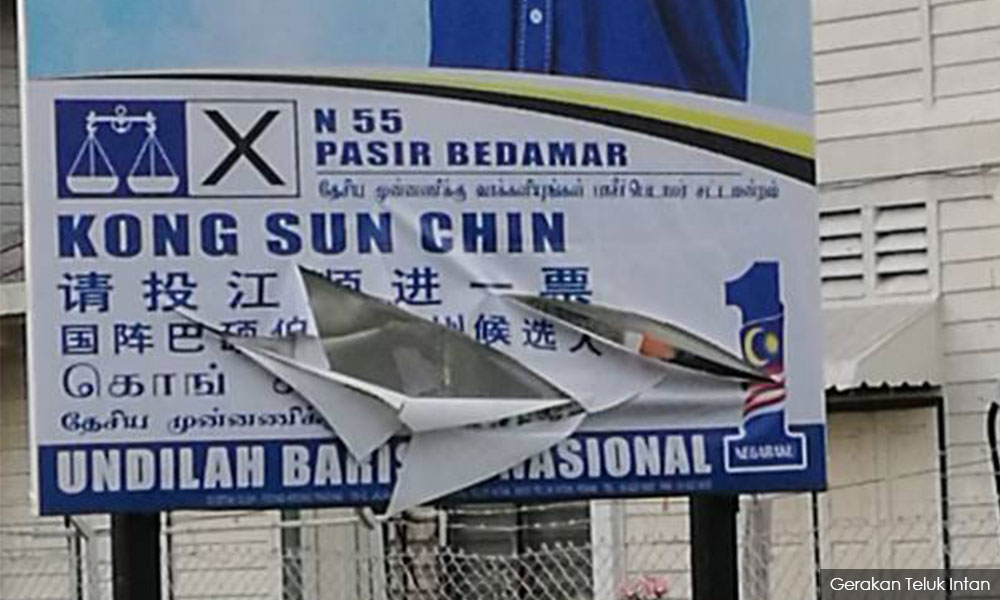 "Teluk Intan had gone through so many years without such problems because we allow people to decide," he told a press conference today afternoon in Teluk Intan.
According to Mah, one of the sabotaged banners was that of MCA's Pasir Bedamar state seat candidate Kong Sun Chin.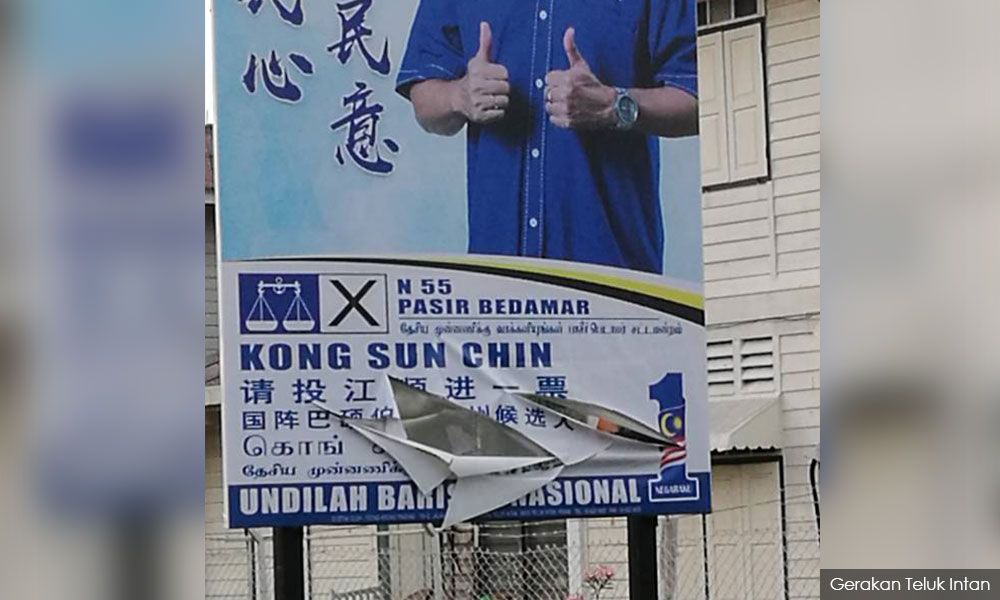 Harapan 'question marks' Dr M on billboard
3.30pm: Seremban, Negeri Sembilan - Pakatan Harapan has put a question mark on Harapan chairperson Dr Mahathir Mohamad's place on a billboard after it was requested to remove his picture.
This billboard was put up by Harapan at Sikamat, a state constituency under Seremban, after another billboard in Seremban that contains Mahathir's picture was removed.
Originally, the second billboard carried pictures of Mahathir, Harapan's Seremban candidate Anthony Loke, Sikamat candidate Aminuddin Harun, and PKR president Wan Azizah Wan Ismail.
However, after the Election Commission demanded Harapan remove it within 12 hours, Harapan replaced Mahathir's mugshot with a question mark, asking the voters to guess "who is the 7th prime minister of Malaysia?".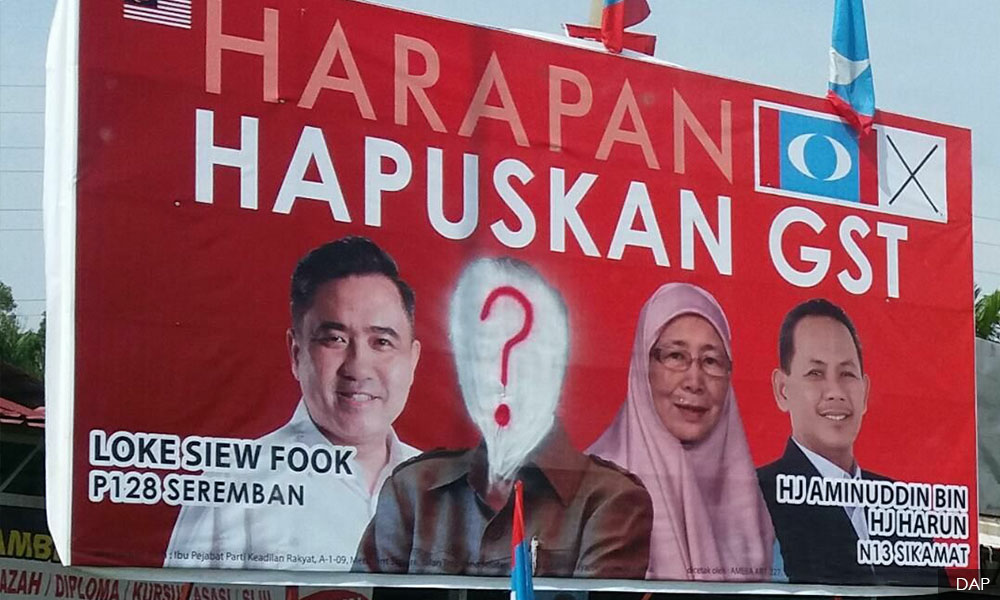 Mat Sabu 'non-existent' in Kota Raja, says opponent
3.40pm: Kota Raja - BN candidate for the Kota Raja parliamentary seat, V Gunalan tells a press conference that his main contender, Pakatan Harapan candidate Mohamad Sabu, is non-existent in the constituency.
"After four days of campaigning, I have not seen him or come across with him campaigning. Hence, I think he will be a bad candidate if the people of Kota Raja choose him to address issues," he says.
"Dr Siti Mariah Mahmud, the former Kota Raja MP is also invisible. I think Mohamad has taken this seat for granted."
Gunalan, who is a MIC supreme council member, says being from Selangor, he can identify issues better and claimed that even after 10 years of the seat being under the opposition, there is still not enough development.
If he wins, Gunalan will fight for a hospital to be built in one of the three state constituencies, he said.
Kota Raja has three state constituencies, namely Sentosa, Sungai Kandis and Kota Kemuning.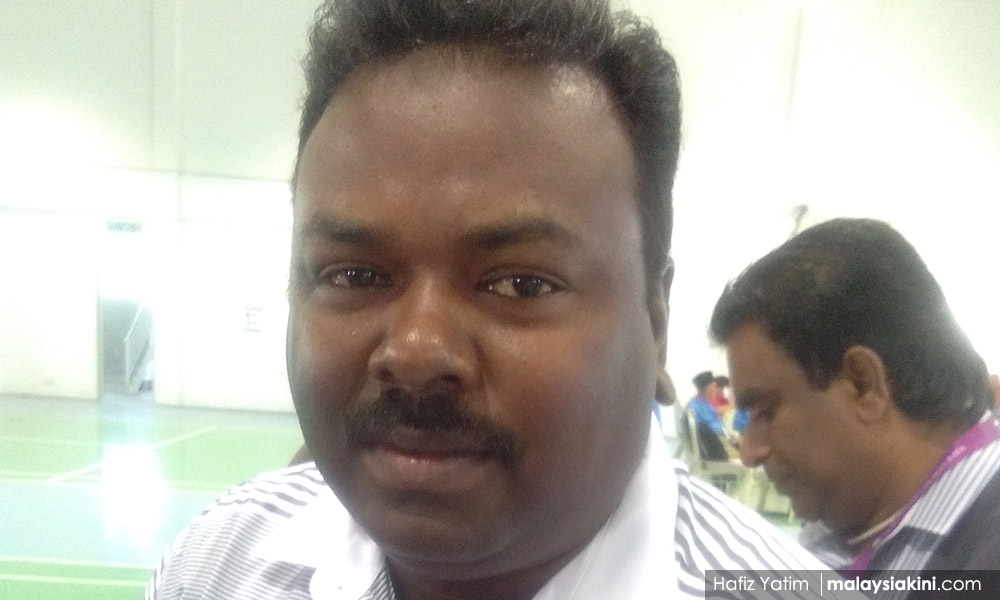 'Chinese M'sians can survive without MCA cabinet ministers'
4.05pm: Petaling Jaya - Pakatan Harapan's Kepong candidate Lim Lip Eng says caretaker prime minister Najib Abdul Razak's call to Chinese voters to vote BN in order to ensure Chinese representation in the Cabinet was a "long shot."
He is referring to statements made Najib urging Chinese voters to vote BN in next month's polls, saying BN will not be able to appoint any Chinese leaders into cabinet if the community voted for others.
In a statement, Lim says the Chinese community in Malaysia is a "hardy" lot and would be able to survive without having any cabinet ministers from MCA.
"Looking back to post-GE13 (13th general election), MCA was not given any cabinet post during the reshuffling after May 5, 2013. MCA president Liow Tiong Lai was only appointed by Najib as the transport minister on June 25, 2014.
"For one year, one month and 20 days, the Malaysian Chinese community did not even grumble about not having any representation in the cabinet, or that they were not getting assistance from the MCA ministers.
"Evidently, MCA is irrelevant to the Chinese and it is at best a political parasite in BN with vested interests," he says.
'Don't just cut a hole, remove the whole billboard'
3.00pm: Sembrong, Johor - Umno vice-president Hishammuddin Hussein urges authorities to remove political billboards that do not fit regulations instead of removing images by cutting holes.
MCA's Xi Jinping billboard 'admission Najib most unpopular'
2.40pm: Negeri Sembilan - DAP veteran Lim Kit Siang questions the motivation behind MCA's decision to put up a billboard featuring its president Liow Tiong Lai together with Chinese president Xi Jinping, instead of with Malaysia's own caretaker prime minister Najib Abdul Razak.
He asks if this is Liow's admission of Najib's lack of popularity.
"Is this an admission that in his heart of hearts, the MCA president knows that Najib is the most unpopular prime minister in Malaysian history, responsible for the internationally infamous 1MDB money-laundering scandal which, overnight, turned Malaysia into a global kleptocracy and international outcast?" he asks in a statement.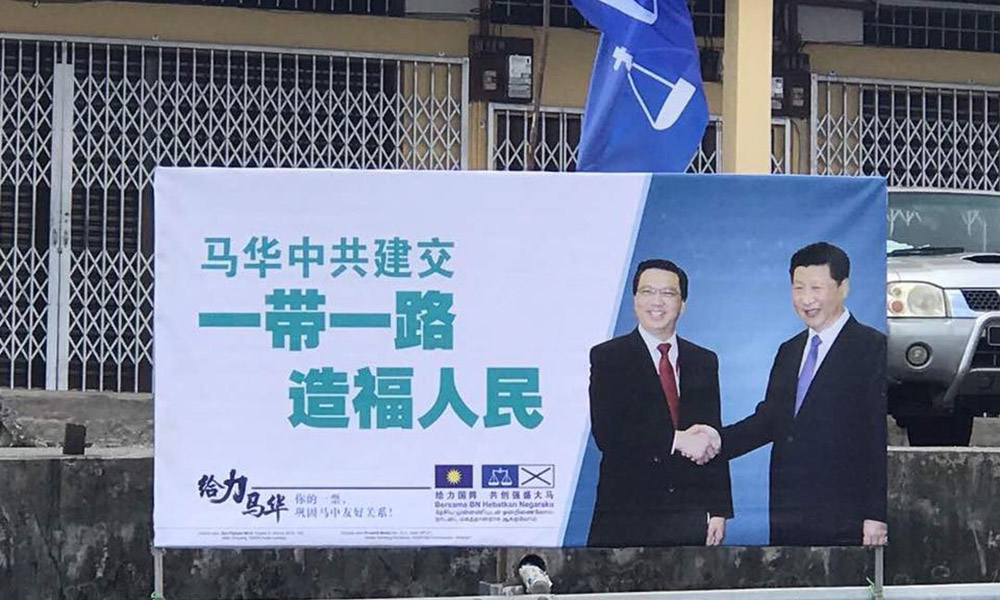 He says the failure of any MCA leader or parliamentarian to question the international multi-billion dollar scandal is the "greatest betrayal of the Chinese in Malaysia as well as of all Malaysians", and demonstrates the impotence and irrelevance of MCA.
Ex-CM Tsu Koon chips in for Penang BN's campaign
2pm: Tanjung Bungah, Penang - Former Penang chief minister Koh Tsu Koon turned BN campaigner today as he joins its Bukit Bendera candidate on the GE14 campaign trail which enters its fourth day today.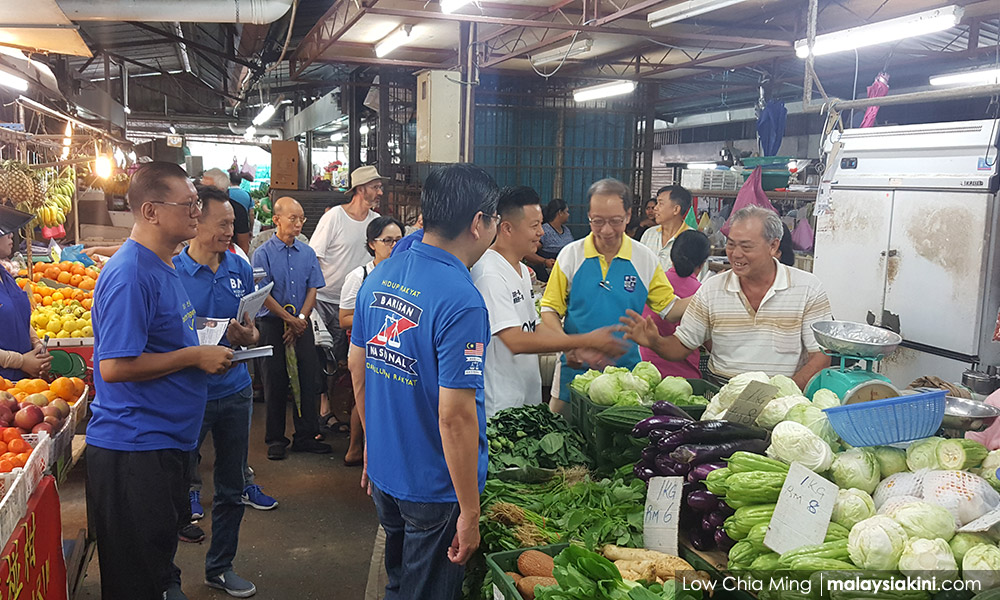 Koh, who held the Tanjung Bungah seat for four terms, is warmly welcomed by traders and market-goers as he accompanies candidate Teng Chang Yeow during a walkabout at the Mount Erskine wet market.
The BN team also bumps into the Pakatan Harapan team led by their candidates Zairil Khir Johari (Tanjung Bungah) and Jason Ong (Kebun Bunga) who visited the same market.
Both teams shake hands and chat for a while before moving on.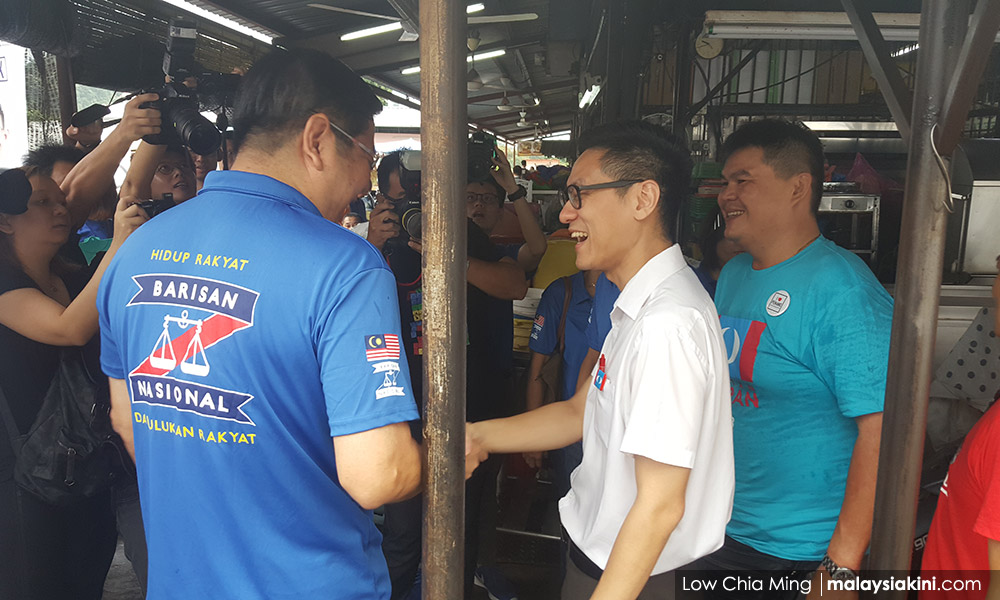 MCA disavows caller who claims party will jump ship to Harapan
1.45pm: Petaling Jaya - MCA publicity bureau chairperson Chai Kim Sen decries a purported party representative who had called up a member and claimed that MCA would jump ship to Harapan if it won the May 9 polls.
The caller had apparently contacted an MCA Wanita member and identified himself as being from MCA headquarters. He had asked the member and her family members to vote, and asked who she would vote for, after which he had made the claim about MCA defecting to Harapan.
In a statement today, Chai said this was a "dirty tactic" to mislead MCA members and incite hatred to destroy the party.
He notes that although MCA did have a call centre to contact its members, such conversations were limited to updating members' contact details and informing them about MCA's latest events.
He accused Harapan of being "so fearful of losing" that it had "run out of ideas and reached a level of pervasiveness at every point it is able to".
"...MCA will not and cannot jump to Harapan. On the contrary, it is actually DAP parliamentarian Lim Kit Siang who once said that DAP does not rule out the possibility of forming a coalition with BN," said Chai.
Let military officers vote as they please, urges PAS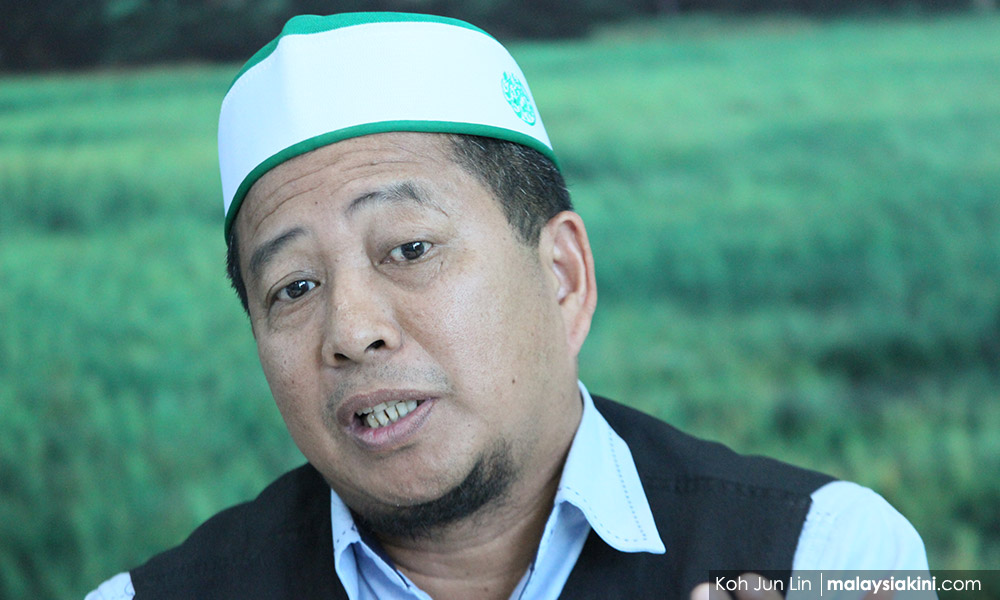 1.30pm: Kota Sarang Semut, Kedah - With postal votes being sent out yesterday morning and advanced polling just four days away, the PAS veterans' affairs secretariat (Kerabat) president Mohd Nazari Mokhtar urges military officers to have "an open heart" and allow their subordinates to vote as they please.
Ideally, they should issue a statement telling members of the armed forces to simply vote for "the best option".
"I urge the three armed forces generals, all the commanding officers, please be more open-hearted (berlapang dadalah) this time," he says during a press conference at the Kedah PAS' headquarters.
Don: BN must intensify efforts to retain Malay-majority seats in Perak
1pm: Ipoh, Perak - It is not impossible for Perak's state government under BN to retain its administration with concerted efforts, Bernama quotes a local academic as saying.
In the GE13, BN won by a slim majority after gaining 31 out of 59 state seats, with Chinese-majority seats going to the opposition.
Universiti Utara Malaysia political affairs, policy and international studies senior lecturer, Md Shukri Shuib said there were several Chinese-majority parliamentary seats categorised as "black", including Ipoh Barat, Ipoh Timur and Batu Gajah.
As such, Md Shukri said BN needed to intensify efforts to wrest and retain its control in Malay-majority seats such as Gerik, Lenggong, Pasir Salak and Bagan Datuk.
"BN's intense fights will be in the Chinese-majority areas, so the BN must focus its attention on Malay majority areas to increase votes," he told Bernama.
He added that PAS would pose an additional challenge for BN in Malay-majority areas.
68 Orang Asli villages gazetted in Negeri Sembilan
12pm: Negeri Sembilan - According to Bernama, the Negeri Sembilan government has gazetted 68 Orang Asli villages in the state since 2013 until last year.
According to the Negeri Sembilan government's portal, almost all the villagers now have electricity and clean water supply, as well as being equipped with infrastructure facilities.
The portal states that RM11.4 million had been spent by the Orang Asli Development Department between 2013 and 2017 to build 284 houses for the Orang Asli and RM2.5 million for repair of 246 houses.
For education, the government had spent RM8.8 million during the same period to provide, among others, school uniforms, pocket money, transport fare, payment of fees and others for Orang Asli children.
MCA's Mah taps into older campaign team to win over Sungkai
11am: Sungkai, Perak - MCA Tanjong Malim candidate Mah Hang Soon went on a walkabout at Sungkai town earlier this morning with a group of around 25 "senior" members of his campaign team to canvass for votes.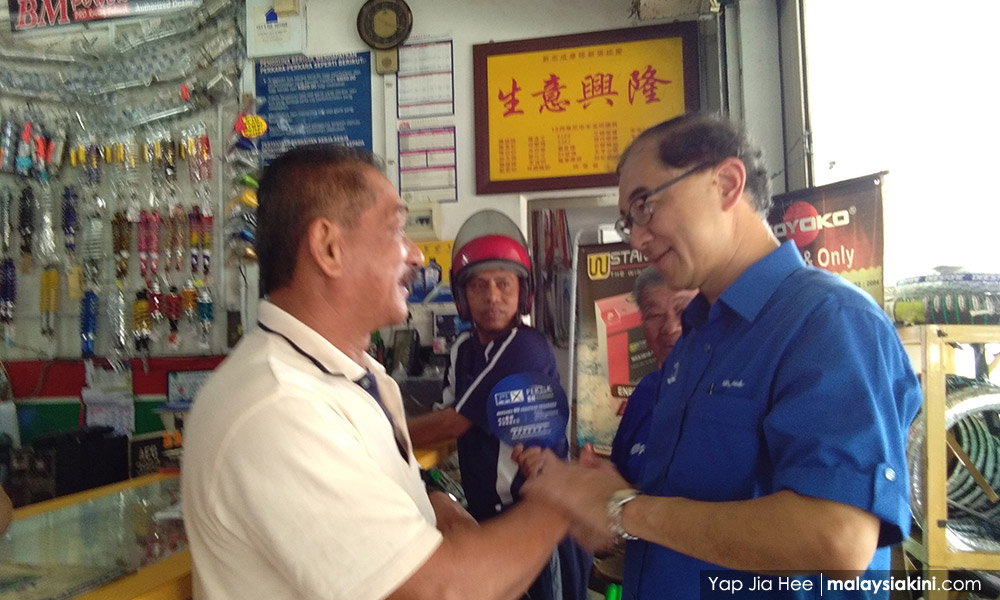 Most of Mah's entourage were older people, with some white-haired and over 50 years of age.
They looked very energetic and distributed Mah's flyers and pamphlets to voters around the town.
One of the team members told Malaysiakini younger people were absent from the campaign trail because most of them were busy with work.
"Although the majority of younger people were said to support the opposition, we have older people who help in our campaigning," he said.
Asked on how to attract younger people to join MCA, he refused to comment, saying that it was for the party to decide on a strategy.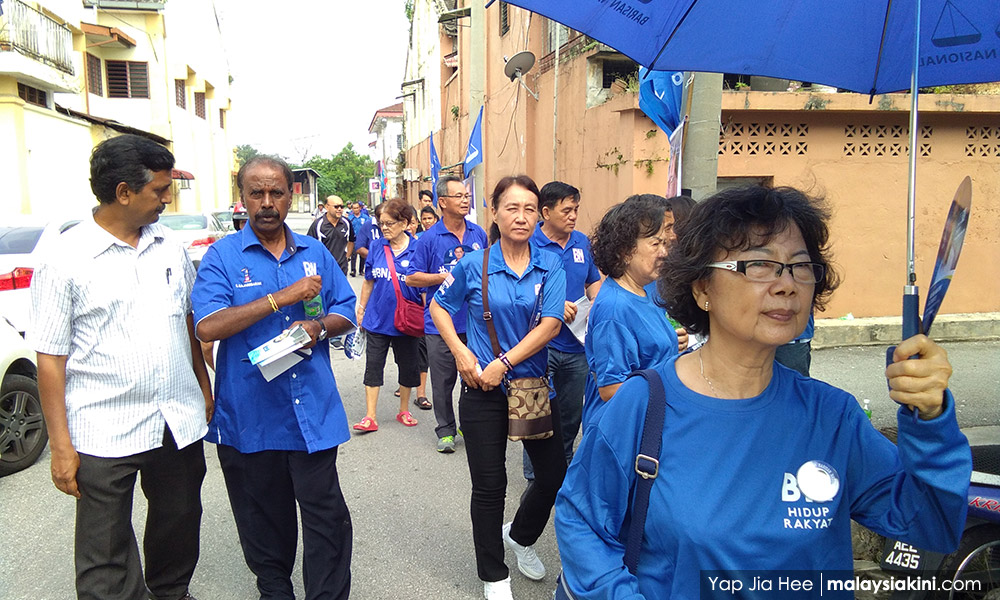 Meanwhile, Mah introduces himself to local residents as MCA's Tanjong Malim candidate.
Some residents take photos and selfies with him, while some respond, "I know you, I know you".
Tanjong Malim is a parliamentary seat with predominantly Malay voters.
Its voter demographic comprises 56 percent Malay, 26 percent Chinese, 13 percent Indian and 6 percent others. It is considered a BN stronghold, given its large number of Felda voters.
It has three state seats, with Sungkai being a Chinese-majority seat and the other two Behrang and Slim being Malay-majority seats.
Sungkai was the only one won by DAP in the last general election, while the Tanjong Malim parliamentary seat and Behrang and Slim state seats were won by BN.
Anwar's photo cut out from billboard in Penang
10.45am: Bayan Baru, Penang - PKR de facto leader Anwar Ibrahim's photo suffers the same fate as Harapan chairperson Dr Mahathir Mohamad, after it was cut out from a billboard in Penang.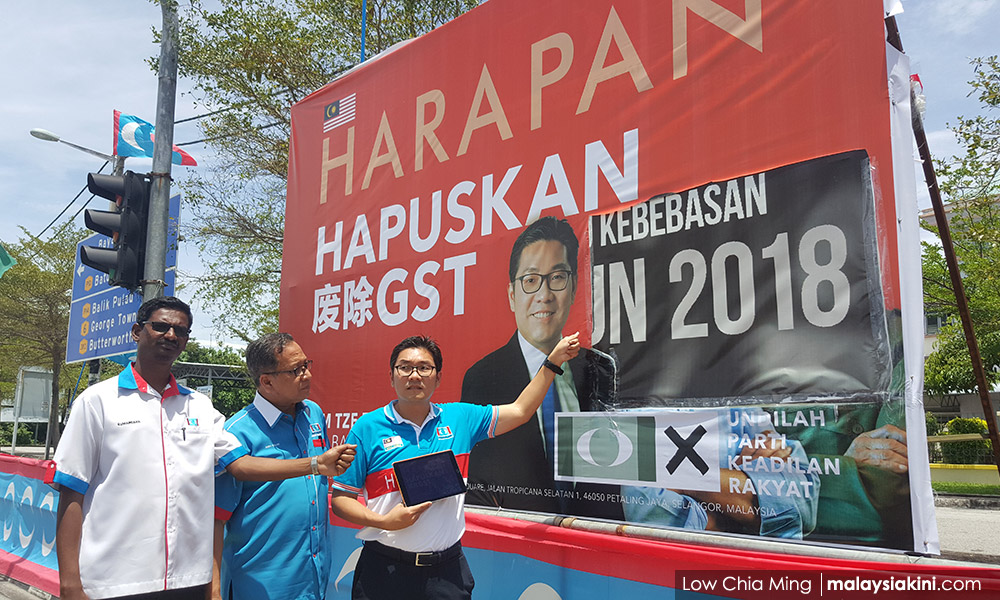 Harapan's candidate in Penang, Sim Tze Tzin (Bayan Baru), Abdul Halim Hussein (Batu Maung) and A Kumaresan (Batu Uban), will be holding a press conference in front of Chong Cheng School, Sungai Ara, at 12.30pm to condemn the Election Commission's "outrageous enforcement".
Meanwhile, DAP in Prai has also complained that PKR flags put up in Sungai Nyior and Taman Mewah have been pulled down. The party's team is currently probing the matter.
Resident asks for PKR flag to hang at home
10.30am: Alor Gajah, Malacca - Just a 15-minute drive from where BN Alor Gajah candidate Wong Nai Chee is doing his walkabout, Pakatan Harapan's Alor Gajah candidate Mohd Redzuan Yusof is also doing the same.
He is at a residential area in Machap with Harapan's Machap Jaya candidate Ginie Lim, who is a familiar face to the voters after having contested here since 2008.
At one of the houses they approached, the man enthusiastically greets Lim, Redzuan and their entourage, promising his utmost support.
"Do you have the PKR flag? Give me one, I want to put a big one from here," says the man, CK Pu, gesturing to the roof of his porch to the ground.
"Wouldn't it be nice if I had a picture of Lim hanging here?" he adds jokingly, pointing to his fence. His wife, standing behind the gate, laughs and shakes her head.
This will be Lim's third time contesting in Machap Jaya, while it is Redzuan's first time contesting in Alor Gajah.
Azmin: RM1K minimum wage "unrealistic"
10am: Selangor - Caretaker Selangor menteri besar Mohamed Azmin Ali once again reminds voters of Pakatan Harapan's pledge to increase the minimum wage to RM1,500 should the opposition succeed in reaching Putrajaya.
In a statement sent for Labour Day, he says the currently, only civil servants in Selangor enjoyed a minimum wage of RM1,500.
He says the current national-level minimum wage of RM1,000 is "unrealistic" and leaves Malaysians ill-equipped to face the challenges brought on by the GST and rising costs of living.
Based on the idea of a "Knowledge economy," he says Harapan will create a million high-paying and quality jobs for Malaysian youths, with a starting salary of RM2,500, if they win the mandate of the people.
Photo op with 'tauke' football's dad
8.15am: Alor Gajah, Malacca - Barisan National's Alor Gajah candidate Wong Nai Chee bumps into the father of legendary footballer Soh Chin Aun as the latter is having breakfast at a roadside stall here.
Wong was conducting a walkabout at some roadside stalls across from a secondary school when he came across 103-year-old Soh Tee Tong enjoying a bowl of noodles and coffee.
After a brief chat, Wong ends the short-but-sweet meet with a photo op with the centenarian.
Soh, more affectionally known as tauke, is a renowned national footballer from the 70s who played alongside other greats such as Mokhtar Dahari, R Arumugam and Santokh Singh.
His efforts, and that of the rest of the 1980 Moscow Summer Olympics qualifying team was captured in 2016 hit Ola Bola.