COMMENT | Midway to voting in the 11-day 14th general election (GE14), the MCA/Umno/BN election campaign has taken a turn towards greater irresponsibility and dangerous trend in the politics of race, religion, fear, hate and lies.
Lies and falsehoods are being spread to accuse me of being anti-Malay and anti-Islam to create fear and hate among the Malays.
Now, there is a new twist - that Dr Mahathir Mohamad is anti-Chinese – being spread by MCA propagandists.
Let me ask the MCA leadership to explain why, if Mahathir is anti-Chinese, MCA leaders were prepared to serve under him as ministers, Members of Parliament, state executive councillors and State Assembly representatives for 22 years?
I was in Telemong, Karak and Lurah Bilut earlier before coming to Raub yesterday. In the Raub and Bentong parliamentary constituencies, there were giant billboards of MCA president Liow Tiong Lai with China President Xi Jinping, giving the impression to foreign visitors that Xi, the great Chinese leader, is contesting in Pahang in Malaysia's GE14 on May 9, 2018.
Of course, Xi Jinping is not contesting in Malaysia's general election, but the reliance of MCA leaders on Xi Jinping, rather than on caretaker prime minister and BN chairperson Najib Abdul Razak on their giant election billboards, apart from breaking Election Commission rules, is an admission of the realisation of MCA leaders that Najib is a very unpopular leader in Malaysia.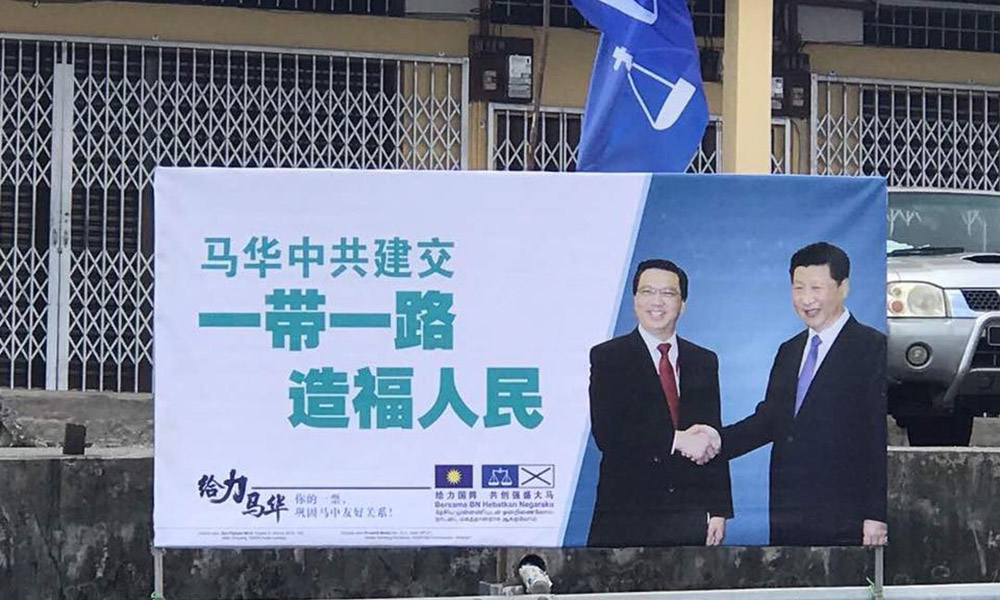 Malaysians are entitled to ask why the pictures of Mahathir and Anwar Ibrahim on Pakatan Harapan billboards are being torn out, while MCA leaders are allowed to exploit Xi Jinping's photographs on their billboards.
If DAP had used Xi Jinping on DAP election billboards or publicity materials, the media and airwaves will be full of accusations by BN leaders that the DAP is not only anti-Malay, anti-Islam, but also anti-Malaysia; that DAP is disloyal to Malaysia and the fifth columnists for the Chinese communists in China.
Would the BN leaders make such accusations against the MCA leaders, now that we have ministers and BN leaders who are unpatriotic and disloyal to Malaysia?
What five earlier PMs failed to do...
This is the first time in Malaysia's six decades of nationhood that we have a prime minister who is not only unpopular in the country, but worldwide, because he has made Malaysia into a global kleptocracy.
Najib has done what the first five prime ministers, Tunku Abdul Rahman, Razak Hussein, Hussein Onn, Mahathir and Abdullah Ahmad Badawi failed to do in the first five decades of Malaysia – to transform the world respect and admiration for Malaysia into a world scorn and humiliation for the country because we have suddenly become a global kleptocracy.
The 15 million voters must save Malaysia on May 9 and cleanse Malaysia of the international infamy and ignominy as a global kleptocracy.
We have seven days left for getting the message of 'Save Malaysia' out to the voters, facing supreme odds from the most unfair and undemocratic election system in Malaysian history.
On nomination day, April 28, Pakatan Harapan lost one parliamentary and five state assembly seats, not because of the will and decision of the voters but because of the abuse of power by the Najib government.
This is why, for instance, I had to be in nine places in Selangor and Pahang yesterday, and in eight places in Johor the day before – starting with Iskandar Puteri, then Johor Jaya, Simpang Renggam, Batu Pahat, Kluang, Ayer Hitam, Paloh and Labis.
Pakatan Harapan leaders must work doubly, even treble as hard, to ensure that on May 9, Malaysia reaches a historic watershed – where we can change the prime minister, the Malaysian government in Putrajaya as well as all the national policies inimical to the interests of Malaysia and the people of Malaysia.
---
LIM KIT SIANG is a veteran DAP leader and its GE14 parliamentary candidate for Iskandar Puteri, Johor.