A QUESTION OF BUSINESS | We all know that caretaker prime minister Najib Razak has at his disposal a luxuriously appointed private jet which he can use at any time. It's not one of those timeshare jets - it's there for him to use anytime, day or night.
So why did he return to Kuala Lumpur on a low-cost AirAsia flight after a campaign trip to Sabah and waste precious time? The simple answer: a carefully orchestrated campaign with AirAsia supremo Tony Fernandes, a personality more recognisable than most cabinet members, who very publicly endorsed Najib and by extension, BN.
Not only that, the jet that Najib flew was draped in the blue of BN with the air stewardesses decked out in that same blue too. Splashed across the fuselage were the words "Hebatkan Negaraku" in Malay with the English equivalent "Make my country greater" in smaller letters. And the tail end carried an image of the BN's 'dacing'. What a show!
This open endorsement of the Najib government by AirAsia and Fernandes, who characterised the government as one that put people first, raises all sorts of questions and implications. By praising Najib, is Fernandes implying that if the opposition comes to power on May 9, they would discriminate against him?
Is it not the duty of government to help budding airlines and hasn't Fernandes complained in the past about how government agencies constantly discriminate against him? And is it not true that other governments under Dr Mahathir Mohamad and Abdullah Ahmad Badawi also helped him?
Also, there is the issue of potential conflicts of interests that arise if support is given for other reasons as we shall explain later, which indicates that it's better and more desirable that businesses which deal with government regulators and other authorities remain apolitical.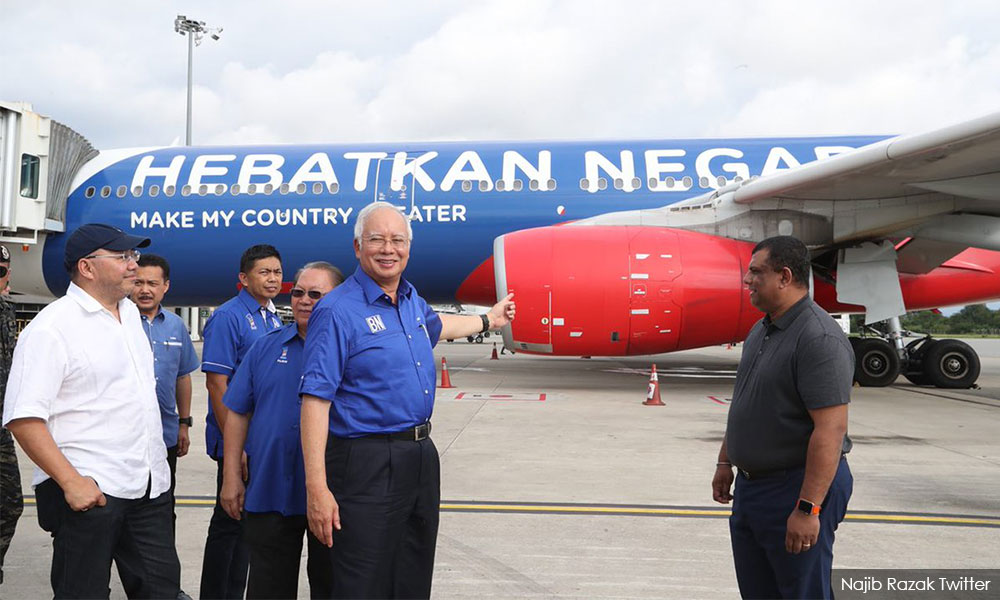 I am a great fan of AirAsia and yes, even of Tony Fernandes. They brought affordable travel to Malaysians, especially to regional destinations, and made AirAsia a brand recognised throughout the world and one that obtained top rankings in its class for Asia year after year - truly an airline that all Malaysians can be proud of.
But is it politically correct to make such an open show of affection for the BN government just two days before the country goes to the polls, seen by many as a blatant move to influence voters towards BN?
Yes, Fernandes and AirAsia have the right to do it, but is it wise in terms of their business to anger a large section of its customers who might be opposition supporters (remember, 52% of voters picked the opposition in the last election)? And what if there is a change in government? How will it affect AirAsia and Fernandes going forward with a new government it has already offended by taking sides during a rather bitter and contentious campaign?
Imagine, for instance, American Airlines or United Airlines endorsing Donald Trump for president before the US presidential elections. Unthinkable...