Pakatan Harapan has repeatedly stressed that it is committed to ensuring media freedom unlike its predecessor, but one of its lawmakers appears not to have received the memo.
Taking to Facebook, newly-elected Jelutong MP RSN Rayer wanted TV3's broadcast license to be revoked.
"It is compulsory for TV3's broadcast licence to be immediately revoked by Harapan as they are inciters (penghasut)," he said in a Facebook posting.
His call elicited mixed responses, with some supporting him while others criticising him for behaving like the previous BN government.
One commenter said: "Agree, please do it as soon as possible. Change everybody. Their loyalty is to BN. They must be replaced."
Another commenter said: "Like BN? Shame on you."
"You should be rooting for freedom of the press, not the other way round," said another comment.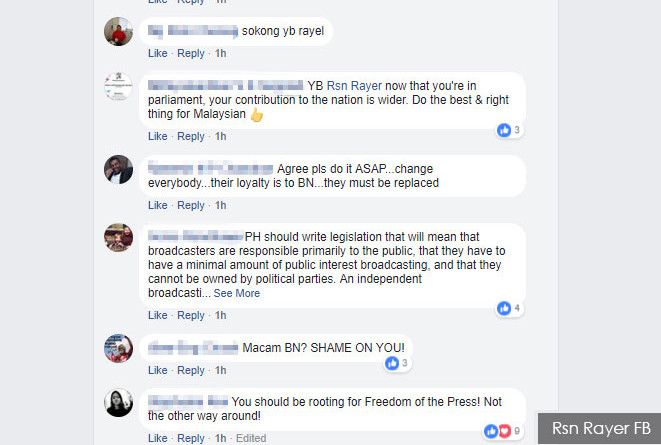 In its election manifesto, Harapan said it would ensure the media would not be put on a leash and have the freedom to check and balance its administration.
"We will review all laws and regulations related to the media so that media freedom is guaranteed," it added.
The manifesto also promised to take steps to improve the independence and professionalism of Radio Television Malaysia (RTM) and Bernama.
It added that a media council, comprising media figures, would be set up to develop and implement a code of ethics on reporting.
There was no mention about closing down media organisations and revoking their licences.
On May 9, Harapan swept into power, putting an end to the Alliance/BN's more than six-decades rule.
Yesterday, Permatang Pauh MP Nurul Izzah Anwar also reaffirmed Harapan's commitment to press freedom.
Nurul Izzah promised that Harapan would work towards the abolition of the Printing Presses and Publications Act 1984 (PPPA).
Prime Minister Dr Mahathir Mohamad had also emphasised his commitment to greater freedom unlike his previous stint as prime minister when he was known to shackle the media.