COMMENT | The 14th general election (GE14) was an unexpected development for many Malaysians. Many of us are still immersed in its after-effects: Elation; joy; vindication.
In this celebratory atmosphere, however, it is equally important to keep our eyes on the prize: Institutional reform - especially reform of our electoral system.
In this article, I analyse the effects of malapportionment in GE14.
In GE14, in general, Pakatan Harapan won larger parliamentary seats, while BN won smaller seats - as you can see from the graph below.
Malapportionment meant that the 179,000 voters in Bangi, Selangor elected one MP, the same as the 20,000 voters in Igan, Sarawak.
The average GE14 constituency contained 67,000 voters. The average successful Harapan MP won in a larger-than-average seat which had around 78,000 voters, while the average successful BN MP won in a smaller-than-average seat which had about 47,000 voters. It took significantly more votes to elect a Harapan MP than a BN MP.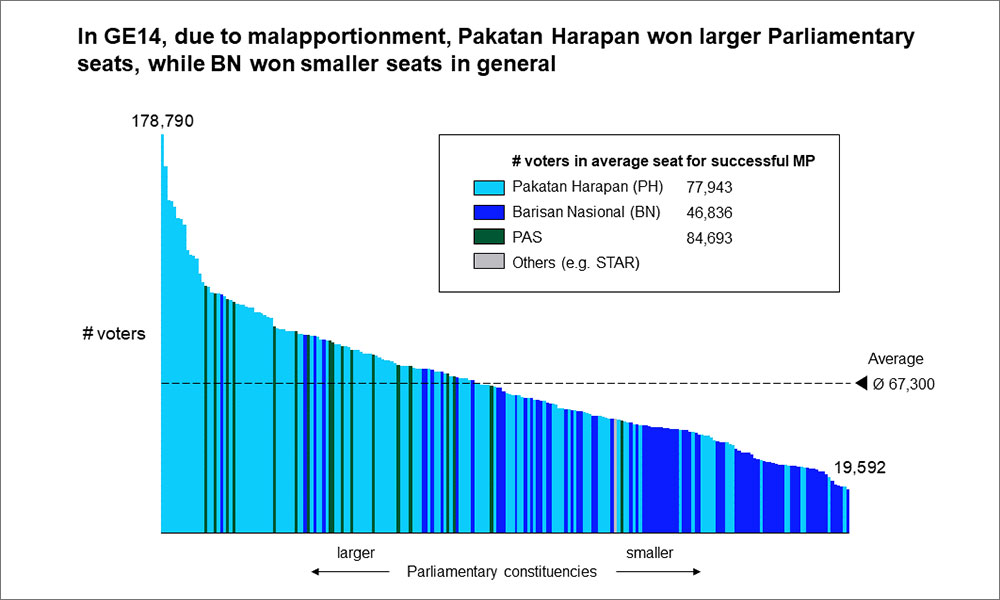 A fascinating development is that BN lost in almost all "large" parliamentary seats. Out of the 100 largest seats, BN only won in 9. Out of BN's 79 MPs, 70 of them won in the 122 smallest parliamentary constituencies in the country...