A QUESTION OF BUSINESS | The starting point of this debate was when Prime Minister Dr Mahathir Mohamad said the national debt was more than RM1 trillion without defining what the components of the debt were. Naturally, this caused a lot of confusion. Was the previous government lying about the debt figures?
"We have found that our finance (status) eroded significantly (to the extent) we are having problems in (repaying) our debts, which have increased to a trillion ringgit," according to a Malaysiakini report.
"This has never been done by us before [...] if previously our debt stood below RM300 billion, now the debt has exceeded RM1 trillion," Mahathir said during his first monthly assembly as head of the Prime Minister's Department in Putrajaya.
That started alarm bells ringing and raised legitimate questions about whether there was obfuscation of government figures. This was fuelled further when Lim Guan Eng in his first press conference as finance minister confirmed what Mahathir had said.
He said this was revealed during the discovery exercise when all relevant departments were able to start consolidating their accounts and numbers, The Star reported.
"Previously, certain files were not accessible by certain people and therefore, consolidations were not available," he said in his first press conference as the Finance Minister on Tuesday (May 22). This seemed to imply new figures after consolidations.
But when markets started to fall and former prime minister and finance minister Najib Razak said the new figures "will just unsettle the financial markets, alarm the credit rating agencies and investors' confidence in our institutions, such as our Bank Negara Malaysia", Lim gave a breakdown (see table).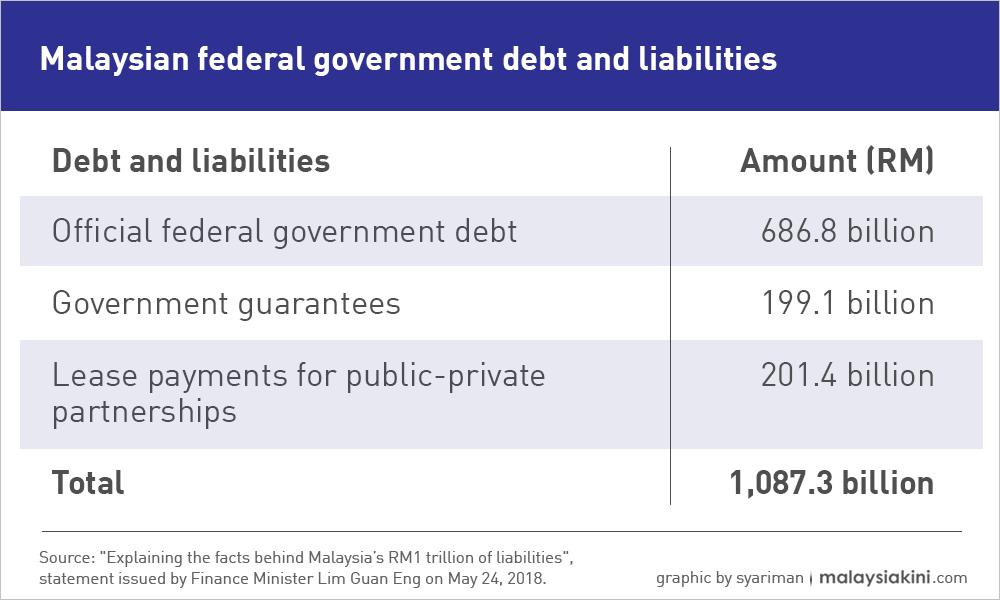 The total figure of RM1,087.3 billion (RM1.087 trillion) was given as debt and liabilities. The official government debt was given as RM686.8 billion which is about 6% higher than the figure of RM648 billion given in the Accountant-General's report for 2016. Presumably, these are the figures for end-2017 which have not been publicly released yet. This is 50.8% of the GDP (gross domestic product - sum of goods and services produced in a year) and lower than the officially announced ceiling of 55%.
"However, let me emphasise that the obligations and financial commitments of the federal government are unchanged before May 9 and after elections today. The only change is that the new federal government has decided to call a spade a spade," Lim clarified further. This implied that the official debt figure was correct, clearing up earlier confusion it may have been wrong and doctored.
The next line shows government guarantees. The Accountant-General's report routinely included these as part of contingent liabilities and therefore it is not a new thing. There were concerns about contingent liabilities even during Mahathir's previous tenure as prime minister from 1981-2003.
Lim explains this thus: "In addition, the government is already committed to paying for government guarantees for various entities that are unable to service their debts. This amounts to RM199.1 billion (14.6 percent of the GDP).
"The committed government guarantees would include entities such Danainfra Nasional Bhd (RM42.2 billion), Govco Holdings Bhd (RM8.8 billion), Prasarana Malaysia Bhd (RM26.6 billion), Malaysia Rail Link Sdn Bhd (RM14.5 billion) as well as an estimated RM38 billion for 1MDB.
"Based on the two items above, the federal government debt would amount to RM885.9 billion. This represents the 65.4 percent of the GDP as highlighted by...