Prime Minister Dr Mahathir Mohamad today dismissed as untrue any opinion that the Pakatan Harapan government will not safeguard Islam.
He said this was because Islam was the official religion of the country embodied in the Federal Constitution, and said the government would continue to be responsible in administrating the country without doing anything contrary to Islamic teachings.
"We know that there are many who claim that they supposedly protect Islam, but we find that their actions are contrary to Islam.
"We will not hesitate to administer in accordance with Islam and will prove why their policies and stance are not in accordance with the true Islam.
"We will establish a government that upholds the laws and the constitution of the country and we will not do anything contrary to Islam," he said in his speech at a Bersatu breaking fast event in Putrajaya.
Mahathir, who chairs Bersatu, said the concept of such an administration could be easily accepted by other communities and religions because the government upheld the true teachings of Islam.
The prime minister also gave the assurance that there would be no discrimination against any other religions in line with the demand of Islam that gave preference to justice.
"Therefore, Insya Allah, we will restore our country. We have identified ways to reduce the country's debt so as not to burden people in the future," he said.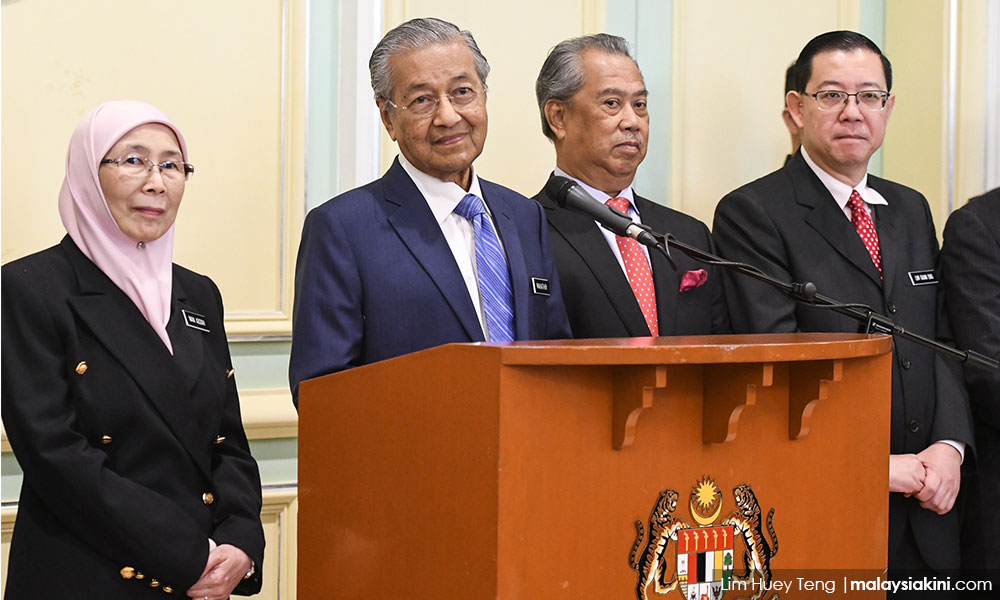 Mahathir said he did not expect Harapan to achieve its outstanding victory in the 14th general election, and described it as an outcome of the people's support.
He said the people should be grateful that the transition of power took place smoothly without any crisis or riots, which could serve as an example for other nations.
Mahathir said the transition of power in many developing countries, particularly Islamic nations, had occurred in a tense environment with riots, with the victors had been unable to form a government and carry on with their administration.
Civil servants left 'intimidated'
He also said that Harapan would fulfill the promises made in its election manifesto despite the severe damage left behind by the previous government.
"We thought that we could continue with our administration after taking over the government, but found that many civil servants had been intimidated so much so that they no longer served the country and government but served a certain party," he said.
Mahathir said the government was not inclined to take action against them but the matter was inevitable and the government needed to find their replacements.
"They may regard this as victimisation, but they must remember that this is being done because they adhered to orders contrary to national policies and laws. Many of them were willing to do things on orders although what they did was contrary to the laws," he said.
Also present at the event were Mahathir's wife, Dr Siti Hasmah Mohd Ali, Bersatu president and Home Minister Muhyiddin Yassin and Bersatu deputy president and Kedah Menteri Besar Mukhriz Mahathir.
- Bernama