NGO Malaysian Tamilar Kular has called on the new government to review the Security Offences (Special Measures) Act 2012 (Sosma), or at the very least, allow detainees to post bail.
In a statement, the NGO said that many of the detainees of the controversial act were held for gangsterism-related offences, a disproprotionate amount of whom are Indians.
"Sosma is a replacement of the Internal Security Act (ISA) and is a law which accords arbitrary powers to the police to arrest an individual for a long period of time.
"These Sosma detainees lead a tortured life in detention centres and their families are suffering outside from a socioeconomic perspective," Tamilar Kular president David Marshel Pakianathan said in June 29 statement.
Marshel pointed to the case of the late Thanabalan Subramaniam, who died in police custody in April.
The 38-year-old had been reportedly detained for 20 days under the act for suspected involvement in organised crime. However, he was found unconscious at the Shah Alam central lockup and pronounced dead at hospital.
Many criticised the government following the death for failing to provide Thanabalan with proper and timely access to medical services, despite him reportedly showing symptoms of fever, abdominal pain, diarrhoea and lack of appetite four days before his death.
Detaining Indians
Tamilar Kular held a press conference on Thursday with 37 families of Sosma detainees in Negeri Sembilan. Marshel said that he had also met with other affected families in Perak and Kedah.
He further claimed that Sosma – along with Section 130V of the Penal Code, pertaining to those suspected to be involved in organised criminal groups – have been widely used to detain Indians in Malaysia.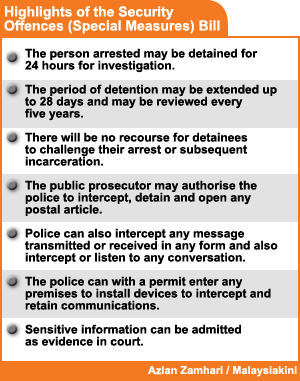 Section 13 of Sosma also prohibits those charged with a security offence from posting bail.
"Today (Thursday) we have more than a 100 family members of Sosma detainees, who are Indians. The number of Indian Sosma detainees in Penang, Perak and Negeri Sembilan alone is 105.
"We ask that the Pakatan Harapan government review Sosma (and) for Section 13 to be amended and for detainees to be allowed to post bail," he said, claiming that some 979 individuals have been detained under Sosma from July 2012 to February 2017.
Marshel also stated that his NGO, along with the families of Sosma detainees, planned to submit a memorandum on the matter to Home Minister Muhyiddin Yassin at Parliament on July 19.
In 2012, then prime minister Najib had announced the repeal of the controversial ISA – which critics called superficial as it was almost immediately replaced by Sosma, which allowed for ISA-like detention without trial.
In its Human Rights Report 2017 published this year, the Human Rights Commission (Suhakam) reported that of the 280 cases of detention without trial recorded in 2017, 269 involved the use of Sosma.
It also noted that Najib's promise of a committee to review Sosma was not fulfilled.
Earlier this month, the Home Ministry set up a special committee to review existing laws in relation to national security, and which allegedly violates human rights.