Former attorney-general Mohamed Apandi Ali has been named one of 11 appointed Umno supreme council members, according to party president Ahmad Zahid Hamidi.
Umno Online quoted Zahid as saying that new appointees were chosen as the party's first move towards implementing reforms that would help maintain its relevance in the current political scenario.
"In line with (conclusion) of the latest party election, as Umno president, I announce the list of appointed supreme council members under Article 9.2.8 of the party's constitution, as well the appointed Umno state liaison chiefs and other state leadership," Zahid said.
Apandi was replaced as attorney-general by Tommy Thomas following Pakatan Harapan's victory against BN in the 14th general election.
Others on the list of appointed supreme council members include former foreign minister Anifah Aman, former agriculture deputy minister Tajuddin Abdul Rahman, and former women's deputy minister Azizah Mohd Dun.
Glaring absentees from the party's previous Umno supreme councils include party veteran Tengku Razaleigh Hamzah and former Umno Youth chief Khairy Jamaluddin – both of whom had contested and lost against Zahid for the president's post.
Khairy had, however, recently stated that he did not take up any position within Umno as he wanted the freedom to voice his views to the party.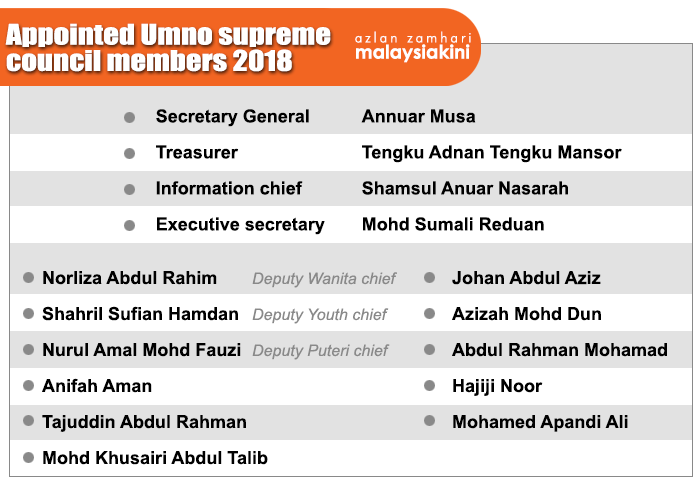 As for other office bearers, Ketereh MP Annuar Musa was appointed to the secretary-general's post, replacing Putrajaya MP Tengku Adnan Tengku Mansor, who was appointed as treasurer-general.
Lenggong MP Shamsul Anuar Nasarah, meanwhile, was appointed to fill the Umno information chief's post previously held by Annuar.
Out of state
Meanwhile, the appointment of state chiefs saw all three vice-presidents being moved out of their respective states.
Former rural and regional development minister Ismail Sabri Yaakob, who is from Pahang, is now the Selangor Umno chief.
Similarly, Kedah-born former education minister Mahdzir Khalid is now Terengganu chief, while former Johor menteri besar Khaled Nordin now heads Perlis Umno.
Other notable appointees were former communications minister Salleh Said Keruak as Sabah chief, and former second finance minister Johari Abdul Ghani is Federal Territories chief.
Former Dewan Rakyat speaker Pandikar Amin Mulia, meanwhile, is Sabah Umno secretary.