A coalition of university student groups and NGOs has questioned the five-year deadline placed by the Pakatan Harapan government to abolish the Universities and University Colleges Act 1971 (UUCA), saying the time frame is too long.
In a statement, the Coalition for Academic Freedom-Institute of Higher Learning (GPA-IPT, Gabungan Pembebasan Akademik-Institusi Pengajian Tinggi) said the abolishment of the Act should be carried out "without delay" and without excuses.
"Five years is a long period of time and we see this as an excuse for Pakatan Harapan to avoid fulfilling its promise. The long period would cause students to be shackled under the administration of the universities and the government," the statement said.
The coalition is seeking a place for student representatives in the 12-member committee announced by Deputy Education Minister Teo Nie Ching (photo, below) to study the UUCA and consult stakeholders, if "the government is truly serious about returning the autonomy to universities".
The GPA-IPT - which comprises, among others, Suara Rakyat Malaysia (Suaram), the National Association of Malaysian Muslim Students (PKPIM) and the Malaysian Academic Movement (Gerak) - further questioned the need for a new law to replace UUCA.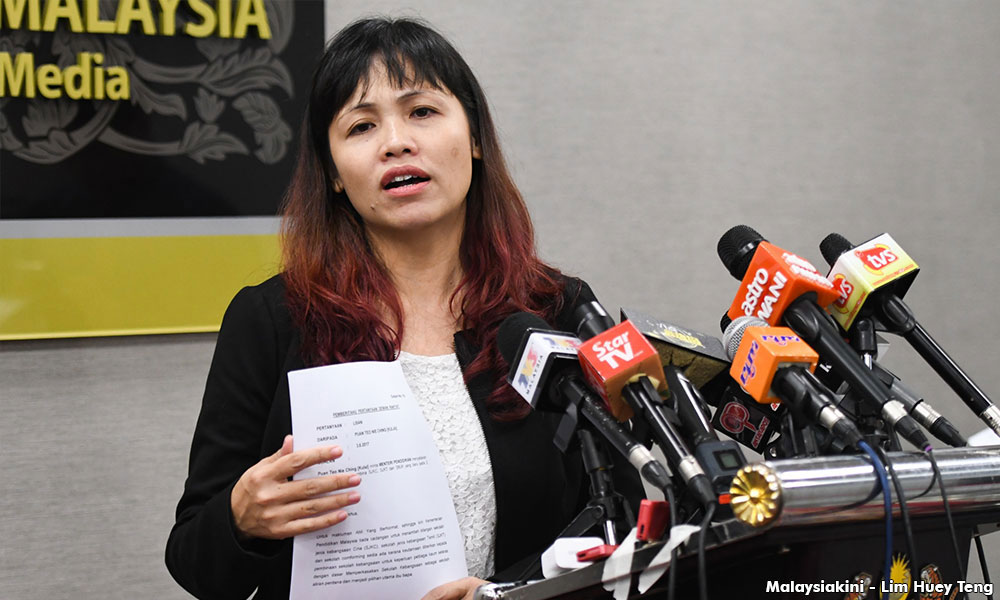 "We are also seeking an explanation from the (Education Ministry) as to the need for a new law, seeing as there was no law before the UUCA that bound the movements to students, aside from the University of Malaya Act 1961, which only stipulated on the establishment of the university and not the control over the actions of students."
Instead of a new law, the GPA-IPT said the authority to form their own rules and regulations, without any outside interference, should be accorded to the university senate and student bodies.
As such, the coalition wants a meeting to be held between the ministry and students soon, before the start of the next semester in September.
Teo told the Dewan Rakyat during the Question-and-Answer session yesterday that the government needed more time to study and consult all stakeholders, before abolishing the UUCA.
As a short-term measure, she added, the ministry would repeal the provision barring university students from taking part in politics.
"After that, politicians from Harapan and BN can enter campuses without any hindrance, for the purpose of sharing views and for intellectual purposes, not on political issues," Teo said.