COMMENT | Over the past couple of days, there has been a lot of talk about DSN's (Najib Abdul Razak) role in the Sungai Kandis by-election and Umno as a whole.
Should he have made an appearance in Sungai Kandis? Should he have spoken? Should he have kept quiet and sat on the sidelines while he cleared his name? Or is he simply "excess baggage" that Umno can't afford...
I have to admit these are valid talking points and concerns. Don't think for a second that these are questions that do not cross DSN's mind because he grapples with them almost on a daily basis.
When the question arose whether DSN should appear in Sungai Kandis, some of DSN's closest confidants cautioned him that the party could blame him for the loss. Some advised DSN to think of his own reputation first.
At the same time, BN's candidate Lokman Noor Adam appealed to DSN to come down and make an appearance. Naturally, DSN felt a little reluctant at first. He had not been out on the road since GE14. Would the ground respond to his presence?
Eventually, he took that brave step.
On a personal level, he could not say no or disappoint his fellow comrade who was brave enough to galvanise support during most trying times. Even I, as DSN's daughter, who has no political position whatsoever, felt responsible to show some support to Lokman because he spoke out against the authorities' unethical act of freezing my baby's bank account (later quickly reversed by the authorities when it became public news) and seizing Adam's personal items.
He was one of the few who stood outside the MACC building the night dad was taken in. As a daughter, worried for her father's safety, I felt relieved there was a group of DSN's supporters who wanted to show that he wasn't alone in this battle to clear his name.
When someone goes against the grain to stand up for your family, wouldn't you feel obliged to return the favour if he or she needs a helping hand? It's only natural that we reciprocate other people's thoughtful deeds.
'He is a tough man'
On a more professional level, DSN's appearance in Sungai Kandis was a reflection of his first love and do what he loves most - spending time with the rakyat.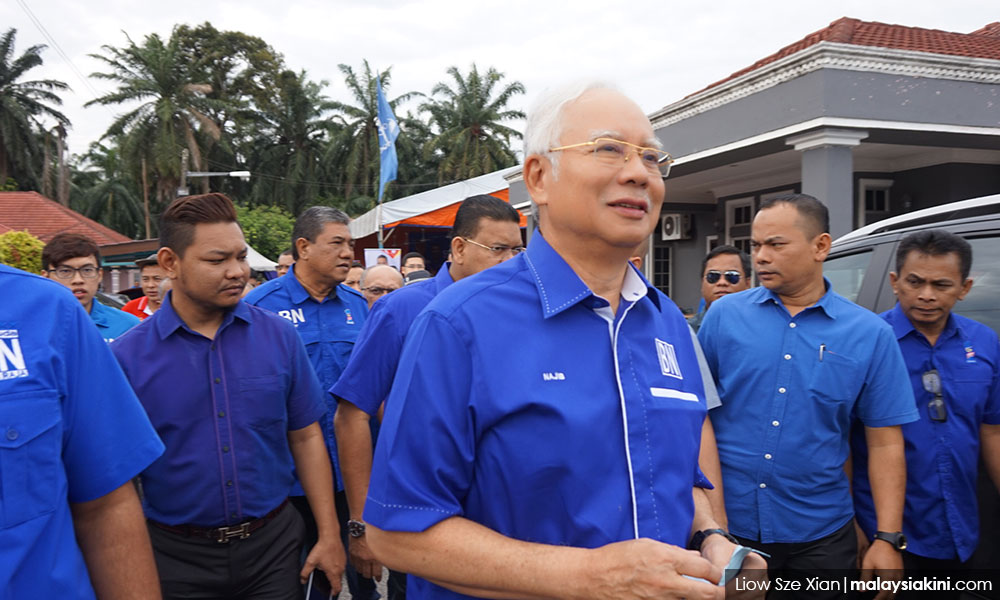 It was never going to be an easy battle to win in Sg Kandis. The seat was not for PKR to lose as they were the incumbent and their winning margin was big in GE14. To compound matters, a demoralised BN machinery that came so soon from the devastating GE14 loss was a shadow of its previous self. Umno grassroots members tried to do their best but the other component parties were not able to reach out to the 30 percent non-Malay voters there.
In hindsight, he could have put his circumstances first - sit back, let his fellow comrades fight and potentially lose a battle as long as he comes out of it unscathed.
But, he would have done this at the expense of letting down someone who wanted and needed his help. And he did enjoy meeting and spending time with many of his emotional supporters on the ground there - some of whom actually cried and hugged DSN.
Attendance at the two ceramah he did was also decent and showed that there were those who still wanted to listen to what he had to say despite the relentless allegations, persecution and slandering by the Pakatan Harapan government. He certainly has the right to defend himself against those allegations and tell his side of the story.
This is DSN. When anyone asks for help, as long as the request is reasonable, he has never put his needs first. It's always about the other person asking for help. He has never abandoned the rakyat, companions, and comrades in challenging times although today, some may be doing just that.
For most of his life, DSN has tried to serve the people of Malaysia and make their lives better and the nation better and stronger.
As a daughter who could barely get enough time to see him, I can tell you how punishing his daily schedule is - seven days a week, from dawn until late into the night.
Yes, times are tough now but DSN is a tough man who is secure in the knowledge that the only thing he is guilty of is trying to do his best for his country but was made the main political target by those who wanted power for themselves.
---
NOORYANA NAJWA NAJIB is the daughter of former premier Najib Abdul Razak
The views expressed here are those of the author/contributor and do not necessarily represent the views of Malaysiakini.