Even before the dust has settled down on his "F-word" fiasco in the Dewan Rakyat last week, Bung Moktar Radin has struck again.
This time around, the Kinabatangan MP weighed into the ongoing debate concerning the LGBT community in Malaysia.
However, the Sabah politician's focus was specifically on the usage of restrooms.
Taking to Twitter this afternoon, Bung said he is worried that more men would access women restrooms.
"I am worried that, starting today, more men will pretend to be 'pondan' (transgender) to make it easier for them to enter women's restrooms," he added.
The term "pondan" is considered to be derogatory as opposed to the more acceptable term of "Mak Nyah" for transgender women, or men who are effeminate.
Bung was responding to Minister in the Prime Minister's Department Mujahid Yusof Rawa, who urged the people not to discriminate against the LGBT community.
Mujahid had said there were cases where doctors would refuse to touch them during health checks.
"The doctor would use a pen to check on them. This is discrimination," he said after meeting transgender activist Nisha Ayub at his office last week.
The minister, who is in charge of religious affairs, said the other types of discrimination faced by transgenders, included the use of public toilets.
However, Mujahid clarified his statements today, saying he was not giving "permission" for transgender people to access female public toilets.
"It (my statement) was not a final decision nor an instruction, but rather merely my spontaneous response," he reportedly said earlier today.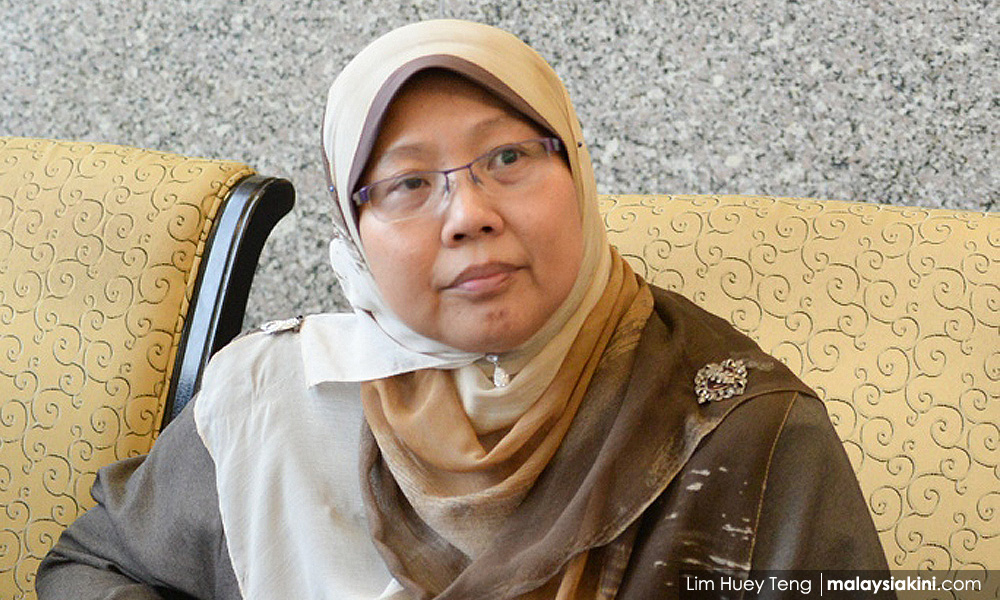 Meanwhile, deputy de facto religious affairs minister Fuziah Salleh (photo) suggested that the transgender community could opt to use the toilets for the disabled as a short-term solution if they were uncomfortable in being made to use men's or women's restrooms.
Speaking to reporters in the Parliament lobby today, she said members of the public should look at the problems faced by the transgender as a whole. While not specifying any community, it is believed Fuziah was referring to the Mak Nyah, or the transgender women community.
"We must look at this as a whole, for transgenders exist. They are a small group. All this while, the issue of restrooms has never arisen, but because the issue (of LGBT rights) has become a big one, all sorts of questions are emerging.
"Psychologically, they are women trapped in men's bodies, (so) they would not feel safe or comfortable using the men's room.
"However, if they were to use the ladies' toilets, other women may feel uncomfortable, even if women previously did not feel anything about it. So the issue has become a big one, and creates a dilemma for the transgender," Fuziah said.
Even so, the deputy minister said toilet use was not the main issue, as the government was focusing on returning the community to their "original state (fitrah)".