A majority of respondents are still dissatisfied with the cost of living despite their confidence in the Pakatan Harapan government's economic management, according to a poll by Merdeka Centre.
The poll found that 55 percent of the respondents were unhappy with the cost of living while 41 percent were happy.
This was despite 60 percent of respondents expressing confidence in the government's economic management against 25 percent who thought otherwise for the month of August.
For the record, respondents who were dissatisfied with the government's economic management had consistently outnumbered those who were satisfied since March 2014 when data was collected.
The trend only reversed following the installation of the new Pakatan Harapan government.
Similarly, 48 percent were optimistic about their personal finances and 56 percent were optimistic about the national economy while 16 and 12 percent respectively were pessimistic.
Apart from the cost of living, there was also high dissatisfaction in the Malay community with regards to the government's ability to protect their race and Islam.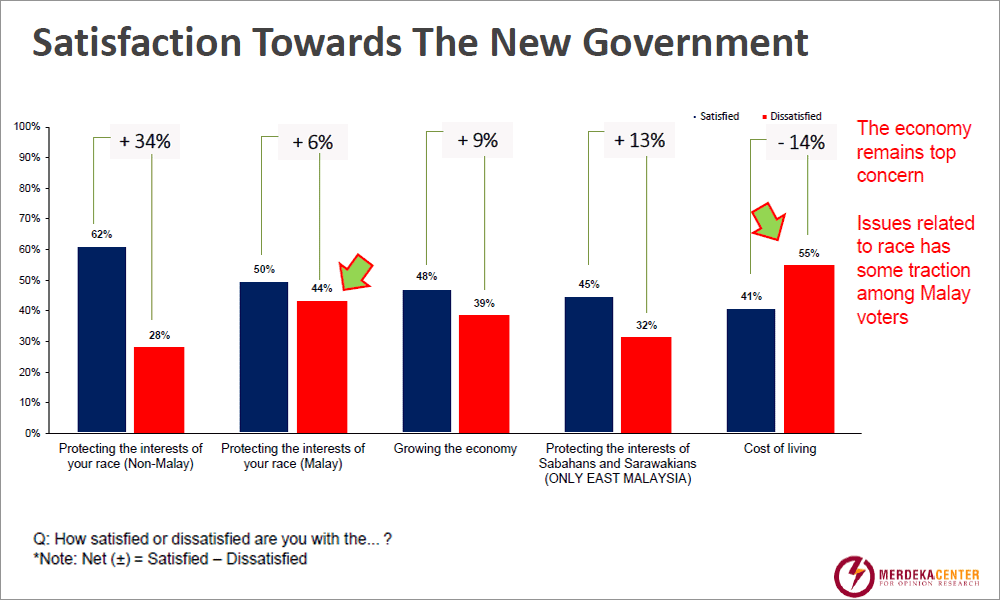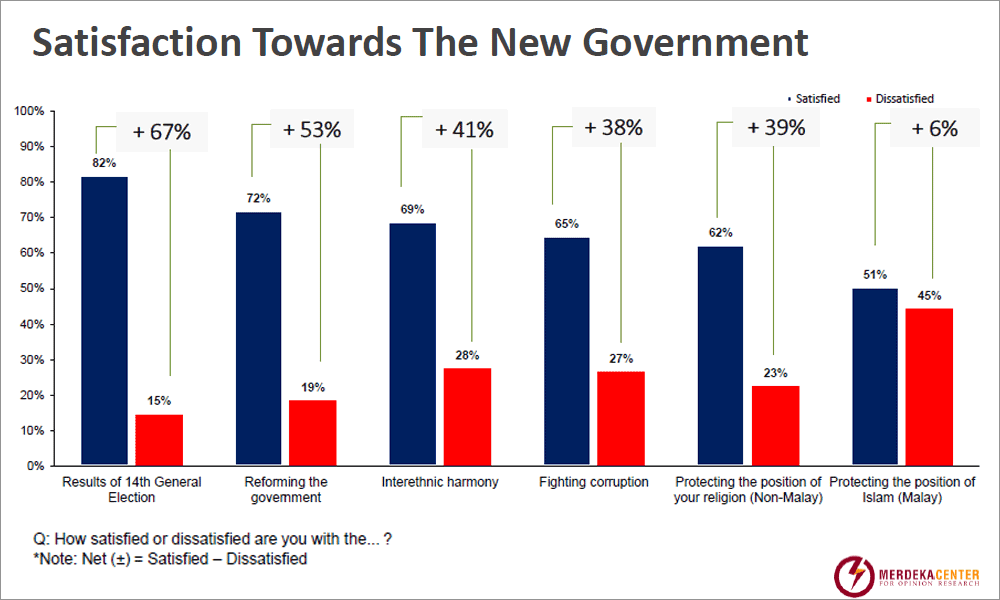 However, unlike the cost of living, those dissatisfied were still in the minority, albeit with substantial numbers.
Fifty percent were satisfied with the government and 44 percent were dissatisfied when it came to protecting the Malays while 51 percent were satisfied and 45 percent were dissatisfied with regards to the protection of Islam.
Most non-Malays were generally satisfied with the position of their race (62 percent satisfied; 28 percent dissatisfied) and religion (62 percent satisfied; 23 percent dissatisfied).
Meanwhile, the vast majority was satisfied with government reforms (72 percent), inter-ethnic relations (69 percent) and the fight against corruption (65 percent).
The survey also asked respondents what they thought about Harapan's performance in fulfilling their election promises.
Overall, 56 percent were satisfied and 34 percent were dissatisfied while 10 percent were unsure or refused to answer.
However, when broken down by ethnicity, more Malays were unhappy with Harapan's fulfilment of its pledges.
Some 48 percent Malays were unhappy compared to 42 percent who were satisfied.
In contrast, 77 percent of Chinese and 88 percent of Indians were satisfied. Only 17 percent and eight percent respectively were unhappy.
The survey involved 1,160 voters through a random stratified sampling method that matches the national demography.
It was conducted from Aug 7 to Aug 14.