LIVE BLOG | Tonight will see several political rallies in the Klang Valley cap off the Seri Setia and Balakong by-election campaigns.
A key development in the campaign has been Umno's active participation in PAS' campaign for Seri Setia.
Although both parties have had an acrimonious past, they have been increasingly exchanging overtures for greater cooperation now that they are both the opposition at the federal level and in Selangor.
Over in Balakong, MCA is engaged in a fight for relevance as it attempts to market its new check-and-balance offering.
Follow our LIVE coverage to see final campaign messages for the by-elections:
---
11.50pm – Thank you for following Malaysiakini's LIVE coverage of the final ceramah sessions for the Seri Setia and Balakong by-election campaigns.
Come back tomorrow evening for Malaysiakini's LIVE coverage of the by-election results.
---
11.45pm – Cheras Jaya, Balakong – It's close to midnight and MCA candidate Tan Chee Teong is still campaigning up until the final whistle.
Tan is seen mingling with Malay folks near a ceramah stage set up by Umno. Many walk up to Tan for a selfie and wish him luck.
---
11.45pm – TTDI Jaya, Seri Setia – Over at the PAS stage, Umno Youth chief Asyraf Wajdi Dusuki calls Pakatan Harapan leaders "liars" for failing to live up to their pledges.
He takes aim at Education Minister Maszlee Malik for taking up the position of International Islamic University Malaysia president.
"Not only is this a government that doesn't walk the talk, they are liars.
"Never has an education minister been the IIUM president. Previous education ministers didn't interfere with universities.
"But now, the president of IIUM is the MP for Simpang Renggam," he tells about 150 listeners.
---
11.35pm – Kampung Baru Batu 11, Balakong – Ceramah organisers state that they collected RM2,756 in donations. There are some 800 people present.
Earlier, DAP Balakong candidate Wong Siew Ki urges voters to make history by being among the first to mark their ballot papers next to a Pakatan Harapan logo.
She is referring to the fact that this by-election will see the debut of the Harapan logo.
Wong accuses MCA of blindly copying DAP's check-and-balance message now that they are part of the opposition.
She said this has been DAP's clarion call for 50 years, but there is not much to check-and-balance in a government that has only been in power for four months.
On the other hand, MCA had been in power for over 60 years until just four months ago, she said.
---
11.30pm – Kampung Baru Batu 11, Balakong – Finance Minister Lim Guan Eng rubbishes MCA's accusations that he is a Chinese turncoat for stating that he is first and foremost a Malaysian.
He urges voters to be wary of opposition parties, who have run out of political capital and resort to playing up divisive issues of race and religion.
"If you love Malaysia, support a party that represents Malaysians [...]
"Umno and MCA want to divide the people, unlike Harapan that wants to unite the people," he says.
He also spoke on Malaysia's debt situation and drew various analogies to help listeners comprehend the magnitude of Malaysia's RM1 trillion debt and liabilities.
Among others, he said this means a newborn Malaysian would be saddled with a RM33,333 debt.
"Before I became the finance minister, I had never heard of trillion-ringgit figures. When I became minister, I came across this figure.
"If this were cash in hand, I'd be happy, but it's debt! We have to repay it. And it's not even my debt but the previous administration's debt!" he says.
He urges Balakong voters to deliver a resounding victory to DAP, to show the world that there is still support for DAP and Pakatan Harapan, and hope for the country's future.
He says this would also be a message to MCA: "We haven't forgiven you. You haven't explained yourself".
---
11.25pm – SS5, Seri Setia – Economic Affairs Minister Mohamed Azmin Ali takes the PKR stage to explain his relationship with PAS candidate Dr Halimah Ali.
He recalls that when he took over as Selangor menteri besar in 2014, he performed a cabinet reshuffle and removed Halimah.
"On the other hand, I saw (PKR candidate) Halimey Abu Bakar's commitment and I made him a local councillor.
"Those who work hard for the people, we promote them. We remove those who cannot. Mudah saja (It is simple)," he says.
Azmin also ribs Halimah over her party's decision to ally with Umno.
"There were so many handbags. Birkins. Orange, blue, pink ... Then there were green handbags. A lot of them. But Halimah cannot see it," said Azmin.
In view of this, Azmin says that the choice Seri Setia folks have to make tomorrow is between a person who is committed to serving the public and a person who is allied with the corrupt.
---
11.15pm – SS5, Seri Setia – Over at the PKR stage, Selangor Menteri Besar Amirudin Shari describes PAS candidate Dr Halimah Ali as "our friend" but she doesn't deserve to be voted in.
"But our friend is now friends with Umno," he says.
He acknowledges that under Umno's rule, Selangor prospered but it was Pakatan Harapan and Pakatan Rakyat which helped to distribute the state's wealth through various programmes and incentives.
---
11.00pm – TTDI Jaya, Seri Setia – MIC information chief P Punitan explains that ties between PAS and Umno is nothing out of the ordinary.
This is because PAS, Umno and MIC now have one thing in common – they are all opposition parties.
"We need to help each other as opposition parties. We have to help the PAS candidate win even if it won't alter the political landscape," he says.
Punitan is standing in for MIC Youth chief C Sivarraajh who was initially scheduled to speak.
---
10.50pm – Sungai Chua, Balakong – MCA candidate Tan Chee Teong takes the stage and explains how worn out he was after 21 days of campaigning.
He says he does this because he is willing to suffer and sacrifice for the people of Balakong.
"To be honest, I am really tired after 21 days of campaigning. However, I am willing to continue work tirelessly for you all, the voters in Balakong.
"If I am given the mandate by the voters this time, I will fight 49 people at once by myself. No problem!"
---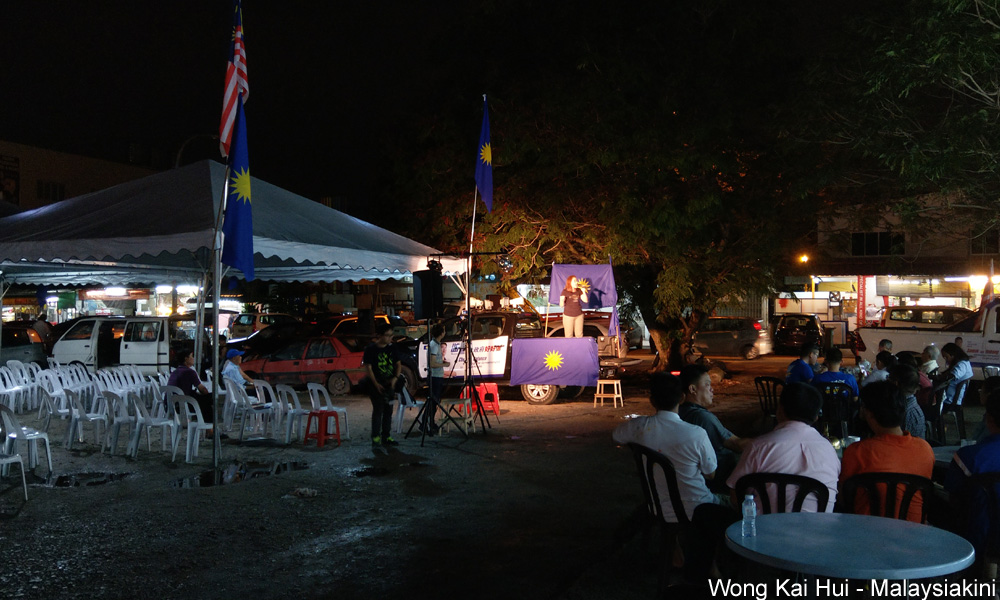 10.45pm – Sungai Chua, Balakong – The night is still young, but the crowd over at the MCA stage is thinning. There are just over 20 people near the stage.
Nevertheless, the speakers are still enthusiastically offering their critique of the Pakatan Harapan government and explaining why a check-and-balance was necessary.
---
10.40pm – SS5, Seri Setia – PKR vice-president Nurul Izzah Anwar tells a ceramah that she hopes the turn-out rate would be at least 55 percent.
"I hope you can come out and vote tomorrow. I hope the turn-out rate will be at least 55 percent."
The turnout rate for Seri Setia during the May 9 elections was 83.4 percent.
Meanwhile, she reminds voters about the new smoking ban for eateries, which will be in force in December.
"Please don't smoke at public places. I hope all of you here to take care of your health."
---
10.30pm – Kampung Baru Batu 11, Balakong – A crowd mobs DAP secretary-general Lim Guan Eng and DAP Balakong candidate Wong Siew Ki as they arrive together, briefly interrupting Cheras MP Tan Kok Wai's speech as he chastises MCA.
During his speech, Tan accuses MCA of forgoing its dignity by allying with PAS in hope of garnering Malay votes.
"They are selling their dignity. They have sold everything, down to their last underwear," he says.
While acknowledging that a healthy democracy needs a strong opposition, MCA is not up to the task as DAP was before, he says.
---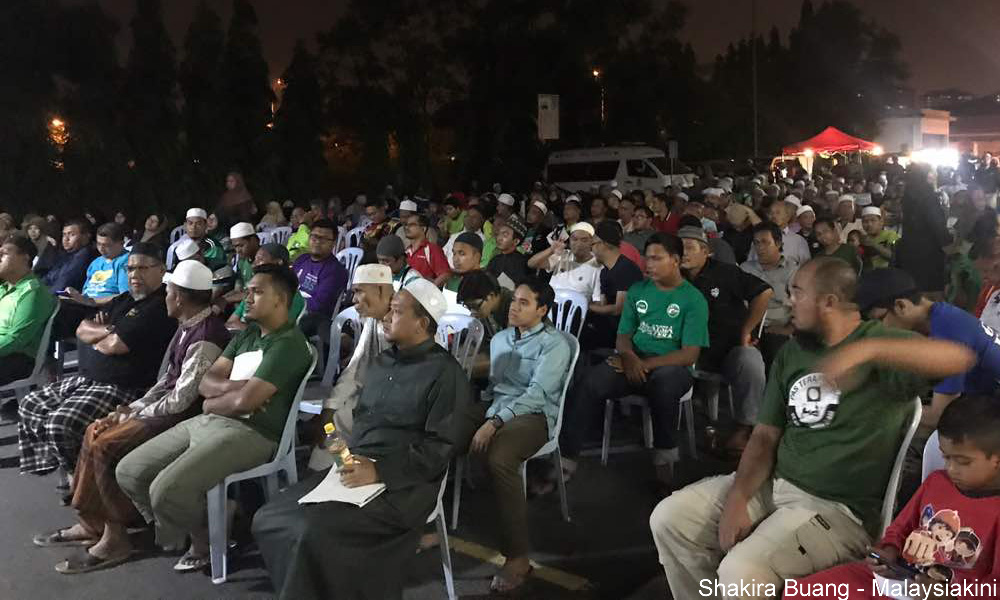 10.20pm – TTDI Jaya, Seri Setia – The main PAS stage for Seri Setia gets off to a late start. The event was scheduled for 9pm.
About 150 people are here for the ceramah which features Umno Youth chief Asyraf Wajdi Dusuki, MIC Youth chief Sivarraajh Chandran and PAS Youth chief Mohamad Khalil Abdul Hadi.
---
10.00pm – Kampung Baru Batu 11, Balakong – DAP parliamentary leader Lim Kit Siang challenges the MCA Balakong candidate Tan Chee Teong to withdraw from the by-election.
This is to take a stand against party leaders for allowing PAS secretary-general Takiyuddin Hassan to use MCA's platform.
Lim said it is not too late for Tan to withdraw although the polling day is tomorrow; all he needs to do is to send publicity trucks to make its rounds and spread the word.
"(He should show that) MCA leadership has crossed the line. Not only will not admit past mistakes, it has gotten worse," he said, while chastising PAS for being "extremists".
He added that DAP and its voters had already given PAS a chance to show that it supports a multiracial and multifaith Malaysia but the fundamentalist Islamic party squandered the opportunity. Yet, MCA now wants to get involved with PAS.
---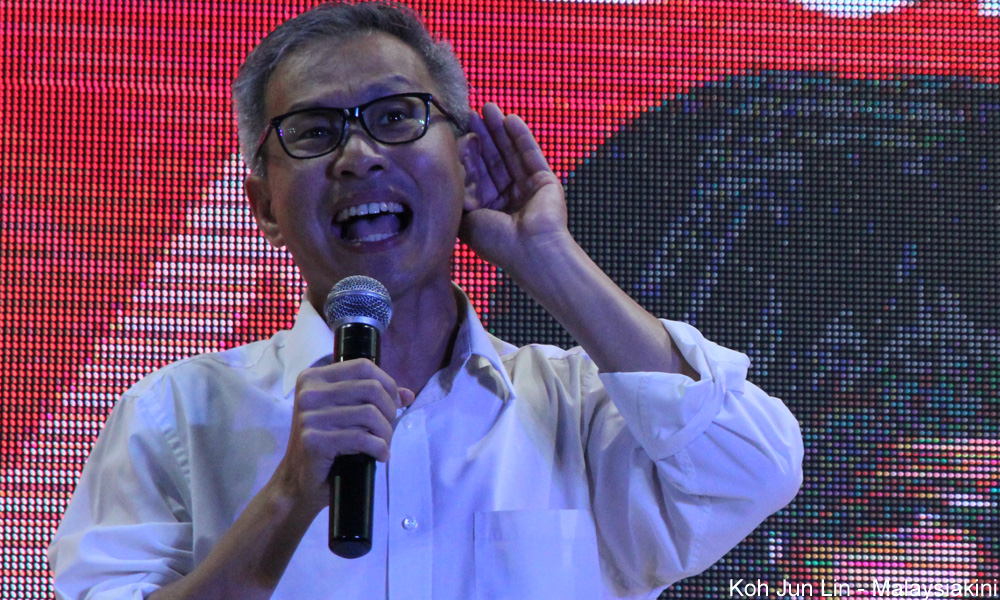 9:45pm – Kampung Baru Batu 11, Balakong – Economic Affairs Minister Mohd Azmin Ali urges Balakong to ensure that MCA is not merely defeated but wiped out by a huge majority.
This is to send the message that "enough is enough".
Referring to MCA's promise to act as a check-and-balance mechanism against the Pakatan Harapan-led government, he said, "You didn't check-and-balance when you were in power.
"When Najib was stealing billions, you didn't check-and-balance [...] Now you want to check-and-balance? It's too late. We must reject MCA."
Earlier, Damansara MP Tony Pua said a precondition to be given a second chance, is to apologise and admit one's mistakes.
"Do we hear (MCA president) Liow Tong Lai apologising for supporting Najib?" he asked the audience, which was replied with a resounding "No!".
The crowd has swelled to some 600 people.
---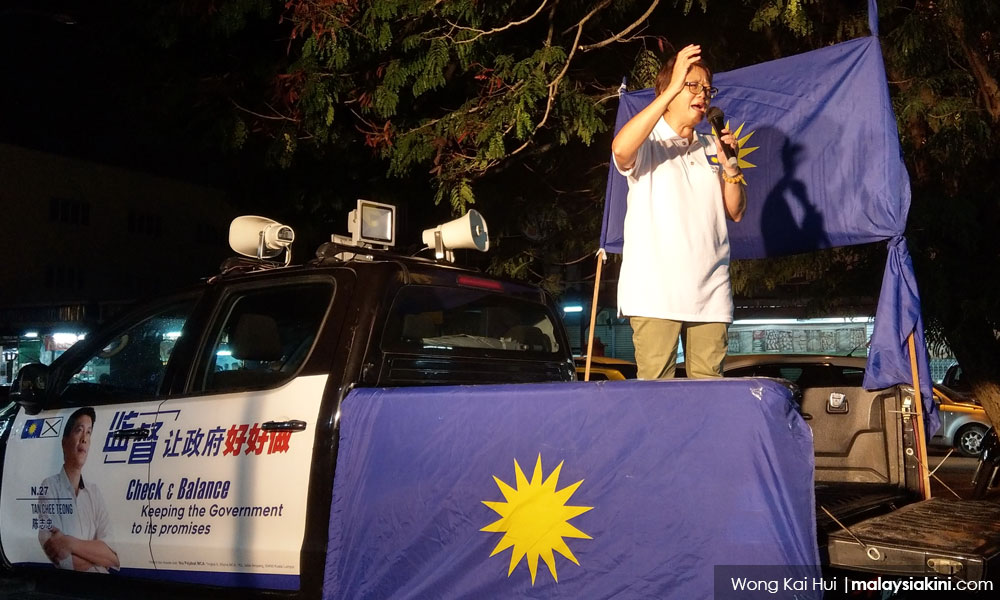 09.30pm – Sungai Chua, Balakong – The crowd at the MCA stage is trickling in now. There are about 80 people listening to MCA vice-president Chew Mei Fun, who also happens to be MCA candidate Tan Chee Teong's campaign manager.
She cites Pakatan Harapan's failure to fulfill its promise to accord the United Examination Certificate an official status as an example of why voters must ensure there was check and balance.
"We must vote MCA tomorrow! We must tell Harapan we are not satisfied because they didn't fulfill their promises. Apparently, there are some issues which DAP cannot resolve, so we have to vote for Tan Chee Teong tomorrow! He will get it done," said Chew.
---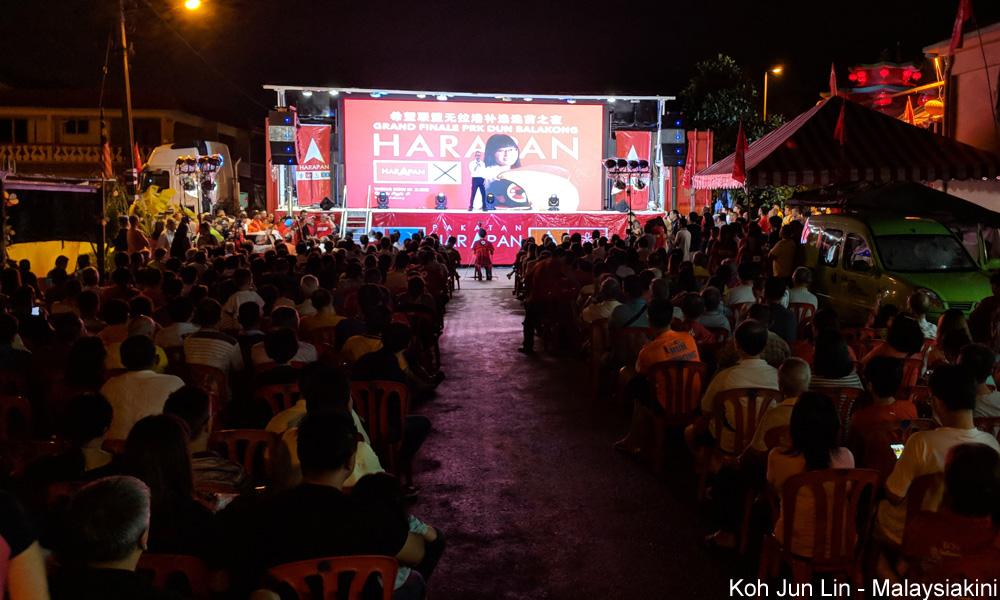 9.15pm – Kampung Baru Batu 11, Balakong – Some 400 people are at the DAP stage in Pekan Kampung Baru.
The party is hosting two parallel ceramah in Balakong with near-identical speaker lists. The other ceramah is now being held at Desa Baiduri about five kilometres away.
The predominantly Chinese crowd seems enthusiastic, clapping and cheering as Pakatan Harapan leaders speak and the leaders arrive one after another.
---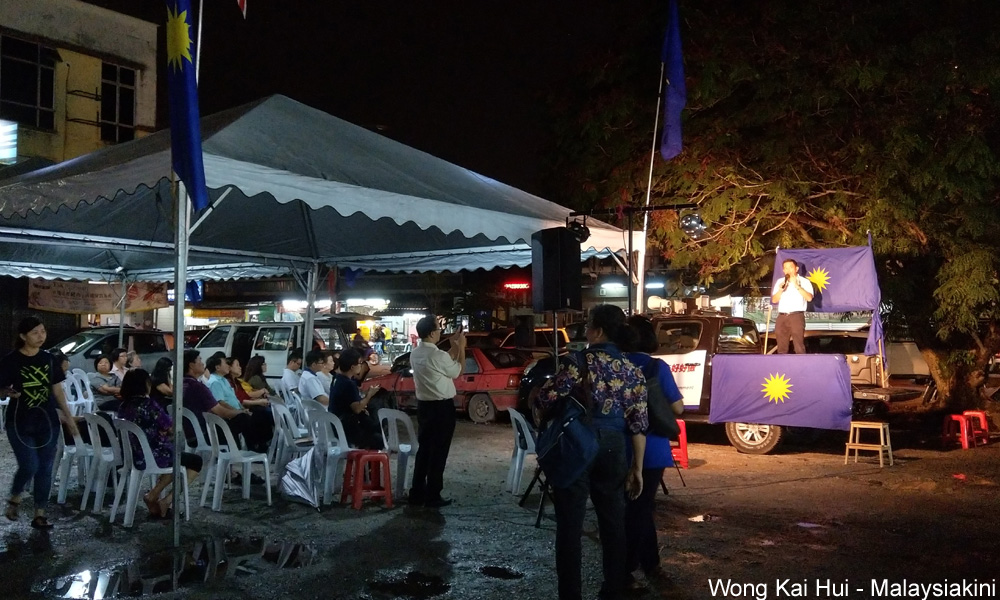 9.00pm – Sungai Chua, Balakong – MCA's final ceramah near a hawker centre is off to a slow start with about 50 people in the vicinity who appear to be following the proceedings.
Rasah MCA women's wing chief Yap Siok Moy tells the crowd that the backbenchers in Selangor are "too lazy" to attend the state assembly even though they are being paid RM19,500 a month.
She is also complaining about the road conditions in the area and accuses the Pakatan Rakyat and present Pakatan Harapan state government of failing to handle the issue over the past decade.
"There is no Chinese opposition assemblyman in Dewan Negeri Selangor now. Please vote for our MCA candidate Tan Chee Teong! He won't be lazy while receiving RM19,500 every month, he will definitely work for us ' like a horse'," says Yap.