NGO Pemantau Malaysia Baru today unveiled a T-shirt design that resembles MACC's lock-up attire.
Its president Lokman Noor Adam, in an Instagram post of the design, urged his NGO members to purchase and wear the orange T-shirt each time they gather to show solidarity for Umno leaders who are "unfairly" punished by the government.
The words on the front of the T-shirt reads "SRPM lock up - I am more willing to wear this shirt than abandon my struggle".
"SRPM" is a play on the graft buster's Malay acronym SPRM.
"Let the body be imprisoned, but the soul is liberated" is printed on the back.
In the same social media post, Lokman, who is also Umno supreme council member, complained about corrupt individuals allegedly walking free under today's government.
"Last time, when someone wears this orange t-shirt, the rakyat will 'punish' the wearer as a corrupt person, even before trial.
"However, with today's crazy government under DAP and Mahathir, the real corrupt persons like Lim Guan Eng and Phang Li Khoon are walking free, and even appointed a minister (Lim).
"Those who received funds from the former prime minister are being tested, having accounts frozen, and interrogated for days.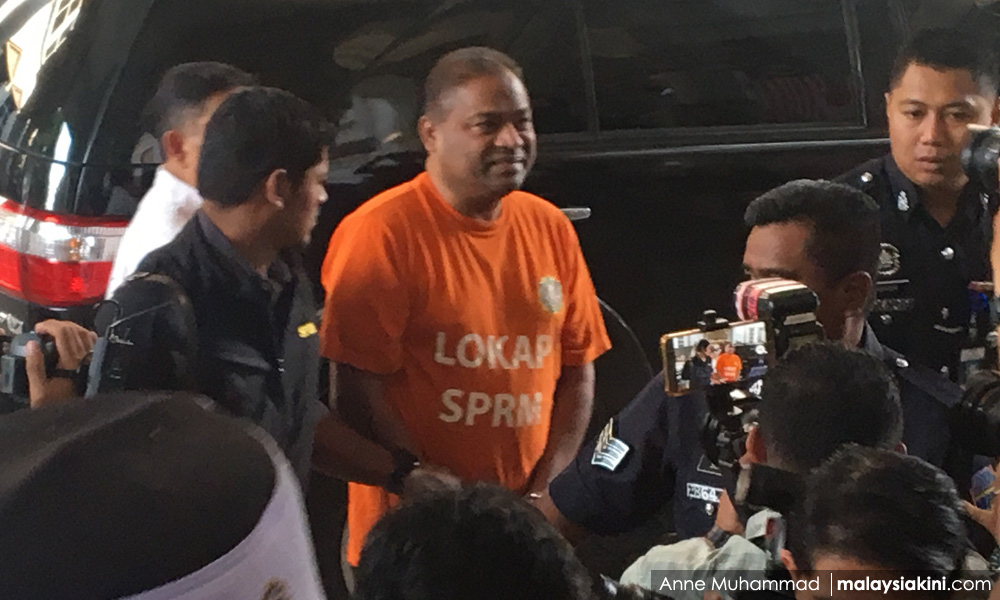 "Since when receiving funds is a despicable act? Not only the accounts of department heads, MPs and NGOs, are under scrutiny, but mosques and tahfiz schools too," Lokman wrote.
This was in reference to former Tabung Haji chairperson Abdul Azeez Abdul Rahim (photo), who is currently under MACC remand to facilitate investigations into the appointment of contractors involving Tabung Haji projects.
Azeez, who is also Baling MP, was spotted in the orange MACC T-shirt when remand was granted.
Commenting further, Lokman wrote that only the strong and those with dignity will not abandon Umno's struggle in these trying times, while those who were weak and frightened will flee, out of fear of being imprisoned.
"In solidarity with the fighters who do not fear the threats of the cruel enforcers, Pemantau Malaysia Baru will stand with them wearing this orange t-shirt, which is the symbol of courage and loyalty to the party.
"Let's print and wear this t-shirt every time we gather. We allow all quarters to print this 'latest fashion'.
"Fight till the end!" he wrote.