New York-based Human Rights Watch has joined in the call for the Malaysian government to refrain from deporting Syrian national Hassan al Kontar back to Syria and into "harm's way."
Hassan was recently detained after spending over seven months living at KLIA2 for fear of being sent back to his home country, where he claims he will be forced to join military service.
"Under no circumstances should Malaysia send Hassan al-Kontar back into harm's way in Syria, where he would likely face detention and physical abuse at the hands of the Assad regime.
"Malaysia should treat this case on the basis of human rights and humanitarian principles, and permit Hassan to remain in Malaysia and receive protection from the United Nations High Commissioner for Refugees (UNHCR)," said Human Rights Watch deputy Asia director Phil Robertson.
Hassan's plight gained international attention as he had been video blogging about his experience living at the airport, leading him to be dubbed the 'Syrian Tom Hanks – after the lead Hollywood actor of the 2004 film The Terminal.
He was arrested earlier this month, with Deputy Home Minister Mohd Azis Jamman saying that he would be deported back to Syria soon.
Azis had claimed that Hassan had insisted on asylum in Canada and had declined assistance offered by other countries, including Malaysia.
"He only wants Canada, but I was told that Canada would take two years to accept him, probably due to some processes," the deputy minister had said.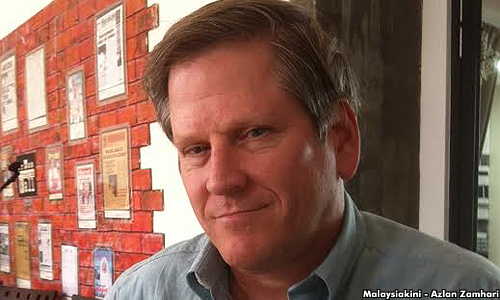 As Robertson (photo) said in his statement, the Malaysian government should provide the time needed for Canada to consider Hassan's petition.
'Poor track record'
Meanwhile, Amnesty International Malaysia also called on the Pakatan Harapan government to reconsider reporting Hasan for his safety.
"Malaysian authorities have a poor track record of deporting persons at risk. We call on the new government to reverse this trend and show that times have changed," AIM researcher Rachel Chhoa-Howard was quoted as saying by The Star today.
Lawyers for Liberty executive director Latheefa Koya yesterday questioned the need to detain and investigate Hassan "like a common criminal."
"The deputy minister must realise that there is vast difference between an asylum seeker and a migrant who willfully entered the country illegally.
"Asylum seekers like Hassan cannot be treated like illegal migrants and be locked up," she stressed.