Umno supreme council member Lokman Noor Adam (above) has challenged the party's youth chief Asyraf Wajdi Dusuki to resign from his position so that he can take on the latter in a fight for the post.
In a strongly-worded Facebook live session, Lokman said Asyraf was not fit to hold the position following the latter's call earlier today that Umno president Ahmad Zahid Hamidi should go on leave pending the end of his court trial for various alleged offences.
"The Umno Youth wing led by Asyraf is supposed to be at the forefront to defend the Malays, the Malay language, Islam and the Malay rulers.
"Unfortunately, when our president is being bullied by the Mahathir-DAP regime today, we have become 'bastardised' and ask for the president to go on leave. Whose agenda is this, Asyraf?" Lokman asked.
He claimed that people were swarming to join the Umno fold even those who were not former members.
"At a time when we are trying to ensure Umno stays relevant, you have failed in your duty to be an effective youth chief. Can't you see this will cause a split within Umno? Why did you do this?" he asked.
Lokman maintained that all was well in Umno, citing Zahid and other senior leaders' plan to go on a nationwide roadshow in a bid to regain support for Umno.
He further added that if a new leadership can help put the party back on track, then Asyraf (below) should dissolve the party's youth wing.
"I dare you to resign or conduct a re-election. I will resign from the Umno supreme council and challenge you for the Umno Youth chief's post."
Lokman also said that if the supreme council does decide that Zahid should go on leave pending the latter's court proceedings, he too would resign from the council as he did not want to be associated with a "cowardly" establishment.
"Where were you, Asyraf, when we protested against the current government's policies? But now he appears out of nowhere to ask our president to go on leave," he chided.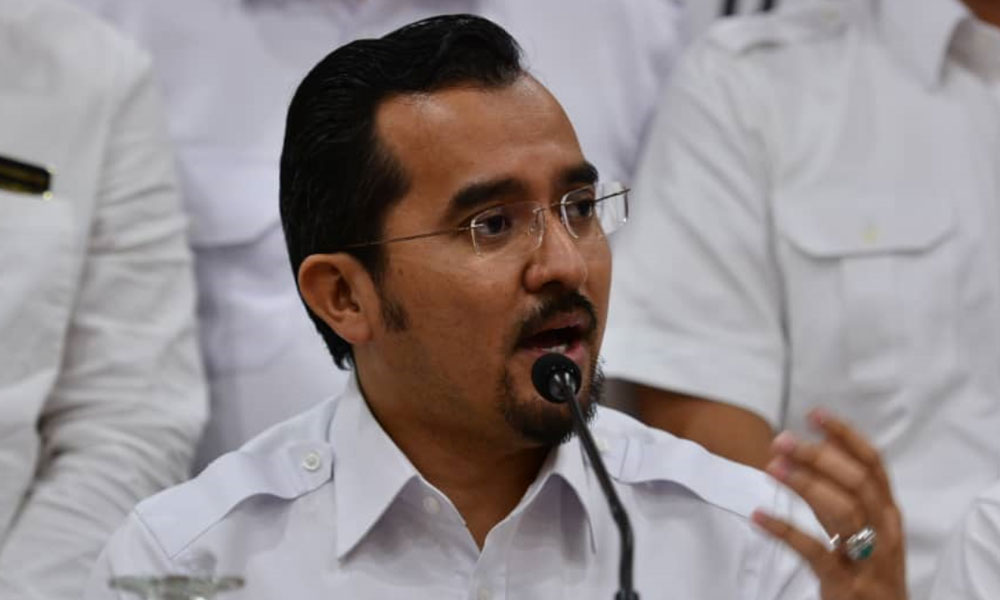 Asyraf had in a statement today said the decision to call on Zahid to go on leave was decided during the Umno Youth wing's exco meeting today.
"We urge him to consider taking leave from the president's post until his cases have been disposed of by the court," he had said, adding that the leave should not be considered as an admission of guilt as one was innocent until proven guilty.
"On the contrary, (Zahid) should be given the opportunity to focus his efforts on clearing his name," Asyraf said.
On Oct 19, prosecutors charged Zahid with a combined 45 counts of money laundering, criminal breach of trust and receiving gratification.
Top Umno leaders have been publicly debating whether Zahid should go on leave for now following this.
Umno deputy president Mohamad Hasan argued that this was necessary to protect the party's image.
Zahid, however, does not appear to be entertaining the idea of going on leave.
When a reporter asked him two days ago if he was doing so, Zahid replied: "What right do you have to ask this question?"