Deputy Defence Minister Liew Chin Tong has chastised the "less than intelligent" allegation that he sported a communist uniform when inspecting a line of soldiers during a recent visit to Kuching, deeming such remarks an insult to the armed forces and to the ministry.
Instead, he pointed out that he had been wearing a khaki-coloured bush jacket, which was the ministry's designated corporate outfit for official military events such as visits to camps and security posts.
He was referring to the accusation allegedly made by Jaringan Melayu Malaysia (JMM) president Azwanddin Hamzah on social media earlier today, in which the latter purportedly said, "Today the deputy minister of defence intentionally wore a communist uniform in front of Malay soldiers (and) this is insolent (kurang ajar) behaviour".
The post, which accompanied a picture of Liew dressed in the bush jacket and inspecting a row of officers, has since been deleted.
Taking to Facebook, Liew said several ministers have worn similar-coloured uniforms in the past, including current minister Mohamad Sabu and other cabinet members.
The deputy minister's post included images of former prime minister Najib Abdul Razak, his wife Rosmah Mansor and former minister Ahmad Zahid Hamidi, and current premier Dr Mahathir Mohamad wearing similar outfits.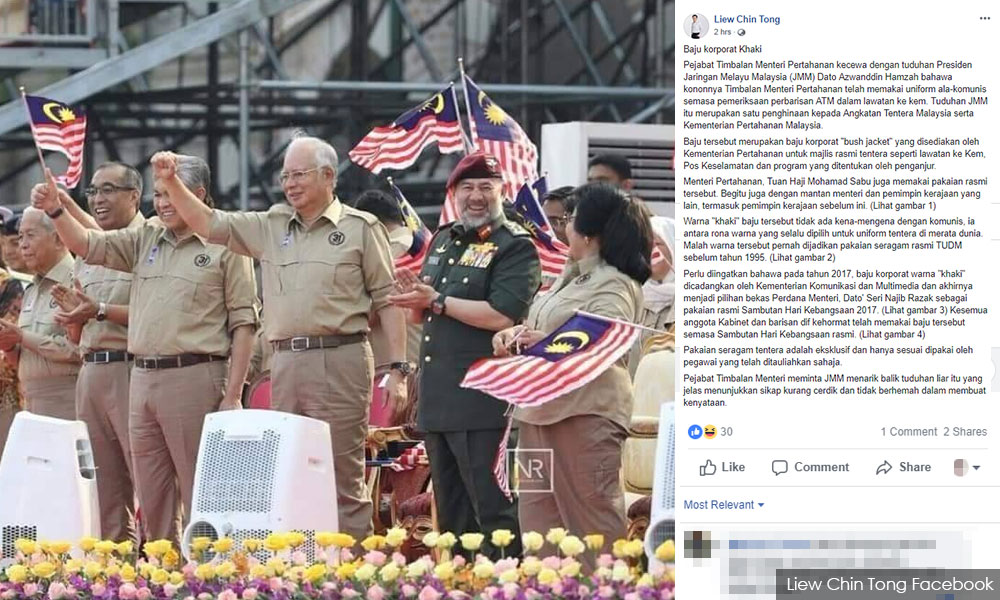 "JMM's accusation is an insult to the Malaysian armed forces as well as the Ministry of Defence.
"The khaki colour has nothing to do with the communists, it is a colour often selected for military uniforms around the world. The colour was even used for the official Royal Malaysian Air Force prior to 1995.
"For your information, the corporate khaki outfit was...ultimately the choice of Najib as the official outfits for the 2017 National Day Parade," Liew said.
He added: "The office of the deputy (defence) minister calls on JMM to retract the wild allegation that clearly indicates a less-than-intelligent behaviour and manners when issuing a statement."
Meanwhile, in a separate statement, the Defence Ministry stated that Liew had been wearing the army bush jacket when inspecting quarter guards in Kuching last Friday.
"The outfit worn by the deputy minister at the time is the official corporate outfit (bush jacket) by the Defence Ministry for the minister and deputy for official work visits, especially those involving visits to formations' headquarters and camps.
"It was also upon the instructions of Defence Minister Mohamad Sabu that military uniforms not be worn by civilians and only by certain military personnel who have undergone the military training phase," it said in a statement today.