BUDGET 2019 | Najib Abdul Razak has cautioned the Pakatan Harapan government not to jeopardise the growth and future of national oil and gas company Petronas, when "raiding" its reserves.
Referring to yesterday's 2019 Budget, the former premier zeroed in on Putrajaya's plan to boost its non-tax revenue from government-linked investment companies, such as Petronas, to cover the shortfall resulting from the abolition of the GST.
"As expected, they have raided (menjarah) Petronas' reserves which, prior to this, had gone up to RM147 billion to March 2017, which was during my administration.
"Now they want Petronas to pay RM54 billion dividend to the government for this year and the next, that is three times (the amount) compared to 2017.
"Petronas is the one Global 500 company Malaysia has.
"I hope the raiding of Petronas will not jeopardise the development planning and future of Petronas," Najib said on Facebook earlier this morning.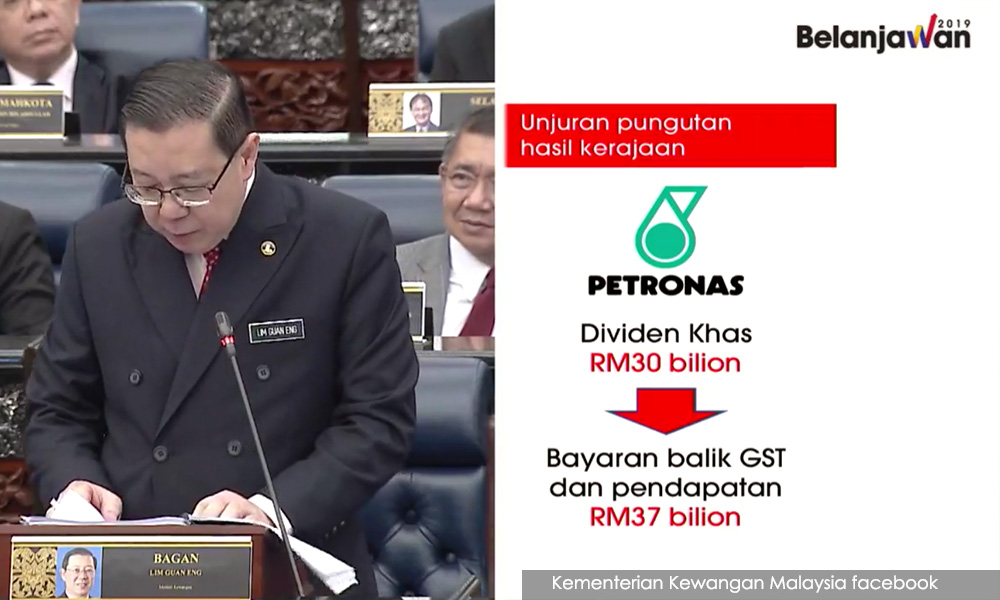 Under Budget 2018, the then BN government under Najib had estimated that 22.8 percent of its revenue will come from indirect taxes including GST, while Harapan estimated only 13.1 percent of its revenue will come from indirect taxes, which includes the SST.
In his post, Najib also referred to the plan to sell government assets like land, as well as to sell stakes in airport, rail infrastructure and hospitals via real estate investment trust (REIT).
He said such a move "would not make sense" if assets, which have given annual returns higher than the 3.8 percent government bond interests, are just sold off.
Najib further took a potshot at Finance Minister Lim Guan Eng, saying he was not surprised by the new government's plan to sell government assets, including land, as that was the kind of "short-cut" employed in Penang.
Prior to his appointment into the cabinet, Lim had been chief minister of Penang for two terms.
Yesterday, Lim stated that the government has proposed to set up the world's first airport REIT, in which the latter hoped to raise RM4 billion from selling a 30 percent stake in the REIT to private investors.
It was stated that other projects, such as hospitals and railway infrastructure, could also benefit from a similar scheme.
This was previously raised by Health Minister Dzulkefly Ahmad who stated that he was planning on setting up REIT to obtain additional funds for the Health Ministry, up to RM3 billion, to improve the quality of health services in the country.