Subang Jaya residents today staged a protest against a serviced apartment project at SS12, which they claim would worsen the traffic in the area.
Subang Jaya assemblyperson Michelle Ng Mei Sze, who was present to listen to the plight of the residents, appealed to the developer, Mayland Valiant Sdn Bhd, to consider halting the project for the welfare of the local residents.
A group of about 100 residents this morning protested in front of the land, which is currently a carpark sandwiched between the Subang Jaya Medical Centre and Dorsett Grand Hotel.
Ng said the developer's initial plan was to build a hotel but later changed it to a serviced apartment project. This ran into strong opposition from the residents who said it would worsen the traffic situation in the area.
"In 2007, Mayland had applied to develop the land for its serviced apartment project but it was not approved by the Subang Jaya Municipal Council (MPSJ). The developer re-applied a year later but was again turned down because the road would not be able to accommodate the potential increase in vehicles.
"In 2010, Mayland forwarded another application for a hotel suite. The development was approved," she said.
However, she added that several years later, residents had realised that the developer had sold the hotel as service apartments.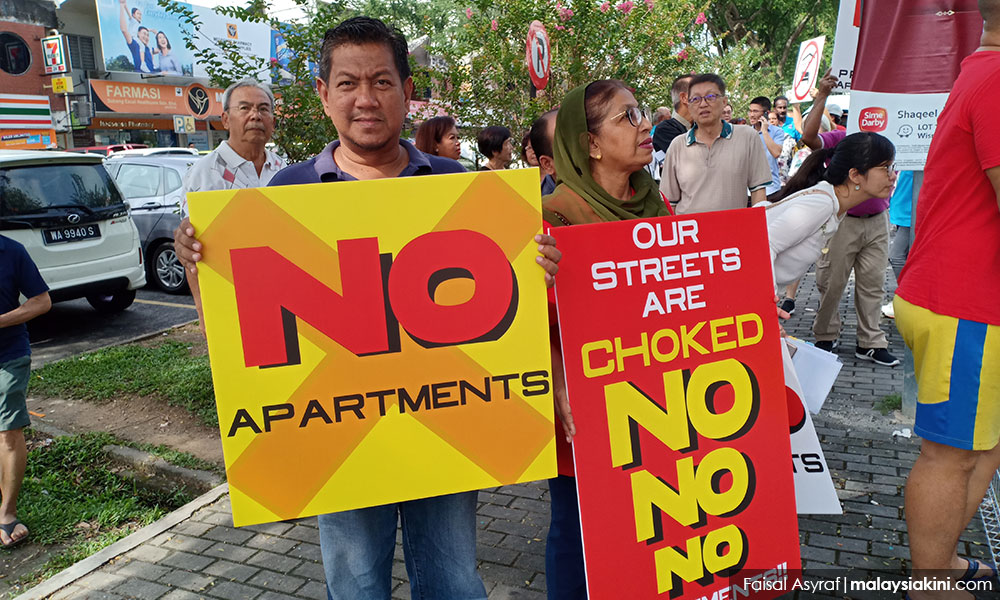 "I would like to ask the developer to do the right thing and re-consider... they should not proceed with this development for the sake of the people," said Ng, who was surrounded by residents holding placards.
In 2016, MPSJ had sued and won the suit against the developer for selling hotel suites as serviced apartments without obtaining the appropriate permits.
Malaysiakini has learnt that the developer appealed against the decision and won the case to proceed with the project.
The residents lamented that the area is already overcrowded, with limited availability of parking bays.
"The traffic will get worse. Access to the nearby hospital is important but the congestion will affect the movement of the ambulance," said a resident, Thomas See, 72.
He said the residents only knew about the serviced apartment project when they saw a sales gallery selling the units nearby.
"All this while, we thought it was a hotel project," See said.
Malaysiakini has contacted Mayland Valiant for their comments and was told that they would find the right person to respond on the issue.