Anti-Lynas group Save Malaysia Stop Lynas (SMSL) has called on the Pakatan Harapan government to immediately shut down the Australian-owned Lynas rare earth refinery plant in Gebeng, Kuantan.
In a statement after a public meeting held by the Lynas Review Committee in Kuantan, SMSL said that the citizens have demanded the shutdown of Lynas, which was evident by the presence of about 600 people at the meeting.
"Over 600 people who packed the venue were clearly eager to send strong messages to the Pakatan government.
"The people have spoken. We voted for PH because we want a safe and clean future. We appreciate the challenges the new government is facing in trying to manage this toxic saga created by the previous government.

"However, as taxpayers and citizens of Malaysia, we call on the government to shut down Lynas now," said SMSL chairperson Tan Bun Teet.
SMSL, which has been campaigning against the operation of the plant since 2011, said that several court cases have been initiated to stop the then-Najib government from issuing Lynas Corporation the licence to operate and leave massive amounts of waste contaminated with radioactive materials.
These include thorium and uranium, and hazardous substances like arsenic, cadmium, chromium and lead as well as chemicals from its refinery plant using ore concentrates from its Australian mine.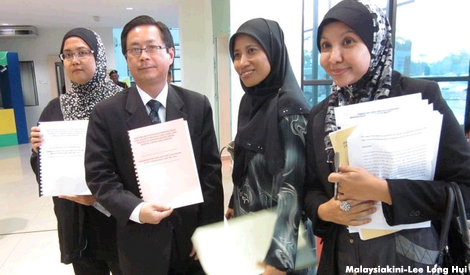 SMSL legal adviser Hon Kai Ping claimed that Lynas had breached its licensing conditions in many ways and there has been no subsequent action from the regulators.
"Lynas has instead acted against the interests of our country and the public by facilitating and aiding a foreign company in its wrongdoings.
"There is no justification at all to keep Lynas operating to produce more waste and posing more dangers to the country," said Hon.
SMSL said Lynas' water leached purification residue (WLP) waste has radioactivity of close to 8Bq/g, according to a 2014 UKM research findings, eight times higher than the regulatory exemption limit.
"According to a Department of Environment document, over 450 kilo-tonne of WLP waste is now stored next to the refinery plant in dams lined only with thin HDPE (high-density polyethylene) plastic.
"If this is the Lynas' international safe standard of waste management, then we are doomed," said Tan.
It said that Lynas has proposed to turn its wastes into various commercial products – from building and road paving materials to a soil filler known as Condisoil.
It added that all of the proposed diluted products by Lynas, when released to the market, will almost certainly exceed the 1mSv/year cumulative dose limit, posing serious health and environmental risks to the whole country.
"The toxic legacy of Bukit Merah was created from monazite from our domestic tin tailing.
"Malaysia has been and will remain a laughing stock in the eyes of the international community by accepting such a raw deal from Lynas, where we ended up with its wastes and pollution.
"How can this be compatible with PH's manifesto to facilitate a sustainable development pathway for Malaysia?" said Tan.
During the public hearing yesterday, Lynas said that it is prepared to abide by all regulations to ensure that its operations are safe and do not pose a public health risk.
The company's radiation safety division manager Ismail Bahari said Lynas has always abided by the licensing conditions imposed by the authorities and it is staffed with experts who monitor the refinery's operations.
"Lynas is monitored and regulated by government agencies.
"All our experts will ensure that Lynas always abides by its licensing conditions, and to date, Lynas has fulfilled on the licensing conditions imposed," he said.
Meanwhile, Pahang Department of Environment (DOE) director Rosli Zul said in his presentation that Lynas had indeed followed rules imposed by authorities since it began operations.