The information removed from the auditor-general's report on 1MDB was not new, claimed Shafee & Co, the law firm representing former prime minister Najib Abdul Razak.
Specifically, the law firm said the removal of information about businessperson Low Taek Jho, better known as Jho Low, attending a 1MDB board meeting was already public knowledge prior to the auditor-general's report.
"We point out that the said event was already revealed in Parliament on Dec 21, 2015, where the Finance Ministry had clearly stated that Jho Low's presence at the board meeting was to represent Prince Turki Bin Abdullah as the owner of PetroSaudi Inc.
"Jho Low's presence at the said 1MDB board meeting was also revealed and discussed in the proceedings of the Public Accounts Committee on 1MDB on Nov 25, 2015, where the previous auditor-general was also present.
"It must be noted that both the parliamentary reply and the PAC proceedings predate the alleged instruction to remove mention of Jho Low's presence in a 1MDB meeting from the auditor-general's report," it said.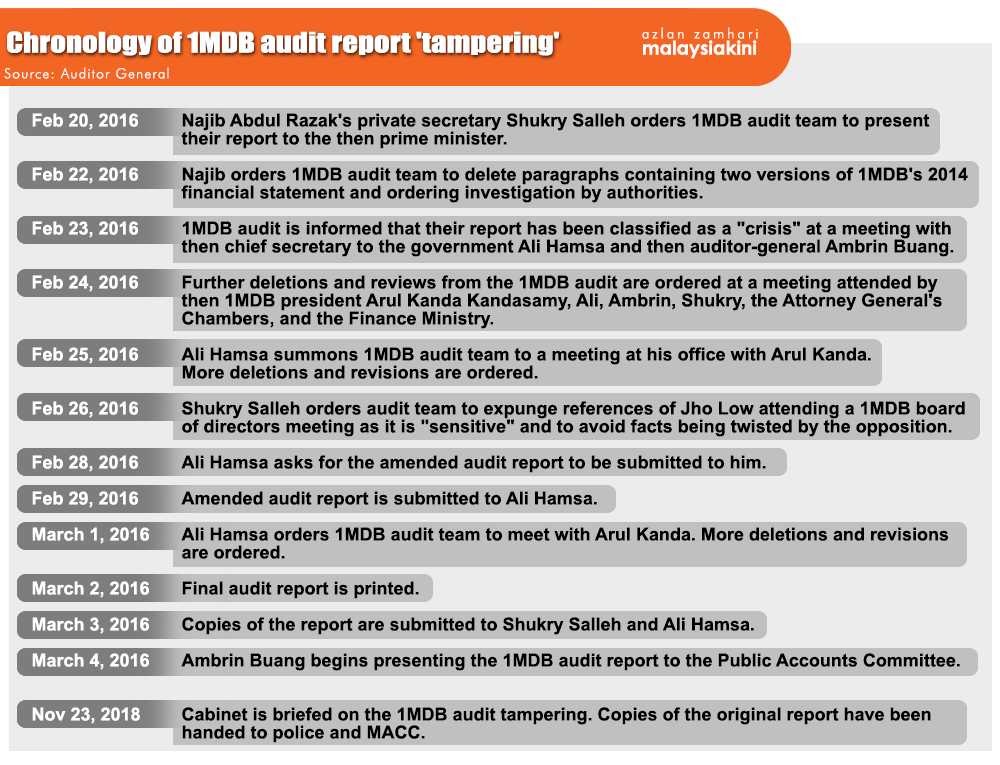 Shafee & Co added that it was "standard procedure" for the auditor and audited to meet and make changes to the report.
"We point out that it is standard procedure in any audit process that the auditors and the audited would ordinarily meet to discuss the draft report for clarification and to correct inaccuracies, if any, before the report is made final," it said.
The law firm added that Najib will be releasing his own statement to provide a more comprehensive explanation.
Auditor-general Madinah Mohamad confirmed that Najib had summoned her predecessor Ambrin Buang on Feb 22, 2016, and instructed certain parts of the report to be expunged.
She added that Najib's private secretary Shukry Mohd Salleh had also instructed the mentions of Jho Low, a central figure in the 1MDB scandal, to be removed.
She also said there were several meetings between her predecessor and the 1MDB management to alter the auditor-general's report.