MP SPEAKS | Former prime minister Najib Abdul Razak has become Malaysia's most prolific Facebook user.
In the last seven days, he has had 35 Facebook postings, averaging five a day – ranging from three to seven postings a day.
But he condemned himself on the 1MDB kleptocracy by his thunderous silence on The Edge Media Group chairperson Tong Kooi Ong's revelations five days ago rubbishing Najib's claims of ignorance over the 1MDB scandal.
Tong claimed that in 2015, he had personally informed Najib of evidence that fugitive financier Low Taek Jho, also known as Jho Low, was running a scam with 1MDB, only to be kicked out of the then-premier's home.
Tong said the meeting with Najib on the night of March 6, 2015, was arranged by an Umno MP.
"I met Najib in the living room. It was just us.
"He started by telling me The Edge was wrong, and that the problems of 1MDB were its business model of carrying too much debt. There was no theft of money.
"I told him otherwise. I shared with him information that I believed was proof that it was all a scam, with Low at the centre of it. I explained how the accounts were made up to report a profit, and why I believed the cash was all gone.
"After about half an hour, he relented and told me he would shut down 1MDB. He didn't say what he was going to do about the debts.
"I then proceeded to tell Najib that Jho Low must be held accountable and be prosecuted. This upset him. He immediately stood up, walked to the door and asked me to leave.
"I was taken aback that he was so sensitive about Low."
Tong had spoken out in response to Najib's claim that Low may have cheated 1MDB, but maintained that he was ignorant of any wrongdoings that may have transpired at the time.
In his silence, Najib had indirectly confirmed Tong's revelations. In fact, Najib now claims that he never said he was cheated by Low.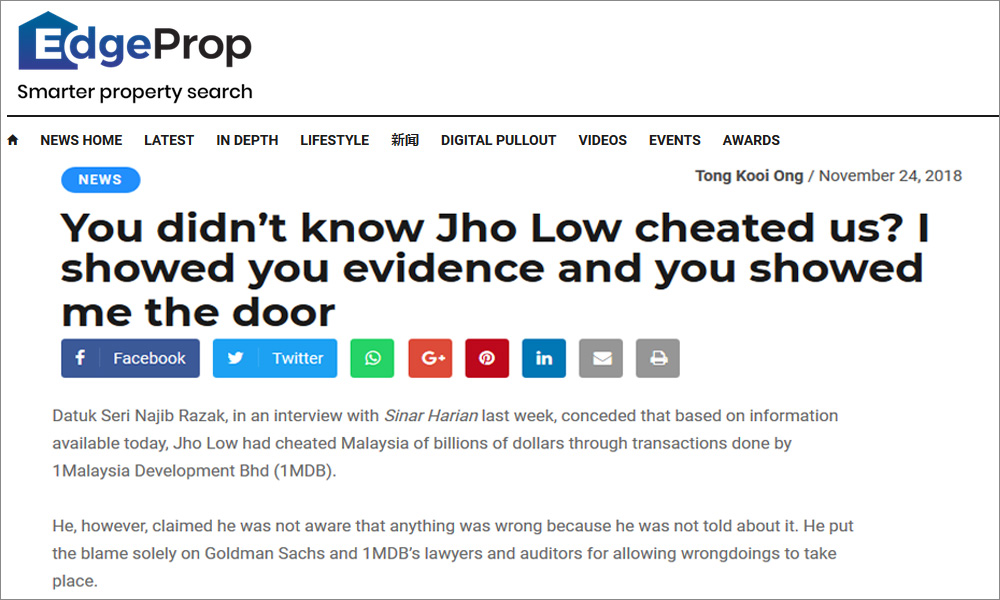 Najib still has to come clean on a question I had posed about his various meetings with Low, especially the number of secret rendezvous he had with Low outside Malaysia after the 13th general election in 2013.
During my visit to New Zealand in September, I had also posed the question whether Najib or Jho Low would be the first to betray the other in the 1MDB case, also called by US attorney-general Jeff Sessions as "kleptocracy at its worst".
Najib's silence over Tong's revelations cannot be more revealing about Najib's legacy as the global kleptocrat instead of being prime minister of Malaysia.
Let us give Najib a final chance to defend himself against Tong's charges.
Tong said that The Edge's front-page allegation in 2015 that Jho Low stole US$1.83 billion, supported by a money trail showing cash transfers into bank accounts, spooked Najib into suspending The Edge. Tong and The Edge publisher Ho Kay Tat were investigated by the police for economic sabotage and Tong was barred from leaving the country.
As Tong said: "Najib knew what Jho Low did. We provided the evidence and he shut us down to shut us up."
Let us hear from Najib.
---
LIM KIT SIANG is Iskandar Puteri MP.
The views expressed here are those of the author/contributor and do not necessarily represent the views of Malaysiakini.