Kelantan Mufti Mohamad Shukri Mohamad said the plan to hold the Dec 8 rally against ratification of the International Convention on the Elimination of All Forms of Racial Discrimination (Icerd) treaty should be scrapped, given the current "high tension" situation in the country.
Besides, the rally is also no longer needed since the government has announced it will not ratify the UN accord, the New Straits Times quoted him as saying.
"In Islam, when we want to achieve something, we must weigh the good and the bad.
"If the bad outweighs the good, why continue?" he said in reference to the rally which is being organised by NGO Gerakan Pembela Ummah backed by Umno and PAS.
"People might take advantage of it to spark a riot. In my opinion, it's better if this rally does not take place," he added.
Mohamad has previously supported the government's move to reject the ratification of the Icerd as it "brings about more detriment to the country's current situation."
Despite the government's announcement, the rally organisers have said that the rally will go ahead not to protest but to express gratitude over the government's decision.
Meanwhile, Gerakan Pembela Ummah, in a statement today, stressed that the rally will proceed as planned.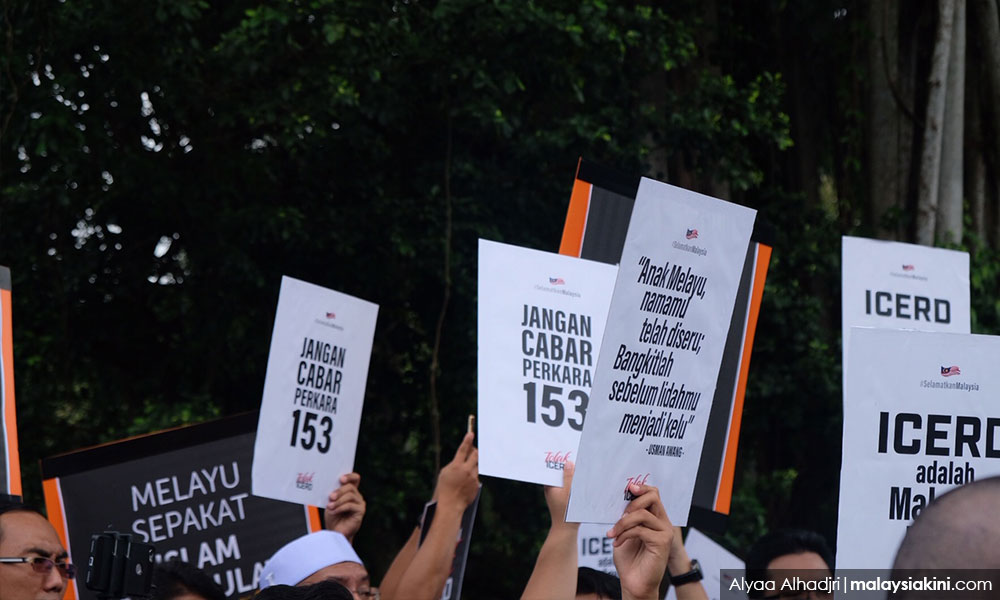 It reiterated that it will not be in any way linked to the riots which occurred over the proposed relocation of the Sri Maha Mariamman temple in USJ25, Subang Jaya earlier this week.
Its chairperson Aminuddin Yahya said there was no reason to fear that the rally would cause racial tension.
"We strongly reject claims that the rally will touch on the temple issue.
"Do not make the temple issue a deterrent to the rally," he said, while warning potential troublemakers to stay away from the gathering.
He said that his NGO had met with the Dang Wangi police on the matter and claimed that they had no qualms about letting the rally proceed.