Muhammad Adib Mohd Kassim, the firefighter who was severely injured in the Sri Maha Mariamman temple fracas, has woken up from his medically-induced comatose condition at the National Heart Institute (IJN) in Kuala Lumpur, where he is being treated.
IJN chief executive officer Dr Mohd Azhari Yakub said the 24-year-old firefighter showed positive development this morning.
He described Muhammad Adib's condition as encouraging and said that the firefighter could respond to some verbal commands from medical experts.
"We categorise him as in critical condition, but stable. We, as medical personnel, are encouraged by his progress over the past 24 and 48 hours.
"He is able to understand some instructions and he can move his lips. It's a positive sign to say that his brain function is probably okay," he added.
As for his other organs, Mohd Azhari said Muhammad Adib's condition was stable with the help of Extracorporeal Membrane Oxygenation (ECMO) machine, the equipment that helps his heart and lung to function well.
He said Muhammad Adib still needed to go through his dialysis treatment and anticipated that the firefighter would rely on the machine for at least a couple more days.
"Due to his injury and lowish blood pressure over a period of time, the kidney has taken a lot, meaning that the kidney is not functioning well. That is the reason why he has to be on dialysis," he added.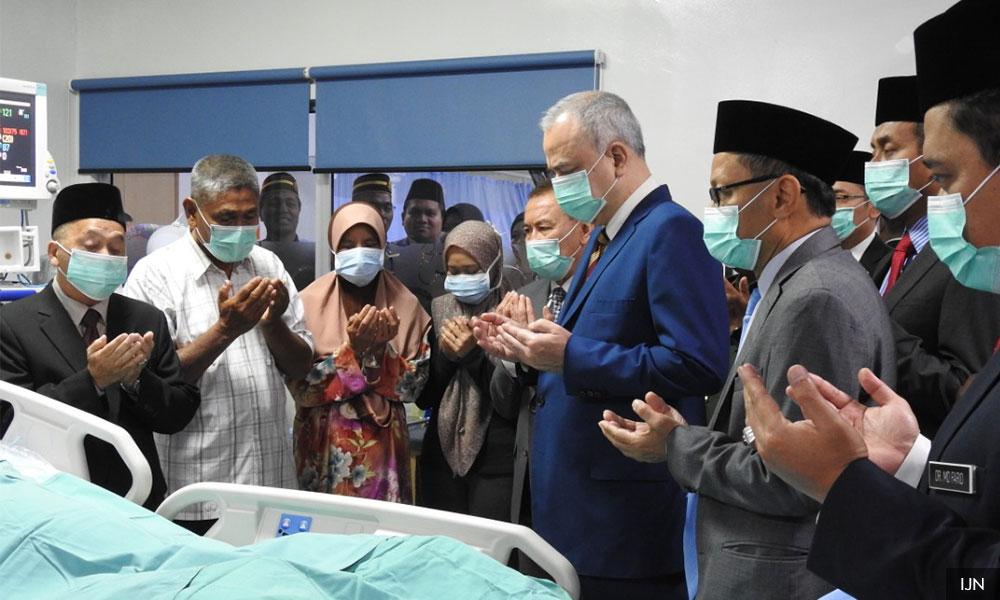 He said that the young firefighter was still being kept highly sedated to allow his organs to recover.
On Muhammad Adib's general condition, Mohd Azhari said the firefighter remained critical but stable with signs of encouraging improvement.
He hoped all Malaysians would pray and wished for Muhammad Adib to fully recover.
Meanwhile, Deputy Minister in the Prime Minister's Department Md Farid Md Rafik said, on behalf of the government, he would like to express his appreciation to the medical specialists at IJN and others involved in helping Muhammad Adib.
He was met by reporters after accompanying the Deputy Yang di-Pertuan Agong Sultan Nazrin Shah who visited Muhammad Adib this morning (picture, above).
- Bernama