A United Nations panel has accused China of turning its far-flung western region of Xinjiang "into something that resembled a massive internment camp shrouded in secrecy, a 'no rights zone'." It estimates that there could be as many as one million Muslims who have been detained there.
Former detainees describe being tortured during interrogation, living in crowded cells and being subjected to a brutal daily regimen of Communist Party indoctrination that drove some people to suicide.
Most of those who have been rounded up by the security forces are Uighurs, a Muslim ethnic minority that numbers some 10 million. Muslims from other ethnic groups, including Kazakhs, have also been detained.
China rejects the allegations that it has locked up large numbers of Muslims in re-education camps. The facilities, it says, are vocational training centers that emphasize "rehabilitation and redemption" and are part of its efforts to combat terrorism and religious extremism.
The crackdown includes tight control over information and access to the region. Xinjiang is now one of the most heavily policed areas in the world, according to academics and human rights groups. This follows the launching of a "people's war on terror" in 2014 after a series of violent attacks in Xinjiang and other parts of China that authorities blamed on religious extremists.
While China says the Uighur camps are vocational training centers, they are heavily guarded. Researchers have resorted to using satellite imagery to view and track the expansion of these facilities.
Reuters worked with Earthrise Media, a non-profit group that analyzes satellite imagery, to plot the construction and expansion of 39 of these camps, which were initially identified using publicly available documents such as construction tenders.
The building-by-building review of these facilities revealed that the footprint of the built-up area almost tripled in size in the 17 months between April 2017 and August 2018. Collectively, the built-up parts in these 39 facilities now cover an area roughly the size of 140 soccer fields.
The facility at Turpan can be seen at the foot of the Tianshan mountains in Xinjiang. A tender notice revealed that officials there wanted to be able to listen in to telephone calls made by "trainees" at the camp.
Construction notices published on local government websites, including tenders and procurement requests, have provided clues about the location and features of many of the camps. The technical specifications in these documents include references to guardhouses, surveillance systems that leave "no blind spots," automatic weapons and their safe storage.
A tender issued for the center at Turpan, for instance, canvassed bids for a telecommunications "control system," saying the facility was in "urgent need to know in real time" the content of trainees' telephone conversations so that they could be forcibly interrupted.
Having identified 80 detention facilities using construction notices, Reuters focused its analysis on 39 that were clearly identifiable from satellite imagery. Earthrise then scrutinized hundreds of satellite images spanning a two-year period.
"I was immediately struck by how many camps there were, how large, and how quickly they are growing. In a matter of months they are throwing up five-story buildings, longer than football fields, lined up in rows in the desert," said Edward Boyda, co-founder of Earthrise. "The construction and arrangement of buildings is very similar from site to site, in the new sites especially, which means there is a method behind it."
China's State Council Information Office, foreign ministry and the Xinjiang government did not respond to questions from Reuters.
Uighurs have bristled at what they say are harsh restrictions on their culture and religion. They have faced periodic crackdowns, which intensified after riots in the regional capital in Urumqi in 2009 killed nearly 200 people.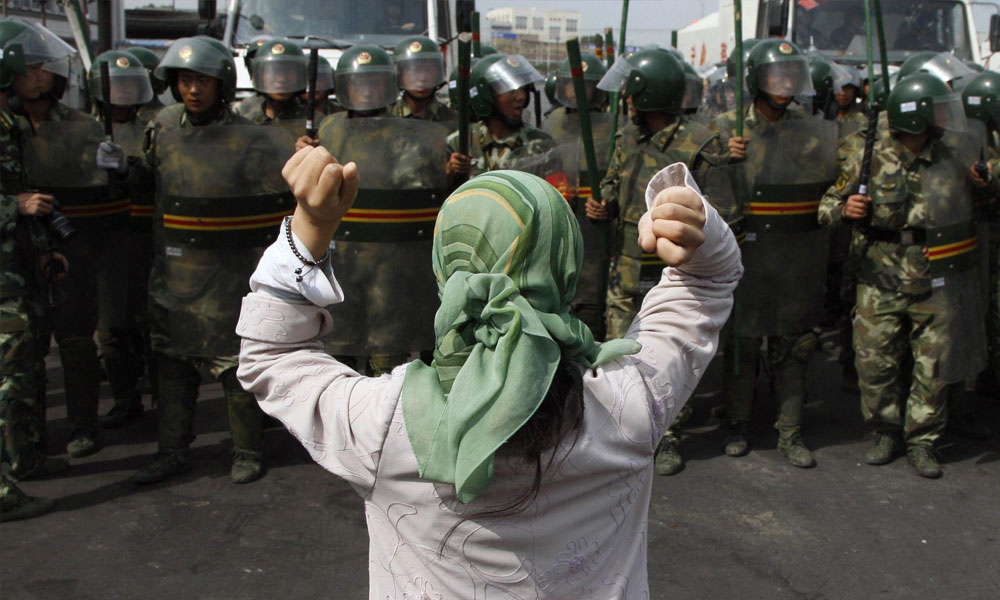 Bombings in Xinjiang and attacks allegedly carried out by Uighur separatists, including a mass stabbing in the city of Kunming in China's southwest in 2014 that killed 31 people, led to further restrictions. In recent years, under Chen Quanguo, the Communist Party secretary in Xinjiang and a loyalist of President Xi Jinping, measures against Uighurs have included a ban on "abnormal" beards for men and restrictions on religious pilgrimages to Mecca.
Chen has also overseen the installation of a pervasive, technology-enhanced surveillance apparatus across Xinjiang. Tens of thousands of security personnel have been recruited to staff police stations and checkpoints. Security screening, including scanners equipped with facial recognition cameras, has been installed in public places such as mosques, hotels and transportation hubs.
Reuters did not receive a response to questions sent to Chen via the Xinjiang government.
Reuters visited the locations of seven of the facilities identified as detention camps from construction documents and satellite photos. All had imposing perimeter walls, guard watchtowers and armed guards at the entrances. Signs at two of the facilities identified them as vocational training centers. When reporters approached the compounds, police pulled them over and told them to leave.
Rapid expansion
The full scale of the camp network is likely vast. Many smaller buildings like schools, hospitals and police stations were repurposed to hold Muslims, according to residents in Xinjiang and construction and procurement documents. Two of the smaller camps visited by Reuters were previously a factory and a Communist Party school.
Adrian Zenz, an anthropologist who has tracked the expansion of the camps, estimates there could be as many as 1,200 – at least one for every county and township in Xinjiang. There is limited information on the costs of construction, but tenders for one facility outside the city of Kashgar list a combined budget of $45.6 million.
The vast majority of facilities have been built since early 2017, says Shawn Zhang, a law student based in Canada who has used government documents and open-source satellite imagery to identify dozens of camps. Recently, Zhang said, the Chinese government has stopped publishing tender notices and has been deleting old ones from the internet.
The construction of new facilities and expansion of existing ones largely began around April 2017. That was the month Beijing enforced new anti-extremism regulations in Xinjiang, including prohibitions on the wearing of veils in public places and the stopping of children from attending "patriotic education classes."
As one of the biggest camps, Kargilik County Number Five Training Centre had footprints around 27,000 square metres already built before
Previously the Kashgar Agricultural School, this site was converetd into a "vocational skills educational training center" with extra securities deployed
Some of the camp sites investigated by Reuters didn't even exist about a year ago.
No-go zones
Foreign reporters who arrive in Xinjiang are closely followed by Chinese security forces. Reuters reporters who visited 10 different cities in the region this year were under surveillance from the moment they got off the plane. They were followed in their car, on foot and on trains.
On several occasions, police threw up temporary roadblocks to block the reporters from reaching the camps.
The Chinese government did not respond to questions from Reuters about these restrictions.
A remote place with snow-capped mountains and sprawling wind farms, the district of Dabancheng is home to one of the largest camps.
It is one of many that have been built from scratch. It is surrounded by a barbed wire fence and high perimeter wall. A sign at the main entrance reads: "Urumqi Vocational Education Training Center."
A guard watchtower can be seen above the perimeter fence at Dabancheng.
Satellite images reveal that before April last year, the site was a brown expanse of desert without a single building. Since then, a sprawling complex has risen from the sand.
In September, a narrow road running along the facility was filled with construction vehicles and workers, indicating that building was still underway at Dabancheng. Satellite photos from August reveal the scale of the construction at the camp.
Intense indoctrination
Interviews with eight former detainees, all of whom are now outside China, reveal a picture of harsh extrajudicial detention that is at odds with Beijing's claim that it is providing vocational skills at training centers to help the local population.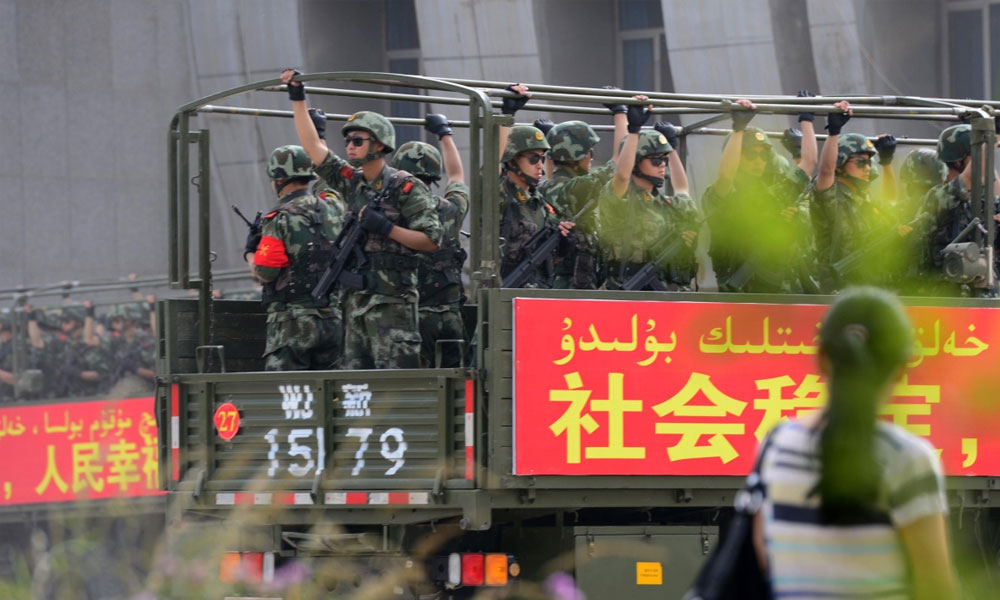 Some of the former detainees said they were shackled to chairs for days during interrogation and deprived of sleep. They described living in prison-like conditions. Their every move, including visits to the toilet, was monitored by cameras and microphones, they said. One female detainee said her cell was so crowded that inmates took turns to sit and rest while others stood.
From early morning to night, the detainees said they were subjected to mind-numbing political indoctrination. This included reciting Chinese laws and Communist Party policies, as well as singing the national anthem and other traditional Red songs. Those who failed to correctly memorize the lines of Communist Party dictums were denied food, said one detainee. Detainees were forced to renounce their religion, engage in self-criticism sessions and report on fellow inmates, relatives and neighbors.
Of the eight former detainees interviewed by Reuters, four were Uighurs and four were ethnic Kazakhs. Some requested anonymity, in most cases because they said they feared repercussions for family members who remained in China.
Kairat Samarkan said he was detained late last year when he returned to his hometown of Altay, in the north of Xinjiang, to sell his home. Samarkan, a 30-year-old ethnic Kazakh who was born in China, had moved to Kazakhstan in 2009.
After about three months of intense indoctrination sessions at the camp where he was held, Samarkan said he became "obsessed with suicide. I had thought for a long time about how to do it," he said. One day, he tried: He ran into a wall head first. When he regained consciousness, he was in the camp hospital. He was released in February this year and returned to Kazakhstan the next month.
The Chinese government did not respond to questions about the accounts given by former detainees.
China's explanation
Many of the construction tenders issued last year refer to "re-education" facilities. But China, which for months denied their existence, now calls them vocational training centers.
"Through vocational training, most trainees have been able to reflect on their mistakes and see clearly the essence and harm of terrorism and religious extremism," Shohrat Zakir, the Xinjiang governor, said in remarks to the state-run Xinhua news agency in October. "They have also been able to better tell right from wrong and resist the infiltration of extremist thought."
In September, a Chinese official at the UN Human Rights Council in Geneva said the West could learn from his country's program of vocational training. "If you do not say it's the best way, maybe it's the necessary way to deal with Islamic or religious extremism, because the West has failed in doing so," said Li Xiaojun, the director of publicity at the Bureau of Human Rights Affairs of the State Council Information Office.
Criticism of China's policies in Xinjiang has been growing. In late August, a bipartisan group of 17 members of the U.S. Congress wrote to Secretary of State Mike Pompeo and Treasury Secretary Steven Mnuchin urging them to impose sanctions on seven senior Chinese officials for their role in the "ongoing human rights crisis" in Xinjiang. At the top of the list was Chen Quanguo, the Communist Party secretary in Xinjiang, who made his name in Tibet. There, Chen implemented a sustained crackdown on the local population, according to human rights groups.
Earlier this year, one of the US lawmakers who signed the letter urging sanctions, Senator Marco Rubio, described what was happening to Muslims in Xinjiang as "the largest mass incarceration of a minority population in the world today."
In August, a UN human rights panel said that Uighurs and other Muslim minorities were "being treated as enemies of the state based on nothing more than their ethno-religious identity."
Empty mosques
In Kashgar, the ancient Silk Road oasis town in Xinjiang's southern Uighur heartland, locals say they live in fear. As security forces have blanketed the region and high-tech surveillance has become pervasive, there have been waves of mass detentions of Muslims in places like Kashgar.
The arrests peaked last year as police convoys with sirens blaring took people away, their heads covered in black hoods. In Kashgar, the locals say that many of those detained have not yet returned. On the streets, there are few young men to be seen.
"You can go to a Uighur and slap him in the face and he won't dare retaliate," said one Han Chinese local, who grew up with Uighurs in Kashgar and saw many of his friends taken away. "It's going to be quiet for another one or two years, but then what? The greater the pressure, the fiercer the backlash."
Mosques across Xinjiang are now adorned with Chinese flags and banners exhorting people to "Love the Party, Love the Country." During Friday prayers, the mosques are almost empty.
The Chinese government has been trying to change the ethnic balance by shifting members of the majority Han Chinese into the region. That policy is reflected in other ways on the ground – such as the dramatic transformation of the Old Town section of Kashgar, once considered one of the best-preserved sites of traditional Islamic and Central Asian architecture in the region.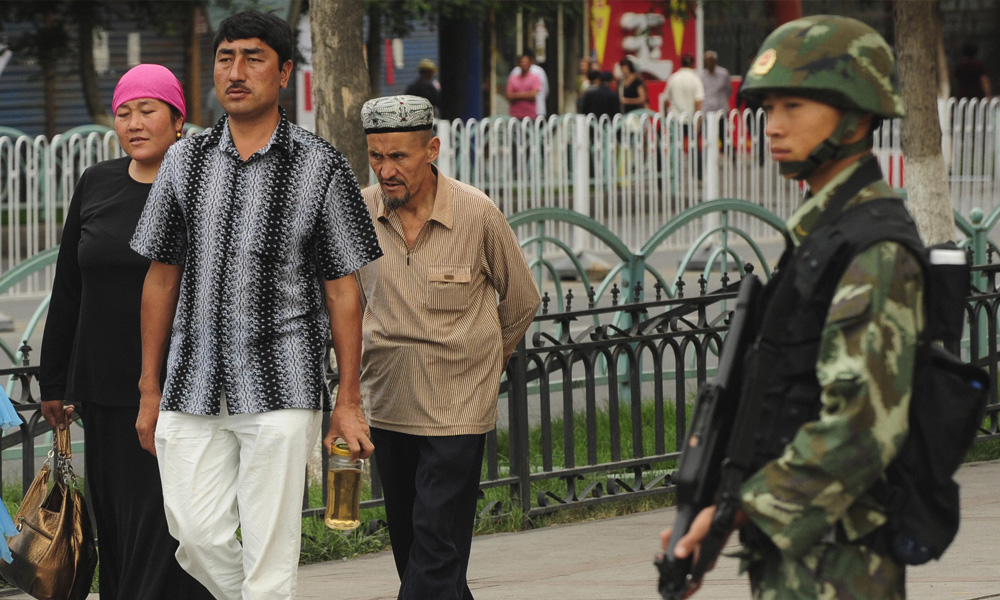 The local authorities have long espoused the need to bulldoze and modernize large swathes of the mud-brick maze of courtyard homes in the Old Town, citing building-safety concerns. Now, large sections of the quarter have been vacated and shut for reconstruction. Already, there are bars and restaurants springing up that offer food designed to appeal to Han tourists visiting from other parts of the country.
One mosque has been transformed into a trendy hookah lounge and bar serving shisha tobacco and alcohol. The interior of the "Dream of Kashgar 2018" has been renovated and freshly painted, except for the ceiling, where the original wood carvings and tapestries have been preserved.
When Kairat Samarkan returned to his village in Altay prefecture in February, he noticed many changes. "Men were missing from almost every household in my village," he said.
Photos of ancestors and prayer mats usually on display in Kazakh homes were all gone. They were "burned," the locals told him.
"These items," he said, "were replaced with photos of the Chinese president and Chinese flags."
- Reuters