PARLIAMENT | Six new bipartisan parliamentary select committees have been formed to scrutinise the federal government.
Each committee will have seven members and is headed by a Pakatan Harapan lawmaker.
The opposition have been allocated two places in each committee.
The six committees are tasked with the following areas:
- Budget
- State and federal relations
- Consideration of bills
- Defence and home affairs
- Major public appointments
- Rights and gender equality
It is understood that all the nominees for the select committees were made by their individual parties and the appointments are non-salaried.
However, committee members are believed to be able to claim meeting allowances.
Select committees have the power to call witnesses and organise hearings to scrutinise how the federal government spends taxpayers' money.
These committees are expected to operate when the Dewan Rakyat is not in session.
The committees were formed by Parliament's selection committee chaired by speaker Mohamad Ariff Mohd Yusof.
Mohamad Ariff said the selection committee had also accepted a proposal to establish a Caucus on Reform and Governance.
The chairperson of the caucus will be Anwar Ibrahim (Harapan-Port Dickson) and his deputy Lim Kit Siang (Harapan-Iskandar Puteri).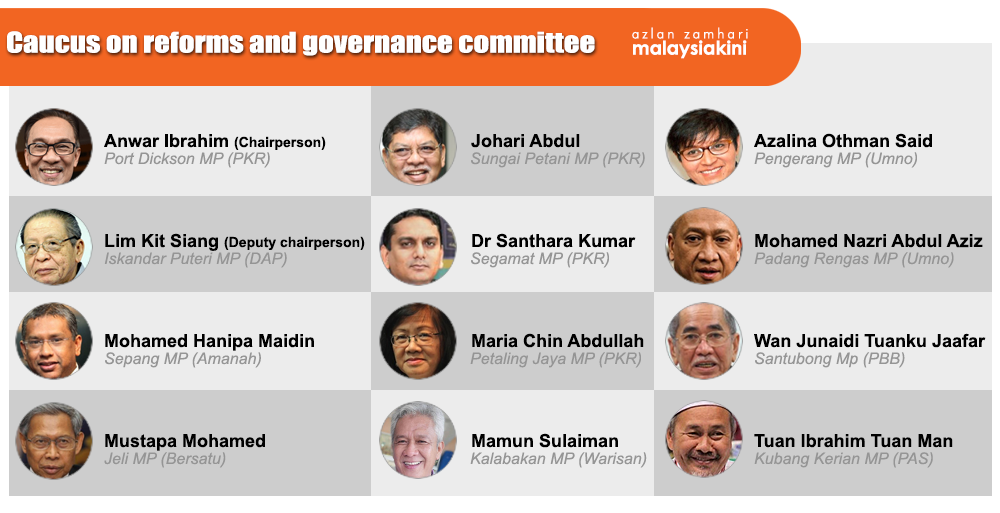 The caucus will have 12 members in total with four from the opposition.