The plan to implement scheduled salary deductions from National Higher Education Fund Corporation (PTPTN) borrowers will proceed from next year as announced as the decision was taken after weighing the interests of two groups of people - existing borrowers and the future generation.
In a statement today, PTPTN chairperson Wan Saiful Wan Jan (above) said while he hears the grouses of borrowers who are complaining that they will be burdened by a high quantum of deductions, in the long run, it is to ensure that millions from the younger generation are able to attend universities.
"I hear the opinions and suggestions that followed the announcement. I hear their complaints and am willing to consider appeals from those in need of special consideration.
"There are those who say that the scheduled deductions are against the contract signed during the borrowing of the loan. However, I would like to stress here that when borrowers signed the contracts, they had already agreed to pay back according to whatever scheme settled upon by the PTPTN including by employers' deductions.
"There are also those who complain about the authority of employers in deducting salaries. Section 29 of the PTPTN Act, 1997, empowers PTPTN to instruct employers to deduct borrowers' salaries. The provisions in the law are already in place," said Wan Saiful.
Wan Saiful further stressed that PTPTN always cared for the needs of the people and thus, the new scheme is for the benefit of the coming generations.
"The government has the choice to either prioritise existing borrowers or ensure the preservation of PTPTN so that millions of children today will have the funds to go into universities in the future.
"This was not an easy decision as it involves two groups of people with different priorities. I'm sure the government's decision will ensure PTPTN will be preserved for the benefit of future generations," he said.
Yesterday, Wan Saiful announced that PTPTN was working six agencies - namely EPF, the Inland Revenue Board, the Retirement Fund Inc (KWAP), the Accountant-General's Department, the Armed Forces Payroll Directorate and the PSD for its salary deduction scheme.
Under the scheme, borrowers' salaries will be deducted by percentage, depending on their respective incomes. For those earning RM2,000 until RM2,499.99, the borrowers must pay two percent of their PTPTN salary - in other words, RM40 to RM49.99 - and for incomes of RM2,500 to RM2,999.99 (three percent – RM75 to RM89.99).
For those earning RM3,000 to RM3,999.99 (five percent – RM150 to RM199.99), RM4,000 to RM5,999.99 (eight percent – RM320 to RM479.99), RM6,000 to RM7,999.99 (10 percent – RM600 until RM799.99) and those earning RM8,000 upwards must pay 15 percent of the salary, namely RM1,200 and upwards).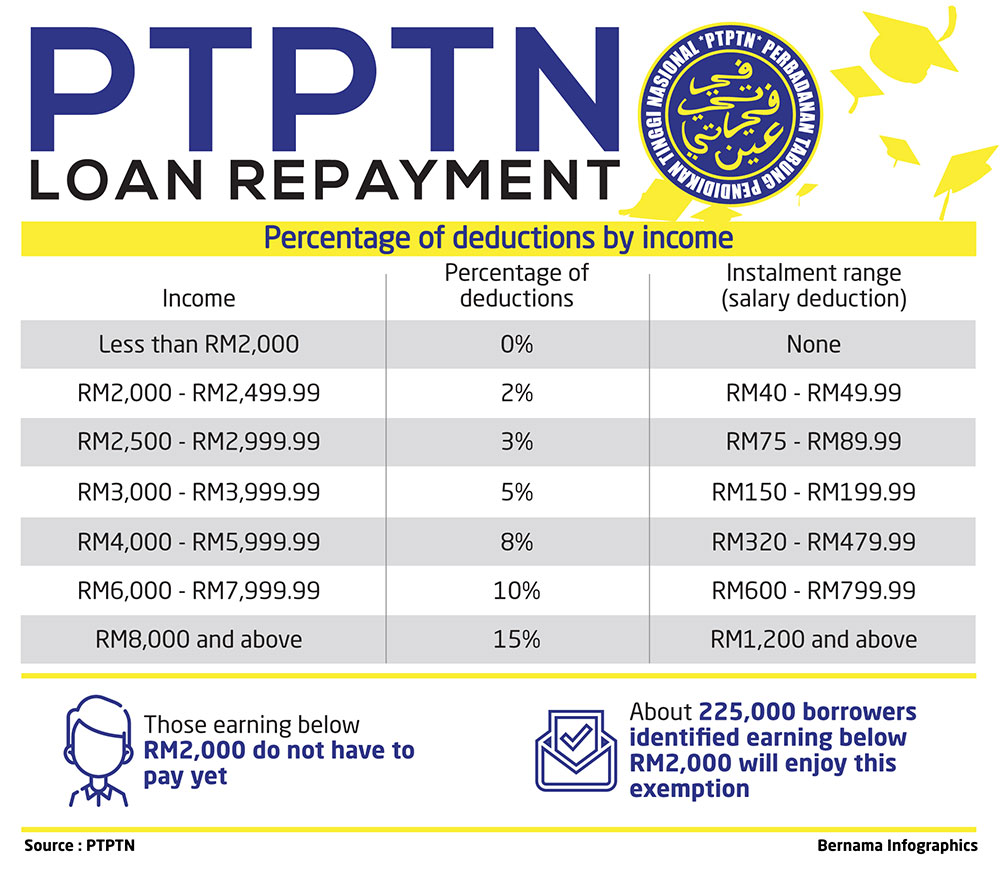 The announcement courted criticism from within Pakatan Harapan, including from PKR president Anwar Ibrahim and Youth and Sports Minister Syed Saddiq Syed Abdul Rahman.
Anwar had said that he will be raising the matter directly with Prime Minister Dr Mahathir Mohamad while Syed Saddiq said he will raise the matter during tomorrow's cabinet meeting.
The MTUC has also raised concern about the plan, saying PTPTN has to obtain consent from both borrowers and their employers before implementing the scheme.
'BN more considerate'
In a statement on his Facebook page, former prime minister Najib Abdul Razak also commented on the matter.
"Yes, during BN's time we also encouraged borrowers to pay back but at the same time, we considered their cost of living. We gave a 20 percent discount to those who settled the loan fully or by half or by salary deduction.
"For those who excelled in their studies, we gave a full exemption on their loan. We encouraged graduates but at the same time, lightened their burden of paying back," he wrote.
He cited that then, borrowers were free to negotiate the amount they could afford to pay back from as low as RM100 a month.
"Today, borrowers are being asked to pay back multiple times that amount, some may even have to pay RM1,200 a month. That is not a small amount. Most of the borrowers with that much earning have families and plans according to their respective cash flows.
"Suddenly, they would find their salaries lessened by thousands of ringgit. How are they supposed to rearrange their monthly commitments on such a short notice?"
Harapan should just "copy and paste" BN's policy of offering incentives for borrowers to repay instead of bulldozing unpopular policies, he added.