Former communications and multimedia minister Salleh Said Keruak is among those from Sabah Umno who resigned this afternoon.
Salleh was a staunch defender of former premier Najib Abdul Razak prior to BN and Umno's defeat in the last general election.
In 2015, Najib had appointed Salleh, who is a former Sabah chief minister, as a member of his cabinet. He was also sworn in as a senator.
Salleh was present at the press conference in Kota Kinabalu this afternoon where more than a dozen Sabah Umno MPs and state assemblypersons announced their decision to quit to become independents.
However, those who quit pledged their support for Pakatan Harapan and Prime Minister Dr Mahathir Mohamad.
Salleh had been a fierce critic of Mahathir when the latter attacked Najib over the 1MDB scandal.
In the May 9 polls, the former minister lost in his bid for the Kota Belud parliament seat in a four-way contest.
The seat was won by Warisan's Isnaraissah Munirah Majilis alias Fakharudy.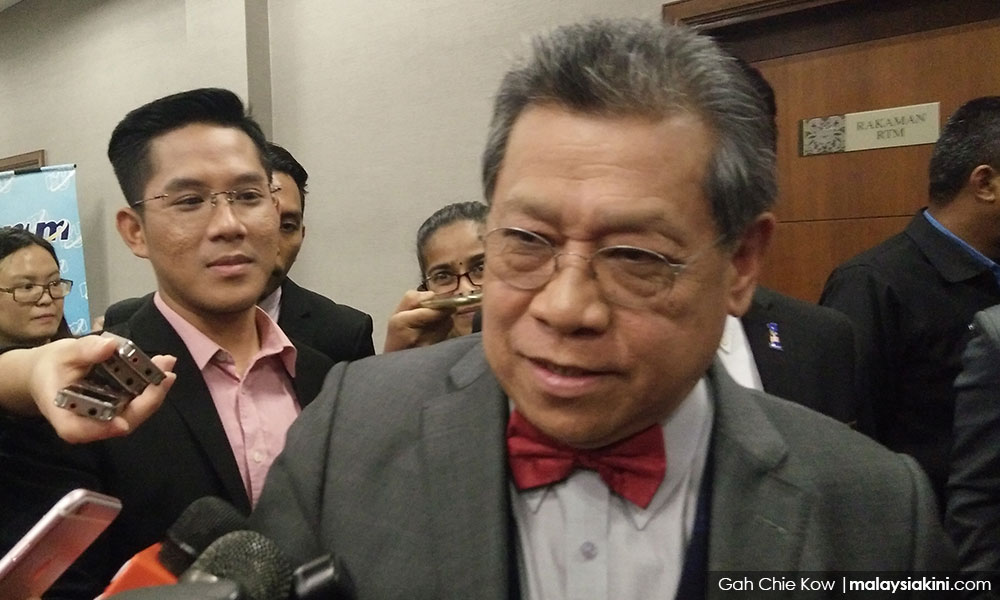 Meanwhile, Pandikar Amin Mulia, who served as Dewan Rakyat speaker for two terms, has also quit Sabah Umno.
Ahead of the 2018 general election, Pandikar announced his intention to contest and returned to active politics.
However, he was not fielded as a candidate.
He was a speaker at this year's Umno general assembly in September, where he backed the leadership for party president Ahmad Zahid Hamidi while also warning against dissent within Umno.

He had likened Umno to a bundle of sticks (lidi) – stronger together but easily broken when divided.
"I urge Umno to do something, don't let one of these sticks act like a log, and influence other sticks to come loose from the bundle.
"An Umno that is only a stick is easily broken, including by outsiders. Don't sacrifice the party's discipline to celebrate differences in opinion," he had warned.