The Sabah Umno lawmakers who left the party en masse yesterday took the "easy way out" by quitting when the party is at its lowest point, said Umno vice-president Mohamed Khaled Nordin (above).
In a statement today, Khaled said following the exodus, Umno should stop being in denial and press on with its reform agenda.
"If everything is calm, sweet and easy, it is not called the struggle for the race. It was a race for name, position and riches [...] that is what I see in the leaders who left Umno.
"They do not want to stay on amid hardship in rebuilding a fallen party but instead chose the easy way out (by quitting)," he said.
"Umno should not be left like this. The party's influence will not only further erode, but will kill off the only party which fights for Malay rights now," he added.
The former Johor menteri besar said the Sabah exodus should be used to trigger the reform much wanted by party members and Malays in general.
"To change and rise up again, Umno can no longer flip-flop and live in denial. The leadership, the party's direction as well as its reform agenda must be clearly spelt out.
"In fact, we must immediately and openly admit that everything is chaotic in Umno. The party can only be reformed by an effective leadership with integrity," said Khaled.
He further expressed hope that the Umno supreme council would find ways to arrest the issue.
"I hope the dawn will come and shed light on Umno now in the dark."
Khaled also said while he respects the reason given by the Sabah quitters that Umno had become rudderless after losing in the 14th general election, as leaders, they should have displayed more staying power.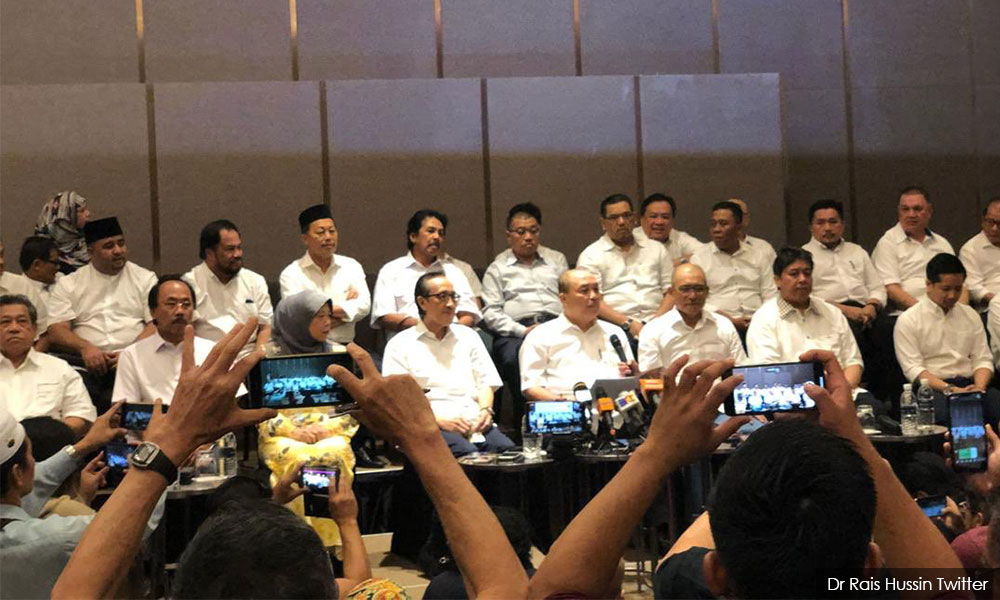 Yesterday, more than a dozen Sabah Umno elected representatives (above) quit the party and expressed full support for the government under Prime Minister Dr Mahathir Mohamad.
They comprised of four MPs and nine assemblypersons.
Among them were Salleh Said Keruak and Pandikar Amin Mulia, both former allies of former premier Najib Abdul Razak.
Following the exodus, former Puteri Umno chief Mas Ermieyati Samsudin, who is also the MP for Masjid Tanah, also joined Bersatu.
She had quit Umno last July to become an independent.