COMMENT | Nurul Izzah Anwar resigns as PKR vice-president without explanation.
Next, she's out for lunch with Rembau MP Khairy Jamaluddin and former PKR vice-president Rafizi Ramli.
Lawyer N Surendran reminds us of Khairy's "main belakang remark" about PKR president Anwar Ibrahim.
Doesn't take a genius to figure out that he's wondering why the hell Anwar's daughter is having lunch with a man who hasn't apologised for calling her father a "main belakang" sort of a chap.
Quietly, some 40 Umno members are trying to save themselves by joining Pakatan Harapan.
Why quietly?
Because Nurul, Khairy and Rafizi's lunch has stolen the show.
Tomorrow when they have lunch again, it's going to make news.
It's that easy to make the news.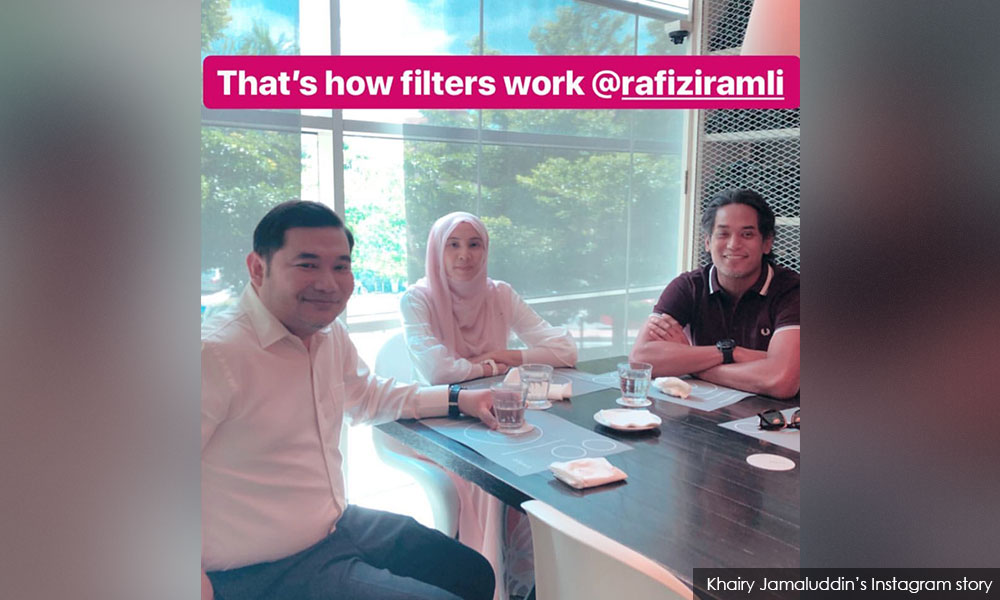 It's that easy to forget what's going on as well.
Well, let me remind you, what's going on is dire.
What's going on is that the new Harapan government is failing.
Why?
Because the guy I had teh tarik with earlier today told me that eggs cost more today than before.
Because that same guy who used to be in Umno can't believe how frogs from Umno can so easily be considered as members of Harapan today.
That guy I had teh tarik with is a good man. A Malay gentleman from Sungai Gelugor.
Because I am the MP in the area, he was polite enough not to offend me. He didn't want to be harsh and asked me simply, "Ram, I tak paham kenapa dah jadi macam ini. Kita buang sama Umno tapi sekarang dia orang macam dulu" (Ram, I don't understand why it's come to this. We have overthrown Umno, but now it's the same as before).
He was absolutely right.
Why?
Because we are no different from Umno if we can consider accepting the very people we voted out, all of whom so far are from Umno, into Harapan. It is like saying to the rakyat, "Thank you for your vote but to hell with you. I have my own plans".
So carry on having your lunches, Nurul, Rafizi and Khairy.
It might make news for a day or two, but the reality of it is the rakyat are becoming tired of this nonsense, this drama, this wayang (drama).
They want you to perform. Not have publicised lunches.
Please stop.
Move on to more important things like how to reduce the price of eggs today.
And of course, how to make sure Anwar succeeds Prime Minister Dr Mahathir Mohamad in less than two years from now as was promised.
That was the promise, whether we like it or not.
---
RAMKARPAL SINGH is Bukit Gelugor MP and chairperson of DAP's national legal bureau.
The views expressed here are those of the author/contributor and do not necessarily represent the views of Malaysiakini.