Primary Industries Minister Teresa Kok said she plans to take legal action against Jaringan Melayu Malaysia president Azwanddin Hamzah for linking her to the riots that took place near Seafield Sri Maha Mariamman in Subang Jaya last month.
"I want to sue him [...] I'll see him in court. I have nothing to do with the Hindu temple case and I have nothing to do with the developer," she told Malaysiakini when contacted.
Azwanddin, at a rally in Klang today, claimed Kok had links to the developer which owns the land the temple occupies.
The developer, One City Development Sdn Bhd, was accused of hiring thugs to secure the land which triggered two nights of rioting. The company has denied claims it hired thugs.
At the rally today, Azwanddin claimed that Kok did not deny her links to the developer despite the DAP lawmaker already issuing such a denial.
"Teresa Kok has to date not dared to make a police report or make a media statement to deny the matter. Today, I demand that the police arrest Teresa Kok," he said.
Kok had last month denied rumours on social media that she was linked to the developer.
"Please stop dragging me into the fiasco of the Hindu temple in USJ. I am not related to the developer and I have nothing to do with the project," she said.
The developer, One City Development Sdn Bhd, is owned by Bursa Malaysia-listed MCT Bhd.
MCT Bhd is in turn majority-owned by the Philippines-based Ayala Corporation.
'Dragged out'
In the early hours of Nov 26, a group of thugs allegedly hired by the developer that owns the land on which the Sri Maha Mariamman temple sits had tried to take control of the land.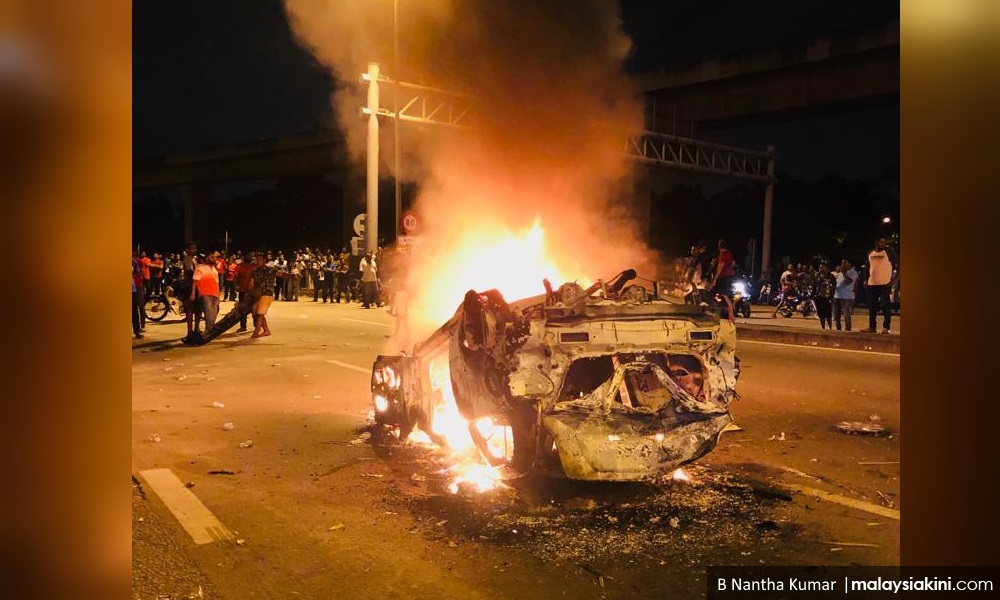 This led to a clash with Hindu devotees that escalated into rioting. The developer has denied hiring thugs.
The following day, tens of thousands of supporters gathered near the temple in a show of support but a second round of rioting broke out.
Muhammad Adib Mohd Kassim was part of a Fire and Rescue Department team that had tried to put out vehicles that were set ablaze by rioters.
Authorities had said Adib was dragged out from his vehicle by rioters and beaten, causing him to suffer broken ribs and multiple organ injuries. He passed away on Dec 17.
The rally today, attended by some 2,000 people, was to demand justice for Adib.
'Crazy, childish antics'
Meanwhile, Amanah's Jasin parliamentary coordinator Khairuddin Abu Hassan urged Kok not to entertain Azwanddin.
"It is a waste of time to entertain Azwanddin's crazy and childish antics," he said.
Claiming that Azwanddin was only out to seek publicity, Khairuddin said it was best for Kok to focus on her national duties.
"Kok has been proactively fighting against a number of European countries that have tried to sabotage Malaysian palm oil.
"It would be better for Kok to focus on her mission to promote palm oil in European markets. This is more important for our country," he said.