The increase in the price of Kentucky Fried Chicken (KFC) which went viral is an example of how the sales and services tax (SST) was less transparent than the goods and services tax (GST), according to former premier Najib Abdul Razak.
Najib in a Facebook post said this was based on KFC's own explanation last night that the reported price increase on its popular menu items was due to inclusion of the SST. 
"The people are becoming more aware that they are still being taxed under SST, although their receipt no longer showed tax being collected, unlike under the GST system.
"The prices of goods have or will increase but many will not realise because the taxes paid are no longer clearly stated for the users," said the Pekan MP.
"The (current) finance minister's propaganda that most goods and services will not be taxed under SST or the amount will be less compared to GST is also inaccurate," said Najib who in his posting also shared Lim Guan Eng's reported remark in Parliament on Oct 15.
Lim at the time insisted that he never said the SST, which was re-implemented by Pakatan Harapan to replace the GST, would result in lower prices for goods and services.
KFC last night denied that there has been a drastic increase in the price of its items.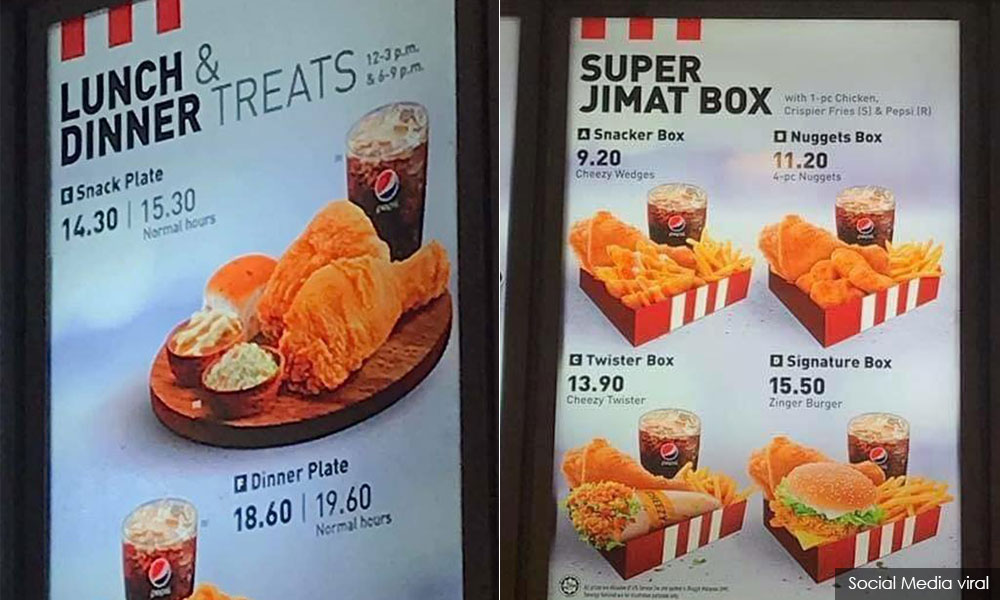 In a statement to Malaysiakini, Mohamed Azahari Mohamed Kamil, the managing director of QSR Brands (M) Holdings Berhad which owns the fast-food franchise, said the slight increase in price was the result of the SST being factored in.
"We wish to clarify that starting from December 2018, our listed prices are inclusive of six percent SST.
"There are some marginal adjustments to the price of our products to ensure we are able to continue providing our customers with the same quality, finger-licking good chicken without compromise," he said.
The fast-food giant was responding to a viral post on Facebook which said that a KFC outlet in Perlis had drastically bumped up the prices of its menu items.
According to the post, the price of a KFC Snack Plate had increased from RM12.30 to RM15.30 while the Dinner Plate set had gone up to RM19.60 from RM15.60.
Netizens lamented that the prices were much higher than from the GST era and that they now could not afford KFC meals, especially when in large groups or families.
Commenting further, Najib said "almost all" goods sold and services rendered would be impacted by the SST as businesses required various services including legal assistance, accounting, transportation and others, all of which are subjected to six percent SST.
The former finance minister also reiterated that while businesses could reclaim such service taxes under the GST, they could no longer do so under SST, and the increased costs would be ultimately passed on to consumers.
"The Harapan government is ultimately prioritising traders more than consumers," said Najib who ended his Facebook post with a message mocking the SST.
Untuk PH: Senyap Senyap Tibai.
Untuk peniaga: Senyap Senyap Tambah.
Untuk pengguna: Senyap Senyap Terkena.