COMMENT | 'Honesty is the best policy', and should be the backbone of every government that wants to deliver good governance.
But not every politician supports the idea and they think power is to be abused. They appear to have no integrity, no sense of what is right or wrong, no moral conscience. Should such people be in politics, let alone be in the government?
Their 'win at all costs' and 'make hay while the sun shines' ideas are an attack on common decency and honesty. Their ideas undermine responsible stewardship of the power and resources entrusted by the people to the government of the day.
They are given to corruption and that is why the dislodged BN government produced the 'worst case of kleptocracy' in US history and lost power. The cancer of greed and abuse of power must not afflict the Pakatan Harapan government or it will go the way of the BN government.
The granting of government contracts to party members is corruption of the worst common kind that bedevilled the previous government. It has become an ingrained practice in the country for a long time, a damnable practice that has no place in the New Malaysia.
Voters expect Pakatan Harapan to exorcise the government of all corrupt practices of the past. But how quickly the weeds sprout and threaten to overrun the government.
Politicians in Bersatu who call for contracts to be given by the government to party members are not fit to be in politics in the New Malaysia. They should be named and shamed.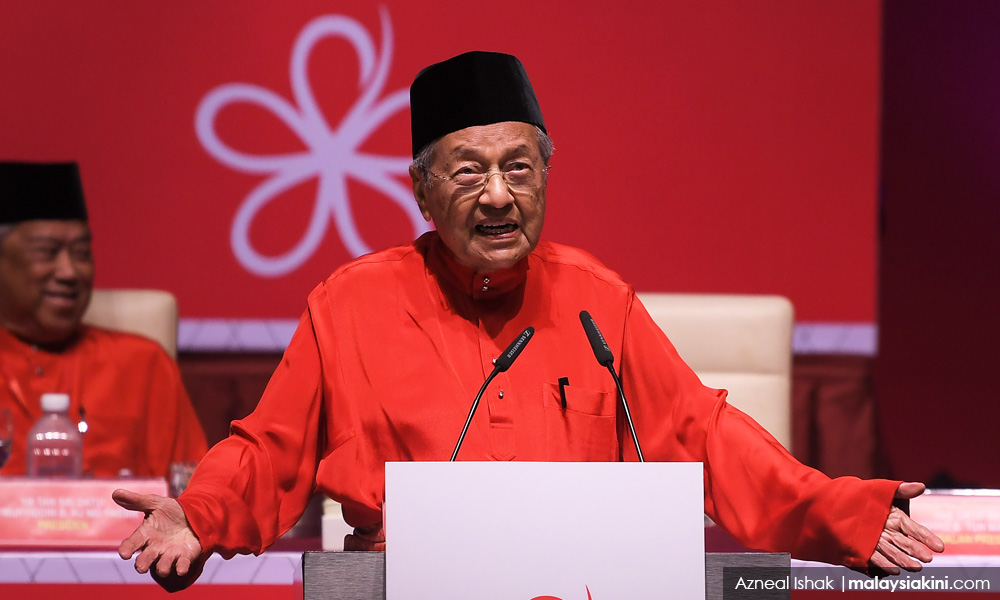 It is not enough for Prime Minister Dr Mahathir Mohamad (photo) to say that the reprehensible statement by Bersatu vice-president Abdul Rashid Abdul Rahman (photo, above) on the granting of government contracts and resources to help the party retain power does not represent Bersatu's view. He should have denounced the idea.
Rashid's idea is anathema to the people who hate corruption arising from abuse of power and cronyism. But what do you expect from the former Election Commission chief who, time and again, failed the people in not reforming the electoral system despite the Bersih efforts?
Rashid had, last Saturday, described the resistance to demands by Bersatu delegates for government contract and positions as "stupid", as Malaysiakini reported.
Being honest is stupid?
What is really stupid though is putting people like Rashid and those potentially corrupt politicians in power. Here we see the seeds sown that sprouted in the 'bastardisation' of past government policies, notably the New Economic Policy (NEP).
Does Bersatu want to sow the seeds of corruption all over again? What is so clever about plundering government resources? What is stupid is politicians who think they own the government and can do what they like. Such a stupid idea cost BN the government. It results in corruption charges and jail time. Is this not stupid?
What is stupid is cronyism and corrupt ways of running a government. A corrupt politician will not run out of stupid ideas to corrupt power. And end up rueing the days of his or her stupidity in running the government as a racket.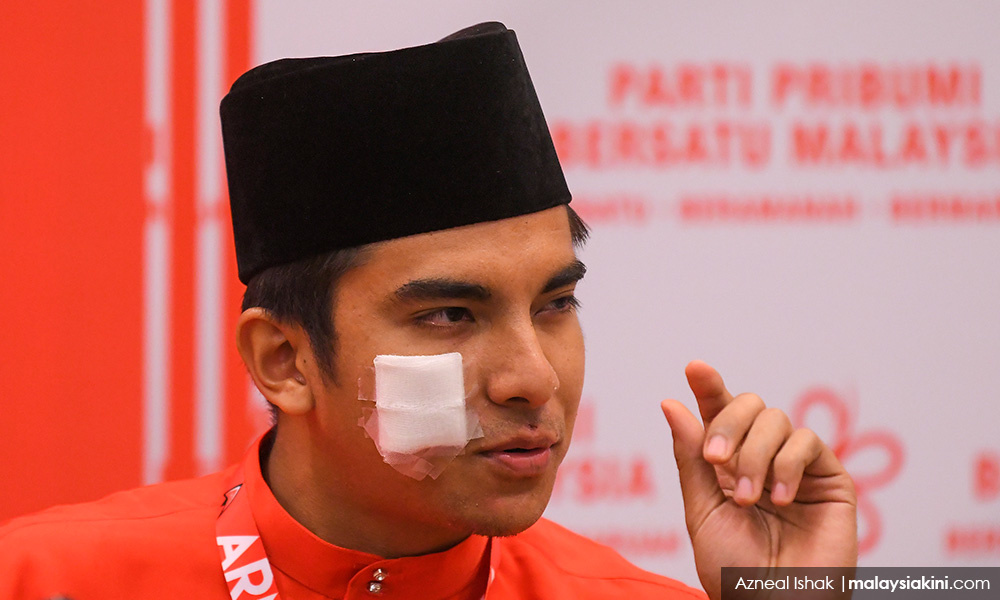 What is most stupid is boycotting and buffeting a young man, a government minister for saying the right thing and being honest. Is he the only clever and honest politician to condemn the stupidity of abuse of power and crass cronyism and warn of an MACC repercussion?
On Jan 1, Malaysiakini reported that Bersatu division chiefs discussed ousting Syed Saddiq Syed Abdul Rahman (photo, above) over the government contracts issue.
During the Bersatu annual general assembly, Syed Saddiq singled out the Federal Territories Bersatu representative for demanding contracts and positions, and for claiming that he had been promised these by a minister.
He slammed the delegate and warned that this could court the attention of the Malaysian Anti-Corruption Commission (MACC).
What's wrong with those division chiefs?
Pakatan Harapan should find out who that minister is and sack him or her and initiate an MACC investigation. Being hard on the BN corrupt but soft on their own is the first sign of backsliding. We know Pakatan Harapan is not cut from the same Umno cloth, but bad company corrupts good character.
The pure Harapan pool may soon be contaminated with Umno frogs.
PM Mahathir rose to power on the manifesto of kicking out a corrupt leader and giving back to the people decent governance. Is it not stupid of him now to receive frogs into the Bersatu fold? Why not also take in Najib Abdul Razak and Ahmad Zahid Hamidi and every former Umno frog?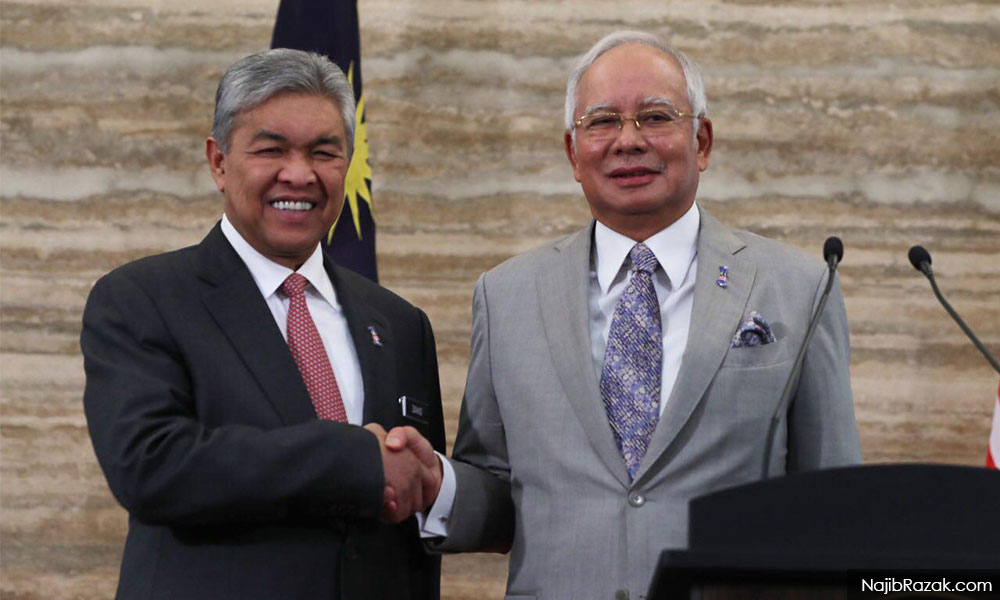 It may seem like clever political horse-trading but it is robbing the country of having a clean break with its corrupt past. Not having Umno deserters flock to Bersatu requires the upholding of principles before politics.
Too fast, too soon, this transferring of Umno members to Bersatu.
Sadly, Mahathir for all his pontifications on having a 'clean, efficient and trustworthy' administration, faces a daunting task of appearing credible when the public knows there are questionable and tainted former Umno politicians in Berjaya.
Why are such people any use to the reform agenda when they were accessory to the crimes of their previous leaders? Mahathir has a chequered past in the appointment of leaders and he needs others to remind him, though ironically, the one who is rightly outspoken was the one he appointed.
I commend young Syed Saddiq for his principled public stand.
He represents the politics of New Malaysia that must have no hint of the old politics of their defeated foe. Pakatan Harapan risks becoming a cesspool of corruption unless it shows zero tolerance to dishonest dealings and unprincipled politicians.
Using government resources and granting government contracts to Berjaya politicians without merit is tantamount to corruption. And Syed Saddiq is clever and honest enough to denounce potential conflict of interest and undeniable wrongdoing the MACC will be duty-bound to investigate.
In taking a strong, principled and bold stand, Syed Saddiq has proven he is worthy to lead, despite public misgivings of his age in a minister's role. But young or old, an honest and upright politician is indispensable. A young, honest politician is worth more than an entire cabinet of old, corrupt politicians.
Malaysiakini reported DAP lawmaker Charles Santiago as urging Pakatan Harapan leaders 'to support Bersatu Youth chief Syed Saddiq Syed Abdul Rahman over the latter's call to weed out money politics'.
It is the right call and the right thing to do.
Get on with the job of governing and abandon the idea of frog farming.
Malaysia is a better nation, not because wily politicians manoeuvre themselves into a position of strength. Voters kicked out a corrupt government and God forbid those associated with it are allowed to taint the new government with their 'stupid' ideas that landed Najib and Zahid in trouble.
Syed Saddiq has done Harapan and the government proud by standing up for the reason why voters put Mahathir in power. There is hope in the youth, after all. Those who are honest are not stupid. Honesty is not stupidity. Dishonesty is.
---
STEVE OH is author and composer of the novel and musical Tiger King of the Golden Jungle. He believes good governance and an engaging civil society are paramount to Malaysia being a unique and successful nation.
The views expressed here are those of the author/contributor and do not necessarily represent the views of Malaysiakini.