MP SPEAKS | The Cameron Highlands by-election campaign, which kicks off today, will be the first major electoral test for Pakatan Harapan since the 14th general election. This is the first by-election in a seat which was won by the BN, albeit by a small margin of 597 votes.
Even though Harapan now holds power at the federal level, we cannot assume that this power will translate into more support on polling day, as with new powers and responsibilities, comes new expectations and challenges.
Prior to Cameron Highlands, there have been four by-elections since GE14 – three at the state level in Selangor and one at the parliamentary level in Negeri Sembilan. 
As expected, turnout in all four by-elections dropped significantly, by an average of 37 percent, as compared to GE14. With the decrease in dropout, the margin of victory of the winning candidate (all from Harapan) also dropped.
Despite the drop in turnout, the support for Harapan increased in each of the by-elections – Sungai Kandis (+5.8 percent), Balakong (+7.5 percent), Port Dickson (+12.2 percent) – with the exception of Seri Setia where support for Harapan fell by 7.6 percent.
In GE14, the number of voters in this parliamentary seat was 32,048 with 362 postal voters and 219 early voters. 
Cameron Highlands is probably the most ethnically diverse parliament seat in the country, where no one community represents more than 40 percent of voters – 33.7 percent Malay, 29.5 percent Chinese, 14.9 percent Indian and 21.9 percent Orang Asli and others.
According to the most recent electoral roll, the number of voters for the by-elections has dropped slightly to 32,008.
There are a total of 29 polling districts in Cameron Highlands. 17 polling districts are in the state seat of Tanah Rata (which is held by DAP), while 12 are in Jelai (which is held by Menteri Besar Wan Rosdy Wan Ismail).
Seven of these polling districts are Malay-majority (all of which are in Jelai) with an average of 93 percent Malay voters and a total of 8,570 voters. Five are Chinese-majority (all of which are in Tanah Rata), with an average of 79.9 percent Chinese voters and a total of 8,295 voters. 
Five are Indian-majority (all of which are in Tanah Rata), with an average of 59.9 percent Indian voters and a total of 2,613 voters. Nine are Orang Asli-majority (four in Tanah Rata and five in Jelai), with an average of 91 percent Orang Asli voters and a total of 5,642 voters. 
Finally, there are three mixed polling districts (all in Tanah Rata) where no one community comprises more than 50 percent of voters, with the total number of voters at 6,888.
Given the diversity of the voter profile in Cameron Highlands, the campaign which will be employed by the respective parties will also require a diversity of approaches.
Voting in GE14
In GE14, BN won 41 percent of the vote (10,307 votes) with Harapan close behind at 38.6 percent (9,710 votes). PAS managed to win 14.3 percent of votes (3,587 votes) while PSM (680 votes with 2.7 percent support) and Berjasa (0.3 percent votes) hardly made a dent. BN's majority was very small at 597 votes or 2.4 percent of total votes. 
When we examine the breakdown of support for Harapan by category of polling stations, the results are not that surprising.
In the seven Malay-majority districts, Harapan only managed to win nine percent of the total votes. What is interesting to note is that PAS was neck-and-neck with BN in these districts, with 41.9 percent of the vote, compared to 46.9 percent for BN. 
In the Bukit Kota, Kampung Keledek and Felda Sungai Koyan Satu polling districts, PAS actually had more support than BN. Given the close cooperation between PAS and BN, it may not be so easy for Harapan to win over a significant proportion of these Malay voters.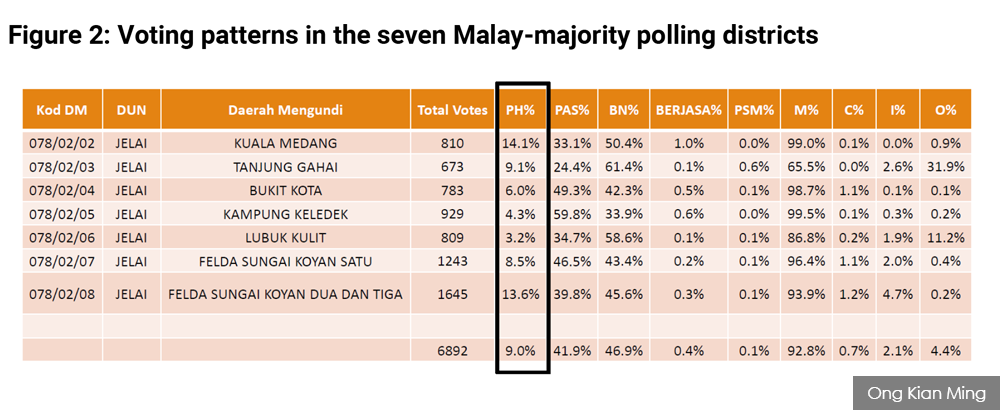 Harapan's performance in the nine Orang Asli districts was not much better. Harapan only managed to win 10.1 percent of the votes in these seats. BN won 74 percent of total votes in these nine districts. PAS won even less than Harapan (2.7 percent) and PSM (4.1 percent). Increasing support among the OAs will be key in increasing the chances for Harapan to win this seat.
Not surprisingly, Harapan's support was the highest in the five Chinese-majority districts. Harapan won 76.9 percent of total votes in these districts compared to 18.1 percent for BN. Both PSM and PAS won less than two percent of total votes in these districts.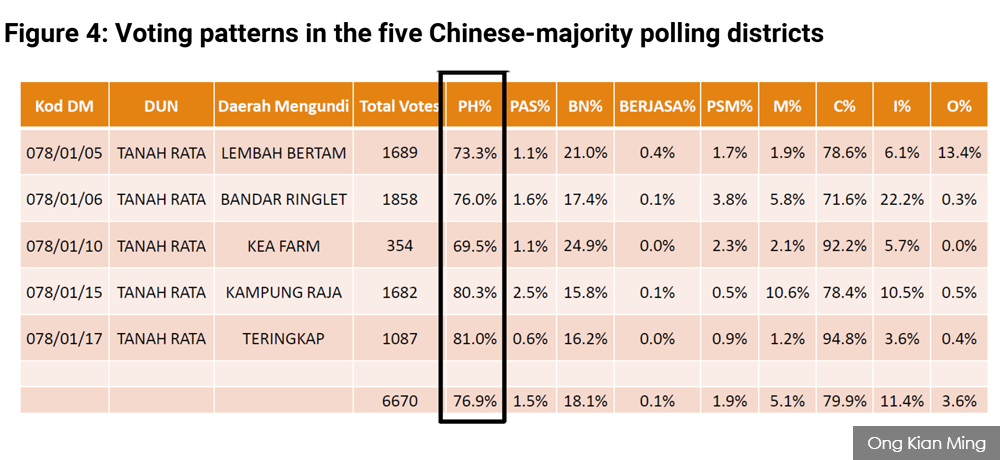 In the five Indian-majority polling districts, Harapan managed to win 61.4 percent of total votes, compared to 26.8 percent for BN. PSM performed their best in these districts, winning 7.2 percent of total votes, which is more than the 2.1 percent won by PAS.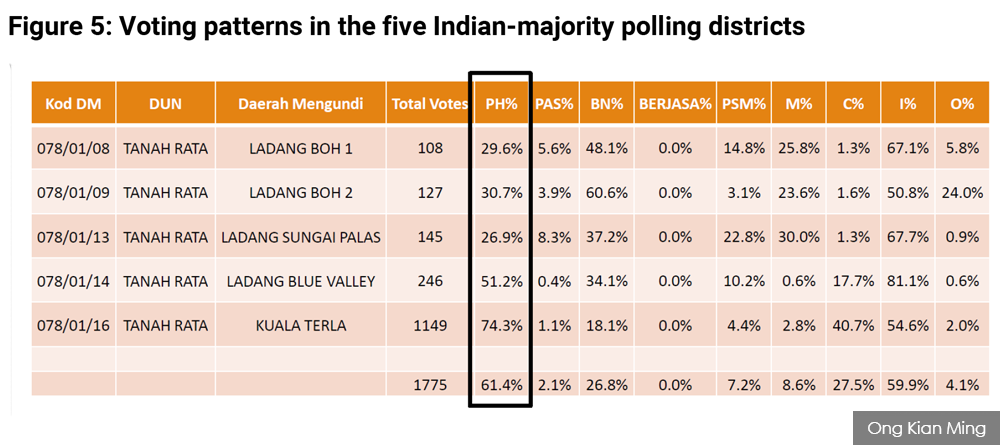 In the three ethnically mixed districts, Harapan won 50.9 percent of total votes compared to 33.9 percent won by BN, 8.3 percent won by PAS and 4.8 percent won by PSM.
Finally, for the early and postal voting, Harapan only won 7.8 percent of the total votes compared to 72.3 percent for BN and 11.3 percent for PAS.

Turnout in GE14
Turnout in the Orang Asli areas in GE14 was the highest among all the polling station types at 84.1 percent, followed by the turnout in the Chinese-majority districts (80.7 percent), the Malay-majority districts (79.9 percent), the mixed districts (67.9 percent).
While turnout will definitely decrease in the upcoming by-election, the degree of to which turnout decreases among the different categories of districts will be different. 
The Orang Asli turnout will likely decrease by the smallest number, since the percentage of Orang Asli voters who live in their respective polling districts is the highest among all the communities. 
The Chinese turnout will likely fall by a greater degree, since more of these voters are outstation voters, and hence less likely to come back to vote for a by-election.
Challenges for Harapan
The challenges for Harapan in the upcoming campaign are numerous.
Firstly, we have to minimise the drop in the turnout rate, especially among our core supporters. I am reminded of the 2014 Teluk Intan by-election where turnout dropped from 80.4 percent in GE 2013 to 67.4 percent. 
As a result, a majority of 7,313 for the DAP in GE13 turned into a loss of 258 votes in the 2014 by-election. The drop in turnout rate is also linked to the related challenge of maintaining support among the core Harapan supporters.
The second challenge faced by Harapan is to retain as much support among our core supporters which, in GE14, were the Chinese and Indian voters. Given that Harapan has not been able to immediately meet the high expectations of these communities to fulfil some of our manifesto promises, we expect the support for Harapan among the Chinese voters to decrease. 
---
Read more: Four-cornered battle in Cameron Highlands by-election
---
The floor for Chinese support cannot fall below 70 percent. There may be more room to increase the Harapan support among the Indian voters to as much as 70 percent, as a result of a weakened MIC and its decision to concede this seat.
The third challenge for Harapan is to increase support among the Orang Asli and Malay voters from a dismal base of approximately 10 percent. 
With fewer restrictions in campaigning in Orang Asli- and Malay-majority areas, Harapan should be able to increase its support among these communities. But how much of an increase which can be achieved is anyone's guess. 
Some Orang Asli may choose to abstain from voting because they don't want to get in the crossfire between the Harapan federal and the BN state governments. 
The choice of Muslim Orang Asli former high ranking police officer Ramli Mohd Nor as a candidate may also put a limit to how much support Harapan can increase among the Malay and Orang Asli voters. 
Even getting PAS supporters to switch to Harapan may be challenging, especially since the party has said that they will work to support the BN candidate. The by-election in Sungai Kandis in August 2018 showed that Umno was able to gain a significant proportion of PAS support, thereby limiting the increase in the level of Harapan support among the Malay voters.
The fourth challenge for Harapan is to fulfil the demands of the key voting block via government policy. These include the demand for more foreign workers among the vegetable farmers, cleaning up the environment among local residents, and having more inclusive development policies for the Orang Asli, just to name a few examples. 
Whereas Harapan could blame the BN government in the past for the lack of political will to carry out some of these much-needed policies, the ball is now in Harapan court in terms of delivery.
The fifth and final challenge for Harapan is to campaign in such a manner as to not be seen as abusing government resources, in the same way that BN used to do when it held power at the federal level. 
This will be tricky since the presence of the federal government must be felt in this by-election, especially in the Malay and Orang Asli majority areas, but at the same time, there will be a much higher level of public scrutiny, including from the press, the Election Commission and the NGOs to monitor the activities of Harapan leaders, probably more so compared to BN leaders. 
Not only must Harapan attempt to live up to the standards that the public demands, it must also face the pressures of competing against a BN state government that has less compunction to abuse state government resources. 
It will not be easy to resist the temptation to invite the Harapan candidate to appear in federal government events, especially during the heat of the campaign, when many programmes will inevitably be organised in different areas in Cameron Highlands.
Targets for the by-election
Winning this by-election is difficult, but not impossible. If Harapan can hit the following by-election targets, chances are there for it to eke out a victory. These include:
Not letting turnout drop below 55 percent, especially among key Harapan supporters.
Achieving at least 70 percent of Chinese and Indian support.
Increasing Malay and Orang Asli support from approximately 10 percent to at least 30 percent
Increasing early and postal voter support from approximately 10 percent to 40 percent.
If Harapan wins this crucial by-election, this would be a serious setback for the BN, one which perhaps it cannot recover from. 
The hard work has already begun. The official campaign will begin today in the most closely watched by-election since GE14.
---
ONG KIAN MING is the MP for Bangi.
The views expressed here are those of the author/contributor and do not necessarily represent the views of Malaysiakini.