COMMENT | "The first casualty when war comes is truth," goes the phrase coined by US senator Hiram Johnson in 1917.
Malaysia has little appreciation of the role of senators in the upper house of Parliament. Perhaps due to such indifference, PKR senator Bob Manolan Mohd must have assumed he could get away with saying anything.
His statement that all Orang Asli tok batin (village chiefs) must vote for Pakatan Harapan in the Cameron Highlands by-election reeks of the politics of old – such as when former premier Najib Abdul Razak said "You give me what I want. I give you what you want. And you know what I want" to a crowd in Sibu in 2013.
Democracy is not based on favours. If it ever was, the rule by the worst leaders would be a certainty. It is the constant process of grovelling even to the least qualified that will the harbinger of the end of any form of governance, let alone good governance.
If he indeed meant what he said, Bob Manolan, despite being an Orang Asli himself, has crossed the line. If such behaviour is not reprimanded immediately, the ethos of government could well end up as 'self-help'.
This, in other words, means that elected officials would help themselves to a grand helping of everything available. 1Malaysia, as Finance Minister Lim Guan Eng once said, cannot be "sapu Malaysia (clean sweep)."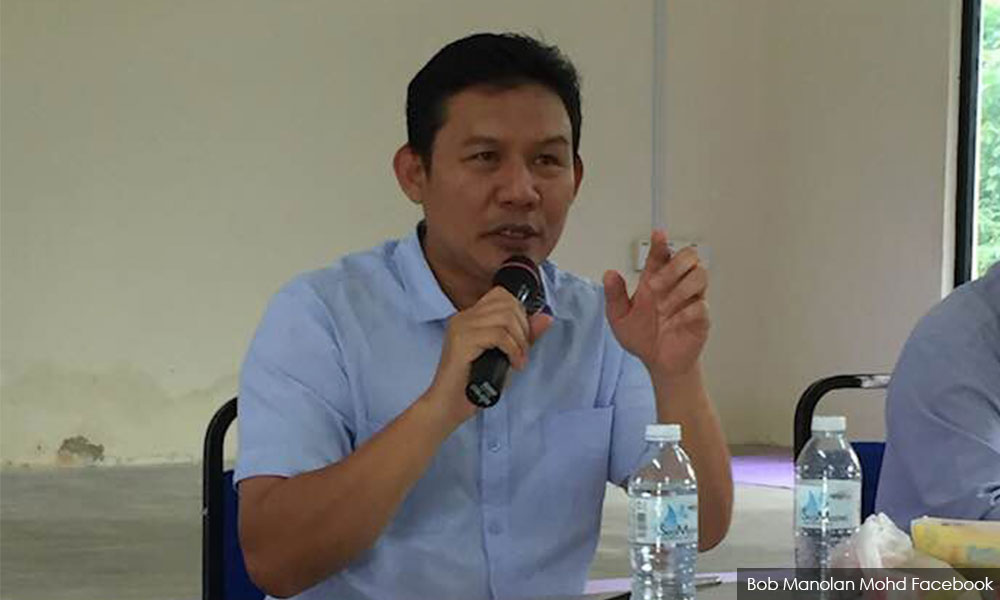 There are three reasons why Bob Manolan (photo) – his clarification notwithstanding – not only has to retract his statement but apologise to all Malaysians.
First and foremost, he has cast a pall of suspicion on Harapan, portraying it as no different from BN.
Just as importantly, to the degree Harapan is seen through the lens of old, any apparent lack of censure from the Election Commission would suggest that other institutions are in cahoots with the government again.
Since perception is indeed all of politics, Bob Manolan has brought the brand of Harapan into disrepute.
Second, Cameron Highlands is one of the constituencies with the highest concentration of Orang Asli. By antagonising the community, Bob Manolan has made the by-election a literal uphill struggle.
God forbid, if someone other than a Harapan candidate would win, it would signal the beginning of the vulnerability of the coalition to all forms of hearsay and untruths, since it has indeed been struggling with key issues on how to fully live up to all the pledges in its manifesto.
So far, only excuses have been delivered, rather than delivering on promises. Harapan must not devolve into an alliance of excuses, from one of hope.
Thirdly, the senator is from PKR. By suggesting that the central government will only pay those village heads who support the government, Bob Manolan is implicating the good name of his party president Anwar Ibrahim, who is the prime minister-in-waiting.
If Prime Minister Dr Mahathir Mohamad taught Malaysians anything on the night of May 8 going into the historic general election the following day, it is this: Malaysian voters do not need handouts and trinkets to vote accordingly.
Given half a chance, Malaysians would vote based on the value that is derived from their honour, pride and integrity.
By crossing the line, the senator has inflicted upon Harapan the odium of being seen as nothing but the same as BN, when it is against corruption and any approaches that imply "cash is king."
---
RAIS HUSSIN is a supreme council member of Bersatu, and heads its policy and strategy bureau.
The views expressed here are those of the author/contributor and do not necessarily represent the views of Malaysiakini.