Police to date have been unsuccessful in tracing the whereabouts Indira Gandhi's (above) daughter and former husband, Inspector-General of Police Mohamad Fuzi Harun said.
According to The Malay Mail, he said this was the case despite numerous pleas by police for information which could help trace 10-year-old Prasana Diksa and her fugitive father Muhammad Riduan Abdullah.
"In fact, on several occasions, my CID director had given press conferences to appeal to the public for any information on the whereabouts of Indira Gandhi's ex-husband and her child, but until now, nobody has come forward.
"This is an ongoing thing because this is a court order given to us," he was quoted saying.
Prasana was taken away almost 10 years ago by Riduan, a Muslim convert formerly known as K Patmanathan, after he unilaterally converted the former and her two older siblings to Islam in 2009. Prasana was just 11-months-old at the time.
A lengthy legal battle ensued involving both the Syariah and civil courts. The High Court issued an arrest warrant for Riduan in 2014.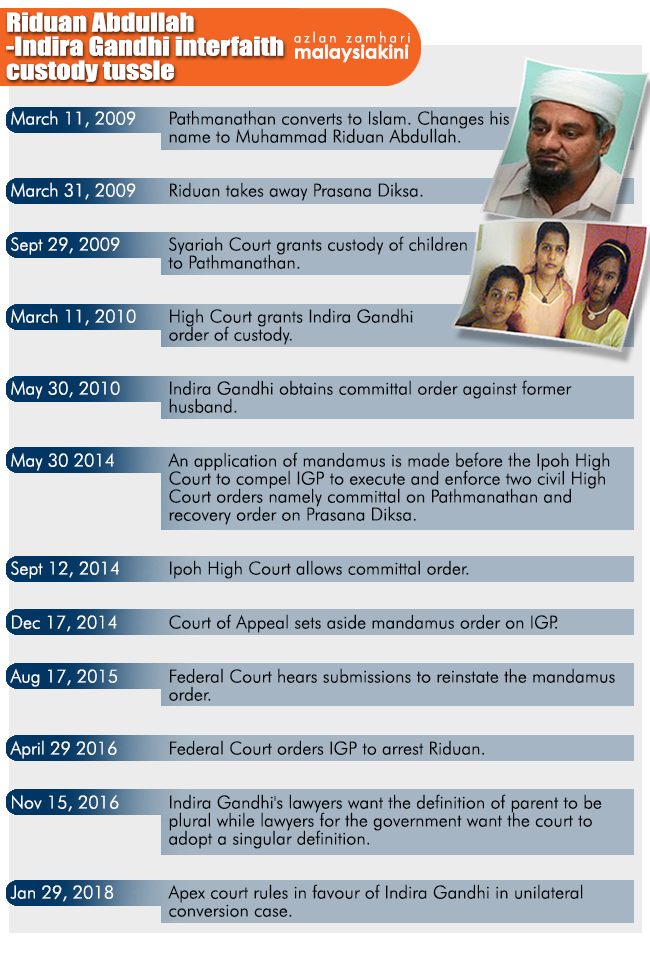 This was followed by a decision by the Federal Court last year nullifying the conversion of all three of Indira's children to Islam, ruling that permission was needed from both parents before the faith of a child could be changed.
However, there has been no trace of the child nor Indira's estranged former spouse. In an emotional open letter published last November, Indira pleaded for updates on her daughter from Fuzi and the new Pakatan Harapan government.
"Where are they? Is Prasana alive? Is she well? As her mother, I do not know these things which I rightfully should. Why? Because the authorities have yet to tell me anything about her.
"My new Malaysia is the day my daughter is returned to me. So to the IGP and the Harapan government, how long more?" her letter read.